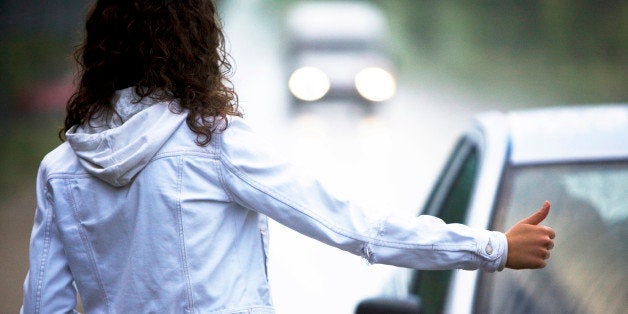 Frankly, I am concerned about writing about this experience because I am awfully worried about what my parents will say... but my friend told me not to let it hold me back -- "Imagine if Hemingway was worried that his parents would find out that he drank and smoked? Imagine if Baudelaire was concerned that his mother would find out that he was a womanizer!" And that convinced me.
I'm sorry in advance, Mom and Dad. Here are all the things that I didn't tell you:
I missed my bus back to Paris on Friday morning. Whoops.
I was stranded at the Zeeburg P&R coach park at Zuiderzeeweg on the empty and flat outskirts of Amsterdam. My bus departed at 11.30; I arrived at 11.36. Any rational human being, especially any rational female traveling alone, would have gone back to stay another night, to buy another ticket, to arrive on time the following morning.
I never really entertained that idea, to be perfectly honest. It crossed my mind for a moment, but I couldn't do it. I didn't want to have to say another goodbye.
My cousin Justin had taken me to Haarlem Centraal on the back of his bike (that phrase is so incredibly Dutch) and walked me to the platform to wait for my train to Amsterdam. I had stayed with him for a week and considering the fact that I can hardly stand anyone for longer than a few hours, I feel like we get along very well. It was such an easy time in Haarlem: enjoying live music, playing with Scrabble tiles, doing dinosaur puzzles -- it was hard for me to say goodbye. Like most people, I have a hard time with them.
It was the last time I will be in the Netherlands for a while -- my year in Paris is nearly finished. This trip was more a last hurrah than anything -- and last hurrahs don't end by slinking back to the city with your tail between your legs. Last hurrahs end with hitch hiking.
After a slew of cursing and self-loathing, I found myself standing on the side of the highway with my overstuffed backpack and yellow Van Gogh Museum plastic bag that reads "The painting comes to me as if in a dream." I thought back to what I had read on HitchWiki a few months ago (on one of my 4:00 a.m. journeys to through the bowels of the Internet) and decided to give it a go.
I was strangely nervous at first. The crosswalk was near by and I felt like the strangers would judge me. It doesn't seem like it would be so difficult, but it includes making a spectacle of yourself -- not something I particularly like doing. I walked up to the side of the highway. "Should I just put out my thumb? I don't have any cardboard to make a sign..." I recalled that I had a rather large book in my bag (I had gotten it as a gift and resented its size and weight, but it turns out that it truly saved the day). I ripped out an empty page and took out a pen:
Simple. Beautiful. That sign was my ticket to Paris.
I felt much more official holding the sign -- like it was a formal endeavor and not just a tragic and ill-conceived detour. I had read that eye contact and smiles were important for this kind of thing, so I just went for it and tried to hide the fact that I was an American.
People were surprisingly kind -- even if they didn't pick me up, they would usually throw their hands up and look at me apologetically. It was sort of reassuring in a way, to see that people would spend some emotional energy on a stranger on the side of the road.
I've always been a very patient person, a quality that does one a world of good in the realm of hitch hiking. I've also always been very independent and often quite socially ignorant -- qualities that certainly boded well for my adventure.
A man in a navy Audi A4 picked me up and made my day. His name was Frits, a retired commander in the Dutch army who now spends his time showing his dog Peppijn at various contests. And why wouldn't he be -- these are the kinds of people you meet at random.
I recently read Cat's Cradle by Kurt Vonnegut -- one line in particular stuck with me and ran through my head repeatedly that day: "Peculiar travel suggestions are dancing lessons from God." It seems to me that doing reckless things is the only way to assert one's self in the world -- traveling it is the most pure form of living in that you are required to be entirely self-reliant... without the comforts or security of familiar streets, friends or family, you must be entirely yourself. That's why I love traveling alone, even if it's a little bit insane.
My hero Hunter S. Thompson once wrote, "Anything that gets your blood racing is probably worth doing." Hitching back to Paris certainly got my blood racing.
Frits was heading to Utrecht, about 40 kilometers southeast of Amsterdam. He told me that if I were his daughter, he would never allow me to hike... I spent the hour or so petting his beautiful Australian terrier Peppijn. He dropped me off at the train station in Culemborg after convincing me that the roadside is no providence for a 20-year-old girl. At the station, the ticket machine didn't take my credit card and there were no cash machines near by, so I scraped together all of my change and bought a ticket for anywhere -- anywhere turned out to be Breda.
The train took me through the south of Holland, where I had never been. I wish I had paid more attention, but I definitely slept on that train.
Using the wifi at the station in Breda, I researched the best place to go -- the Ettensebaan, apparently. I luckily found an ATM and rode the bus to the outskirts of the city. An old man sat next to me; his teeth were overlapping and he hunched over his cane while shuffling into the bus. He started talking to me in Dutch, but I apologized and made it clear that I am hopeless at the language. He asked about my French and I responded, yes, indeed, that was something that I could speak. This gentleman had spent 20 years living in the south of Belgium where they speak French. He was very polite and wished me good luck.
The Ettensebaan runs through fields of tall grass interspersed with trees. Dark gray rain clouds were in the distance showering oblique storms on the flat, green landscape. It was strange seeing weather happen, but not being affected by it personally -- I imagined that was how it would feel to be God. Around me, the tall grass bent with the cool wind while the leaves on the trees rattled and shimmered like fish scales. I spent 40 minutes there, occasionally spitting out expletives before a couple of wonderful Dutch students picked me up under the impression that my sign read "PARK" -- their misinformation actually saved me, as they told me that I was hitching in the wrong direction (I wouldn't have traded those forty minutes for anything). They were kind enough to drop me off on a highway intersection from which they assured me someone would pick me up and get me across the border into Belgium.
After a few minutes, a very full car picked me up -- a Greek man named Crete and his Belgian wife, her friend Christine, and Christine's very silent son. They warned me not to get into cars with Romanians, Bulgarians or Poles and gave me a rundown on how to identify them via their license plates. Crete told me that I shouldn't get into a truck with two drivers, especially the Romanians, "unless [I] want to have some special kind of fun." I assured him that I did not want to have any fun and would follow his advice.
They asked what I studied -- literature and political science, I responded. I qualified the statement by saying that I want to be a writer. "A writer!" Christine exclaimed. "Write about us!" And I am -- you're welcome, Christine. You, your bejeweled artificial nails, and your silent son have been immortalized. She was particularly adamant that the Polish should be put in the group of rides I should not accept.
I asked their opinions on the Italians and the Spanish, wanting a more accurate picture of their European racism. It turns out that the Italians are no good, but that the Spanish are okay -- thank god.
"What was the name of that movie?" Crete asked. "From Paris..."
"No... From Paris to Texas! You should call your story 'From Amsterdam to Paris!'"
The group dropped me off at the suburban area of Schoten, just outside of Antwerp. I thanked them for the ride and the title.
Johan, an ex-sailor who had traveled all around the world, picked me up next -- he took me from Schoten to a gas station in Kruibeke where he told me a lot of people stop before they embark on the journey to Paris. He was very polite and got out of the car to help me with my bags and make sure that everything was all right. I liked him a lot, but he listened to horrible techno music...
The first people I approached at the station picked me up a few minutes later -- they were a couple of older men filling up their Renault -- brothers, it turns out, from just outside of Paris. I hopped in the back seat and took off my coat for the first time that day. I had never been so satisfied.
They were coming back from visiting family in Rotterdam. The older one coughed incessantly while the younger one kept smoking cigarettes, which only inflamed the problem of his brother's cough. Neither acknowledged the other's habits. They played Biggie Smalls in their car and a variety of French rap that I had never heard before.
We stopped at a gas station about an hour-and-a-half later. I was so hungry -- I had only eaten a piece of toast with chocolate spread and hagel slaag (the best Dutch product, in my humble opinion) that morning at 10:00 a.m. It was around 8:30 by then. Inside of the shop at the gas station, there was an assortment of cheese selections and at that very moment, I really recognized that we were in France. I bought a baguette and some meat and cheese. I ate it all and I'm sure I left crumbs on the seat of the car.
They didn't leave without me -- the thought went through my head. I was relieved and reassured that humanity was largely good when they pulled up and let me in again.
They talked to me and told me that I was very brave for hitch hiking ("faire du stop" in French) -- that neither of them would even consider doing it themselves. I felt remarkably lucky.
There was a red sunset around 9:00 p.m. over the increasingly hilly landscape when the younger brother rolled a joint. We started having an in-depth conversation about marijuana culture in the United States versus in Europe -- c'est une langue internationale.
After a while, I saw that the sky was turning a murky brown color on the horizon. As an inhabitant of Los Angeles, I recognized the signs of light pollution. Paris was within reach. I even saw the red lights of La Tour Montparnasse. I had never been so happy to see such an ugly building. Soon after, the beam of the Eiffel Tower came into view. I was home.
The incredibly kind-hearted and generous brothers dropped me off at the end of line H in Belmont -- I thanked them heartily. They wished me a good night and good luck.
On the train to Gare du Nord, I was entirely annihilated -- I just stared at my belongings: "The painting came to me as if in a dream." I looked down at my crinkled sign: PARIS A.U.B. and proceeded to fade in and out of consciousness.
I arrived at my apartment at 11:30 p.m., 12 hours after missing my bus that morning. I crossed three countries and got back to Paris by taking five cars, three trains, and a bus.
I recognize that it was incredibly insane to do such a thing alone, but it really gave me something beautiful. I met human beings with whom I otherwise would have never interacted; I cultivated my patience, independence and composure; I lived purely and adapted to my circumstances. In short, I "took dancing lessons from God."
And, to be honest, I'm rather proud of myself.
Stay tuned for the next part of my hitchhiking adventure through Eastern Europe in June!
REAL LIFE. REAL NEWS. REAL VOICES.
Help us tell more of the stories that matter from voices that too often remain unheard.