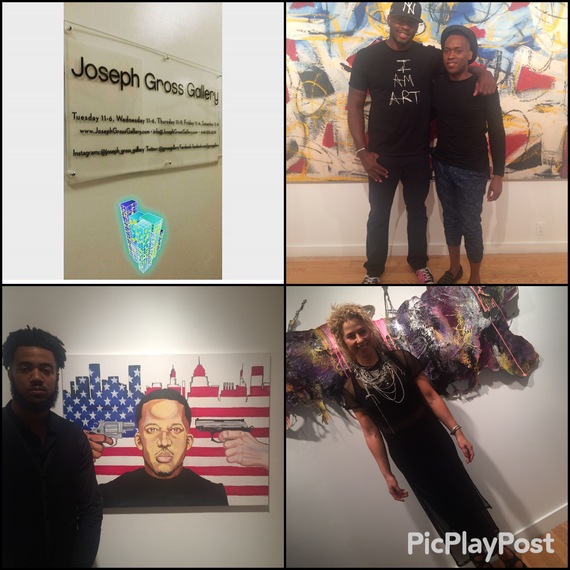 It has been said that athletes, no matter which sport, can sometimes be one-dimensional. Often times when a player's career or playing days are over, they are left with limited options, and in some cases, the field of opportunities, post professional playing life, are hard to come by. Let me introduce you to a group of former professional athletes who are not only thriving, but also doing so by thinking outside of the box and taking it to the canvas. The Athletes for Art Renaissance Tour opened over the weekend in New York City with high expectation that, I would say, was absolutely met.
The setting: Joseph Gross Gallery in Chelsea.
The players for this piece include; former NBA and 2001 slam-dunk champion, Desmond Mason, former NFL linebacker, Aaron Maybin, and once professional bikini bodybuilder, Kennedy Yanko. The exhibit, appropriately titled PERCEPTION features others like Daniel Hibbert and Brian Kirhagis (BK the artist).
I had the opportunity to get a sneak peak at the artwork during a private viewing. It was there that I also spoke to three of the artists about their professional life in the high-stakes game known as the art world. These athletes aren't your basement-starving artists. It's been their life mission to work hard on the field or court, and now in their art.
I started the viewing by talking with former NBA veteran Desmond Mason, who for the better part of a decade dominated on the court and now he's proving successful in the art world. The Texas area native has been painting, sculpting and doing ceramics since he was 11 years old. Desmond says for him art and the creative process is certainly life after basketball. "Our goal with the Athletes for Art Renaissance Tour is to show people that there is much more to us than running up and down the court or the field, it's much bigger than that picture for us," says Mason. One of his favorite forms of painting is abstract expressionism, and his favorite piece at the showing was created as part of a 46-hour challenge of painting with no sleep. "This piece just expresses your past, present, future. It also tells your dreams, hopes and aspirations. It's also about color and movement," Mason said.
One painting really captured my eye and the essence of what's happening with the #BlackLIvesMatter movement. It's a painting of a black man standing in front of what looks like the American flag, and on both sides of him are two guns. One of the guns held by a white hand, and the other a gun held by a black hand. The creative mind behind this work of art is former NFL linebacker Aaron Maybin. The Baltimore native tells me that since his football days, he spends everyday painting and promoting advocacy for under-served communities.
Art has always been a part of his life, he has a long history with the State of Maryland, where he has been developing artwork since he was 11 years old. The title of his eye-catching and thought-provoking work is "No Where to Run." Maybin says the piece was inspired by the work he is doing in communities across Baltimore. "We are facing a time right now where our people are being systematically persecuted in our own country and in our own communities, and it's not just happening at the hands of law enforcement -- it's happening in our urban communities," he says. Through his art work, Maybin wants it to speak to louder issues that he one day hopes can change he world. "I'm going to continue to use my platform to speak to these issues and hopefully get people started on discussions that are going to change the topic on how we deal with each other."
Former professional bikini bodybuilder Kennedy Yanko uses her entire body and soul when creating her work. Like many of the other artists in the room, she has been painting since the early days of her life. She's been showing her work professionally for about ten years. Yanko's push toward making art her primary focus started in the younger years. "When I was little, I did a drawing on the back of a cardboard box, and my parents framed it; they didn't put in on the fridge, they didn't just stick it to the wall... they framed it and put it on the wall and it gave me confidence to make a career out of it," she says. Her work over time has evolved since she was 15 years old. "I'm naturally a colorist and painter, but I'm also a very physical person, and it's interesting as I get old to see how the physicality in every part of my life is starting to show up in my work," said Yanko.
All of the artist involved in PERCEPTION are definitely must-see visionaries. The exhibition PERCEPTION is showing now at Joseph Gross Gallery. It's located at 548 West 28th Street in New York. You can go for a viewing Tuesday through Saturday until September 5th. For more information on Athletes for Art check out www.athletesforart.com or email info@athletesforart.com
REAL LIFE. REAL NEWS. REAL VOICES.
Help us tell more of the stories that matter from voices that too often remain unheard.