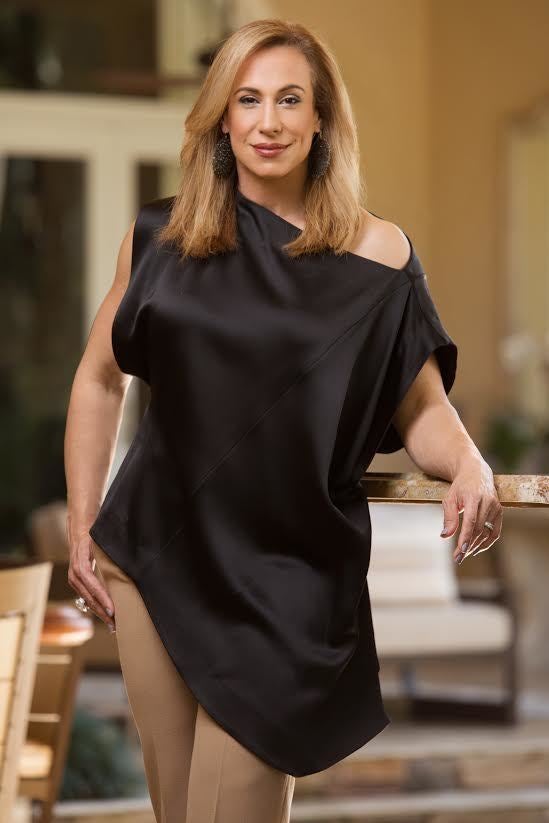 In truth- there's been no shortage of complaints about the amount of reboots in the film and television industry. Perhaps the world of social media just seeks to complain and have a voice whenever a branded property is taken on, but there is something to be said for a beloved memory from a fan's youth being tampered with- and yet, no one seems to understand this better than super-producer; Dany Garcia. Co-founder of Seven Bucks Productions, Garcia truly believes in listening to her audience and being there for them- and that's why her and her production company are offering three of the most anxiously awaited reboots on the horizon; Big Trouble In Little China, Baywatch and Jumanji. Offering far more than to greedily steal a branding and revamp it with a hot new actor to get movie-goers in seats, Garcia uses careful brush strokes with her art as she always seeks to update a story for a modern audience in a way that ensures it has purpose- as well as to entertain- and since her movies are such enormous blockbusters? Step one might go over many audience's heads.
But, take Baywatch for example. As beloved as it may be, no one can deny that some of the themes were rather outdated. Baywatch was a show that was completely unaware of its own humor, featuring an entirely white cast running around a beach in skimpy bathing suits- where the women were treated like meat, and the men were treated like action stars. In Garcia's version of the Baywatch world, fans learns the beauty of having an extremely diverse cast, and the men are paraded around equally as much as the women- if not more so. Also, the humor becomes far more self-aware and parodied in a way that will resonate with younger audiences, and will still make older audiences who remember the original show's silliness chuckle. Then, there's Big Trouble In Little China- another truly loved film that if it were redone exactly the same it might not stand the test of time. The reboot gives Garcia and co. the opportunity to reinvent the story with less racist undertones and again, bring in a whole new audience. So, people can moan and gripe about reboots and re-imaginations all they want, but Garcia is essentially doing for the world what Pretty Woman did for Cinderella- she is helping these classic properties that could otherwise be outdated not die- as well as giving some pretty positive messages, without ever doing so in a preachy way that alienates an audience. As a producer, Garcia is always taking care of her audience.
And that's just one of the many hats that Garcia wears. The media-mogul has an unstoppable empire under the umbrella of The Garcia Companies that branches off into many sectors and reaches the widest of global audiences. Beyond Seven Bucks Productions, where Garcia has already proven to be one of the most powerful producers in the industry, she also manages and guides several artists in their careers- starting of course with ex-husband, Dwayne Johnson, with Team Rock. A strategizing genius, Garcia has been behind Johnson every step of the way as she helped catapult him toward success- a particular kind of genius she applies to all sorts of branding ranging from celebrities, to start-ups, to restaurants and beyond. And when she's not conquering the entertainment and business world? Garcia has even found time to be both a professional body-builder and raise a daughter that could be the heir to her throne!
With Seven Bucks Productions being one of the biggest companies in entertainment, and with Garcia greenlighting one blockbuster after the next, it certainly won't be long until the big screen version of her life will be hitting theaters- however, finding an actress to fill those shoes might be a bit difficult! Sure, some actresses can train for months to look like some fictional superhero...but can they train to realistically look like this super-producer? And with Garcia and Seven Bucks Productions' dedication to expand their market and broaden their audiences, actresses better start shaping up- because they are looking to tell more female-driven stories soon!
But, as for now, they are expanding their market by taking television by storm with Ballers on HBO- which offers an inside look into the world of professional football. Dany Garcia adding a hit show on one of the most watched networks on TV to her empire? Just par for the course.
Here, the multi-mogul manager-producer goes into a little more detail about that empire, Seven Bucks Productions and the different projects they have in the works; Ballers, Baywatch, Big Trouble In Little China and more!
Let's start with Ballers- it just came back for the new season. What can you tell fans about this season, and can you talk about being such a heavy hitter in such a male-centric world on that show?
Well, I can't reveal too much because we're currently in season, but I can reveal a bit of a taste. Fans can expect that being that it is the second season, we can dive into the characters a little more and begin to push their journeys. Spencer is now dealing with some pretty major stakes. We have really loved seeing Dwayne [Johnson] against Andy Garcia, that has just been fantastic. You'll really see all the characters become more fleshed out. It's still so jarring when it stops at thirty minutes because it really leaves you wanting more, but I was so excited about the first season and this season the writers have done such an amazing job going even further with that great material. And the audience is still very much enjoying the ride, it's so fun. I don't want to give any spoilers, but the finale will be a killer! And Spencer's closing moments to his journey? It will be well worth the season! I'm excited! As far as being a major player with this team, that's a great question because this is such an amazing team- you have Stephen Levinson, Mark Wahlberg, Evan Reilly, D.J. [Dwayne Johnson], Peter Berg, Rob Weiss- it's fun. It's a great creative team that is filled with great minds. It's wonderful to come to that table and see my name as executive producer, and have great relationships with the entire team and HBO- there is so much respect. I'm not uncomfortable in an all male environment. As a bodybuilder, and in the world of finance, I've been around men a lot. So, for me this is very comfortable and I've had a lot of fun and found a lot of respect. This is a really important project and a subject matter I grew up with when I was both married to Dwayne and dating him. We were deep into the world of football at the University of Miami as he was trying out for the NFL, and then when he ended up at the CFL. So, we really know so many of these characters, stories and relationships- there's so much organic truth-telling here. I love it.
And,of course, you have been a bit of a rare commodity as a producing superstar among many men for quite some time now. Talk about that a bit and why you stick to creating more stories that seem to appeal to a male audience. Do you think you'll ever break out into a more female-driven market?
As far as broadening the market, absolutely! I think it was very natural for me as far as storytelling went to focus on a male dominated market, because I spent so much time developing and working with Dwayne. So, as I put on multiple hats, and then one big hat, one of them is overseeing Team Rock Enterprises and managing Dwayne's career and understanding his audience. So, I've lived in a very male space when it comes to storytelling- having come right from the WWE where The Rock was born. So, this has been a really natural progression and I've been in a role of encouraging and guiding. So, as I now have taken on the hat of creating and producing, I think it's a natural flow that I stayed within that male conversation- because I've helped guide it for so long. But, now on the Seven Bucks Productions side, it's an incredible opportunity to finally speak to a broader audience and look at projects that don't have DJ- many of that we are developing don't have him in them. And the goal of Seven Bucks Productions, and of myself as a producer, is not so much taking the male characteristics of the brand or of Dwayne, but taking the ideas of hard work, quality, commitment to audience, creativity- and all of those characteristics translate across four quadrants. So, now we're looking for stories that are broader. We are definitely looking for stories that are female driven, but how we live our day- and there's an abundance of them. So, I'm actually really excited to see what we are rolling out. For the next six to eighteen months we have new initiatives, and there will be great announcements. So, it will be wonderful! As far as working with other producers and being a female producer, again, this is the benefit of managing for so long and really being so entrenched in a career- I know the point of view that I carry as a woman, and I know the value that brings to the table. I know it can have a certain perspective on a story, but I get the opportunity to open it up and offer a certain point of view within a scene- and that adds a tremendous amount of depth to the storytelling. So, while it may be very different than a thought pattern in a male dominated room? It is a thought pattern that is so necessary for our audience- and that's kind of the approach I've always taken.
Seven Bucks Productions does have some very big projects on the horizon. Let's talk about the big screen Baywatch reboot. What can you tell fans about that? Were you a big fan of the show? Will a lot of familiar faces be popping back up?
Oh, that was so much fun! We actually had that project come to us five, or six years ago! Since it's such a large international property, we knew it was so important because speaking to a global audience is something we take very seriously. We just had so much fun. Baywatch is one of those ideas that you think about and you are lovingly laughing- the shots, the themes, the characters- and we knew we wanted to take the concepts of that story and it's visual factors and bring them to a 2016 market, because there's so much good will in it and so much room for comedy. it's so extreme that if you move the needle a little bit to the rated R side, you can have so much fun! The audience will get to see some great cameos from really important cast members that they love and that will be wonderful. But, whenever there will be the slow-mo shot of the women running? There is the slow-mo shot of the men! [Cracks up] The camera's are panning the women's bodies, but also the male physique! It's very tongue-in-cheek, and we never took ourselves too seriously. Add that to the action and adventure and the fun. Dwayne did a phenomenal job just taking the audience through the making of the movie. It just feels so good- and they already experienced so much fun from that making of it, that when the film comes out there will be so much familiarity it will feel almost like a sequel. I love it and think it's a great property, and our intention is that we can hopefully come back again and again with it. I would love to continue to expand on that wonderful cast and make them even more diverse, along with the beautifully diverse cast we have right now, which is great, and I think fans will really enjoy it.
You will also be breaking into the superhero franchise world soon with Shazam- which Dwayne Johnson has already described as being a little less typical than the average superhero movie as it offers characters that are less good vs. evil, and more on the grey scale of how they operate. Talk about that a bit.
This is such an exciting project because you have wish fulfillment with a character like Shazam, and on the other side you have Black Adam- which is really the character that we are focusing on for Dwayne. He has incredible abilities, but he comes from a darker background. The back and forth of these two individuals, who are very strong characters, is very exciting. The interesting thing about putting Dwayne into a superhero franchise is that he is so grounded, his very appearance is extremely grounded- and that is present in all his movie roles. There are crazy action scenes, but there's something to his character that calls to reality, which is of course a very different experience than say The Avengers- which we love. But, that is a very heightened reality, while Dwayne always keeps things very grounded- he makes you feel like he could be the guy around your corner. So, when looking for a superhero property, we needed that same opportunity. We didn't want to push him into a situation where the character was so fantastical because it might conflict with his very grounded nature- and Black Adam was this perfect marriage for us. We're deeply involved creatively and it's going to be a great partnership. The audience is just going to love it. And we will do the same thing we did with Baywatch as far as take them along for the ride and give them a peak before the movie. It will be great!
Amongst a ton of other movies in production, Seven Bucks Productions also has a remake of Big Trouble in Little China in the works. Was that one of your favorite movies? What other movies do you love, what movies would you love to remake, and who would you love to work with and bring in to the Seven Bucks Productions family?
I personally loved Big Trouble In Little China! And truthfully, that was a wonderful opportunity! In our heads, I never realized we would have a chance to go out and reboot that movie, and re-imagine it and take another crack at it- because when you watch it again, you think it's a little outrageous and think of it in more endearing terms, [chuckles] which is just really fun! Kurt Russell is amazing. But, when we got the opportunity and knew the movie was available, we figured we had to go for it. John Carpenter is just fantastic. It seemed too good to pass up. But, we're not specifically looking at reboots or branded properties, they just happen to keep falling into our laps and I think it's really an indication that we live with our audience. We're not afraid to think of what people would love to see again with today's technology and with the voice of today. We ask ourselves; "How do we make a property that might seem like it's aging out relevant again and give it a voice for today?" Which takes a lot of courage, because you're immediately going against something people had such a great experience with. And we feel confident that we loved it just as much. But, we feel we have all these tools and creative talent now- what else can we bring to the story to keep it fresh in order to bring it to a new audience and keep it alive? So, you want to reach that older audience, but you also want to bring it to a new audience- and we love that. We also have Jumanji coming with an incredible cast- Kevin Hart, Jack Black, D.J.- so we are in that space again where will be looking at a very beloved property. I can speak of who we would love to work with in the future, and that list, of course, includes; J.J. Abrams, Christopher Nolan, Ridley Scott, The Coen Brothers, and as far as talent, I'd love to see D.J. with Jonah Hill or Chris Pratt, or Robert Downey Jr.! I'd really love to see him star alongside Jennifer Lawrence! She would be amazing in the Seven Bucks Entertainment world. One of the great things about Dwayne is that he is an incredible standalone actor, but he is also an incredible team player as well- he makes other people better and he loves playing off others. So, we're always looking for amazing collaboration opportunities.
Your personal mentor is Vince McMahon. Talk about some of the advice he has given you and why he holds such a dear spot in your heart.
Absolutely! The interesting thing about Vince is that he probably didn't know he was my mentor! [Laughs] But, we give him incredible credit. He instilled a lot of the philosophies our careers were built on from right when D.J. and I were starting out, which basically is; "What is the experience the individual is going to have that is in that seat, and what are they taking home? Because you have two hours of their time. If it's RAW, you have three hours of their time. There's so much out there. It's not just about pushing art- it's about having a relationship with an audience." And unless you're a hermit? Any individual doing any form of business must agree to have a relationship with their target audience, it's just a matter of being willing to listen to that audience. And we keep our audience with us all the time. We don't want to serve something that they have no idea where it came from, or steer them wrong. Vince has always been very astute, and it was the most powerful lesson. Interestingly enough, it's not often a common thought process. However, when it came to our careers, it has been incredibly successful, so I'm very thankful and we always give Vince the due credit he deserves.
You also are a professional bodybuilder- a side career you went into later on in life. Talk about bodybuilding and how you got into that.
It's one of my favorite passions in life! My husband is also a bodybuilder as well, and we say this all the time; "You're either born a bodybuilder, or you're not." When I was thirteen I was ninety-eight pounds, all hair and glasses- I was a little stick, and I opened a bodybuilding magazine and saw the first Miss Olympia bodybuilder, and I just thought she was amazing. I didn't even know someone could change their physique and be so happy. She was so strong and powerful- it was so appealing. I've been an athlete all my life, but as finance took over it didn't seem like bodybuilding could really fit into what I do because I was always either managing or producing. But, a few years ago- about 2011- we were looking for a coach/nutritionist to work with Dwayne, and my husband found the incredible George Farah. And women's bodybuilding is broken down into divisions; bikini, figure, physique- which is my division, and the traditional very large division- which is phasing out. So, there was this opportunity where The Garcia Companies, which is the management holding company that sits over Seven Bucks Production, Team Rock Enterprises, etc- it had all come together smoothly and there was this space where I could actually compete. And luckily, I had been an athlete and knew how to train. And I was very fortunate that three years later I earned my pro card- and now I'm a professional bodybuilder. My pro debut was last year, I came in fourth- which is amazing, and my goal is to be Miss Olympia, which in our industry is the Superbowl of bodybuilding. It drives me and keeps me healthy. I truly love it. It's so much fun. There's a lot of principles about being in tune with your body, it's not just about driving your body harder and harder. And to do that career, I have to do it in a way that doesn't detract from anything else- including my creativity and management skills. It's been a wonderful experience to meld it all together. And on the Seven Bucks Productions side, we plan on having some very strong initiatives in the health and fitness field- so it's actually been a very natural course. And we're producing the Olympia this year, so that's wonderful! It tied together beautifully!
You also find time throughout all of this to be a mother, setting quite the example for your daughter. Has she shown any interest in the business, and if so, which part- acting, producing... or even bodybuilding? What would your thoughts be on her joining the business?
She has always been very close to us in the business. She's actually even greenlit a few projects that have already been on television! She understands this business deeply from the production side and really behind the camera- and that is where she really enjoyed it. She actually really enjoys the management side of the business. She enjoys the strategy and development- so her goal is to really sit on the business side and guide careers and build out brands and develop strategies. I'm having her take acting classes as well because she's very dramatic and she loves to express herself, and it's a wonderful outlet [laughs.] And she's gorgeous, and tall and very comfortable on a red carpet! So, I feel she will have her choice either way! But, she's only fourteen. The way it's looking right now is more that it seems like she wants to make things happen within the media business.
A girl who wants to guide careers, develop strategies, produce the hottest movies and make things happen in the media business? Seems like she already takes after her amazing mother. And who knows? If she does go into acting, maybe Garcia already found her lead for the sure to be smash film about her life after all!
Dany Garcia and Seven Bucks Productions have loads of projects in the works, but for now, you can catch Ballers every Sunday at 10PM on HBO.
Popular in the Community