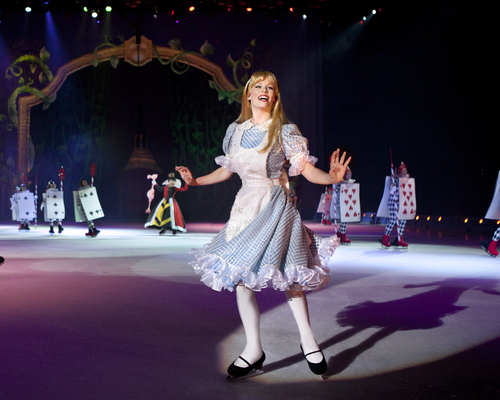 Maria Simoni as Alice-In-Wonderland. She also skates the role of Ariel in Disney on Ice: Treasure Trove
Many Disney characters have dreams to which children can relate: Mulan dreams of adventure; Belle dreams of finding the good in everyone; and Tiana dreams of finding herself through opening a business. Disney on Ice skater Maria Simoni had a dream growing up too: to become a ballerina. Maria was serious about ballet but her parents brought her to the ice rink everyday to watch her little sister skate. Eventually, Maria decided that although she loved ballet she wanted to figure skate as well. She started with group lessons, but gradually became more serious about figure skating and progressed to joining her sister in the world of competitive skating and her dream changed.
Although she still took ballet lessons until she was 16, her passion shifted from dance to skating. After achieving success as a competitive figure skater (including once winning a competition in which she and her sister both competed), Maria decided it was time to stop figure skating competitively and she focused on a dream common to figure skaters: landing a principal role with Disney on Ice.
Maria knew it was a longshot. "There are a lot of girls who want to skate for Disney on Ice," she said, "You really need to stand out." But, Maria took chance that she would be the one to stand out. She sent in a resume, a video of her skating, and hoped to get a call for an on-ice audition. She was elated when she got the call to audition in person when Disney on Ice came to her hometown. During her audition, Maria demonstrated her best tricks and jumps and showed off her acting skills. Four weeks later, she had the part and had left for her first tour.
Since that first tour around the U.S. Maria has been around the world skating, including extended tours to Asia and South America. Maria describes it as her dream job and knows how lucky she is to get to travel and get paid for what she loves doing. She has even found romance on the road with another principal skater and learned how keep her cooking skills up by learning how to make everything from a pie to a fully-cooked meal in a crockpot.
Maria feels as though accomplishing her dream helps her play her current roles as Alice-In-Wonderland and Ariel in Disney on Ice's Treasure Trove production: "Alice and Ariel are adventurous and show that you can go out and achieve your dreams." Maria is quick to point out that both characters achieve their dreams in different ways and wants kids to know that there is no one way to go about achieving their dream whatever it may be.