Industrial toxicity is a growing challenge with today's expanding global markets and rampant industrialization. Many substances -- including electronic waste -- pose all sorts of dangers to the health of individuals and the environment. Profiled below are several noteworthy solutions to the problem of toxic waste in cities across the Global South. Read on to learn about initiatives -- including e-waste recycling plants and the expansion of sewage systems -- in Nairobi, Accra, Bangalore, Chittagong and São Paulo, and then join the conversation on URB.im.
After technology giant Hewlett-Packard (HP) built an e-waste recycling facility in Nairobi in 2012, other companies began to recognize the significant financial benefits of recycling electronic waste. Hot on the heels of HP, a consortium of several Nairobi-based companies have collaborated to create an e-waste recycling system called Waste Electrical and Electronic Equipment (WEEE), which dismantles and recycles ICT hardware in an environmentally friendly way. Working in close collaboration with the National Environmental Authority, WEEE has undertaken various initiatives to promote e-waste management. One such program was a joint endeavor with telecommunications provider Safaricom, and it featured a caravan that made the rounds of Nairobi's many streets and informal markets for five weeks, collecting electronic waste and exchanging it for branded items and other promotional materials.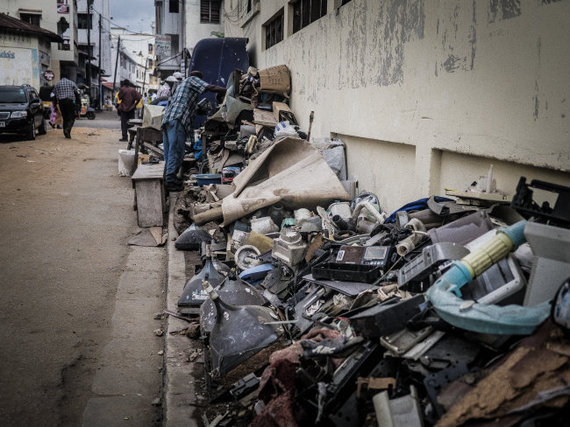 Thanks to Ghana's commitment to the Basel Convention, various committees and community stakeholders have been mobilized to expedite action on the issue of toxic waste. For instance, the Accra Metropolitan Assembly has launched a number of initiatives such as the creation of a recycling plant for harmful materials, construction of a central culvert in Accra's largest landfill, sanitation projects and urban upgrading as part of the Millennium City project, as well as assistance for the clean-up of the Odaw River. On other fronts, the Fisheries Commission is amplifying its efforts to promote the sustainable use and conservation of marine resources, and the Ga Mashie Development Association is working to stop the practice of tire burning, which releases toxic smoke into the environment.
In response to the difficulties of regulating industrial and electronic waste in India, the Karnataka State Pollution Control Board (KSPCB) has initiated door-to-door collection of hazardous materials in one of Bangalore's industrial areas. Two agencies have been appointed by the board to collect hazardous materials from about 500 industrial units and process them outside the city at a designated site. In Bangalore, which produces 64 billion tons of hazardous waste every year, and where many communities have suffered serious health problems due to illegal dumping, this initiative is an important first step toward improved waste disposal. Especially valuable is the digital documentation system that has been implemented to more accurately track hazardous industries. It is hoped that this program will also make it easier for smaller, unregistered industries that don't have the space to store hazardous waste to safely dispose of toxic materials.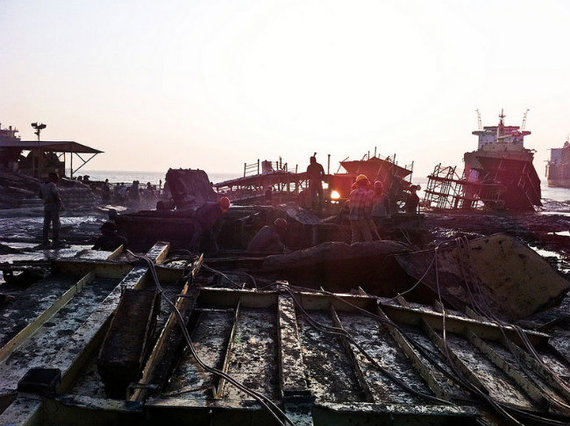 About 52 percent of the world's big ships are dismantled in Bangladesh near the coastal city of Chittagong. Though ship recycling is a profitable industry, the process of ship breaking is harmful to the environment and to workers, and it is considered to be one of the most dangerous occupations in the world. A lack of safety measures and the presence of toxic materials like asbestos, PCBs, arsenic-laced paint and tons of oil and grease cause hundreds of workers to die of toxic waste-related diseases every year. A local nonprofit organization called Young Power in Social Action (YPSA) has been gathering information about the injuries and accidents of ship dismantling workers since 1997. Today, YPSA also works to improve social policies at the national level through public awareness campaigns and advocacy, which can directly influence up to 50,000 ship dismantling workers.
At over 1,100 kilometers long, the Tietê River almost completely spans the State of São Paulo and also runs through the municipality of São Paulo, which is home to nearly 20 million residents. But this important river has been polluted since the 1920s, most recently from the industrial waste and sewage that has increased as the city expands. Today, the greatest contaminant is domestic sewage, which is why efforts to clean up the Tietê have focused on the expansion of basic sewerage services for populations living close to its banks. Thanks to a strong partnership between the Basic Sewerage Company of the State of São Paulo and São Paulo's Metropolitan Region as well as significant financial support from the Inter-American Development Bank and the National Economic and Social Development Bank, vast improvements have been made. In 1990, only 24 percent of the sewage in São Paulo was treated, but today that figure has risen to 68 percent.
In these five cities, diverse stakeholders, including NGOs, government agencies and private companies, are prioritizing the need for solutions to toxic waste in urban areas. Visit URB.im to learn more and share your thoughts on how to reduce toxic waste in the Global South.
Popular in the Community