In the 1960's, Inson Wongsam, a budding artist from a large family in northern Thailand, decided to study in Paris. He set out on a Lambretta scooter, which he had won in a contest, on a months-long journey west. In each country he visited -- including India, Pakistan, Iraq, Iran, Afghanistan, Turkey and Greece -- he mounted an art show. Unrolling the canvases he had been carrying in saddle bags, he sold his art to support himself along the way.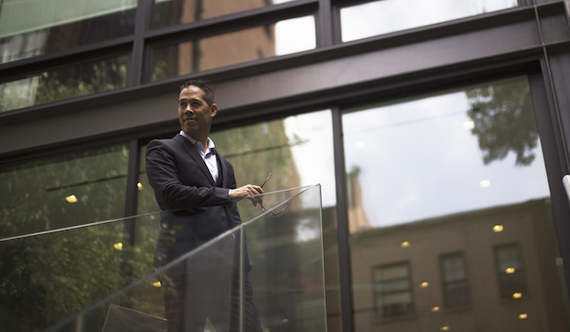 Inson Wood has released his latest monograph book on interior design -
"Inson Dubois Wood: Interiors" published by Rizzoli New York.
Photo: Mark Roskams.
Fifty years later, his son, Inson Dubois Wood, is mounting his own traveling show, as documented in a handsome coffee-table book from Rizzoli (Inson Dubois Wood Interiors. $55) An interior designer who also trained as an architect at Harvard University, Inson has transformed houses and apartments in Europe, the U.S. and his father's native Thailand, into showplaces, filled with paintings, sculptures, furniture by both "name" designers and anonymous flea market finds.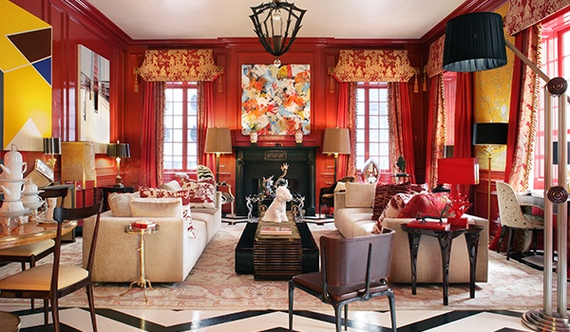 Upper Eastside living room Chinese New Year-inspired room with paintings
by Ron Erlich (center) and Larry Zox (left). Photo: Peter Rymwid.
The textile guru Christopher Hyland, in the book's introduction, describes Inson as eclectic, and it is a (rare) correct use of that word: the architect is drawing from myriad sources. They include Thai culture he learned from his father and the French style he picked up from his mother.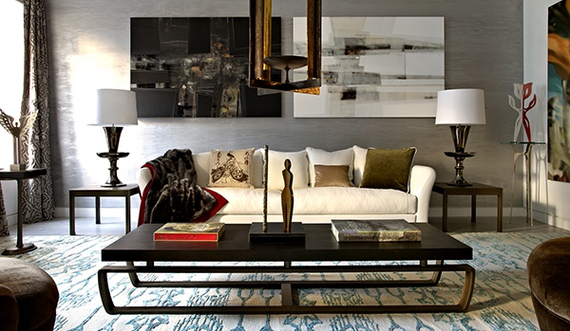 Former carriage house - Upper East Side townhouse by Inson Dubois Wood
with a diptych painting by Michael Dickey. Photo: Mark Roskams.
Then came his mentors in school -- at Cornell, the neoclassicist Colin Rowe, and at Harvard's Graduate School of Design, Rem Koolhaas and Wolf Prix of Coop Himmelblau, two architects who are not afraid to disrupt convention.
Later, when he chose to enter the world of interior design, rather than practice architecture in its allegedly pure form, he found himself working first for Juan Pablo Molyneux, a decorator to the world's highest level well-to-do, and then as design director for David Easton, the dean of English country manor, who takes a slightly more restrained approach.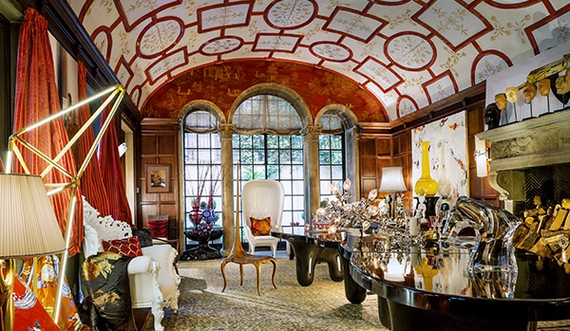 Upper Eastside Townhouse Carnivale inspired dining room with interior design by
Inson Dubois Wood. Dining table by Wendell Castle. Photo: Durston Saylor.
The influences are all there in the gorgeous photos by Mark Roskams, who traveled the world shooting rooms filled with everything from precious antiquities to slashed canvases. The rooms aren't pristine; these are places where people live, with scuffed walls among the masterpieces and scratches on marble kitchen counters. It is a sign of Wood's belief in real life (lived grandly, of course) that he didn't ask to have the images retouched into blurry sameness. His clients live their lives in sharp focus, and the book reflects that.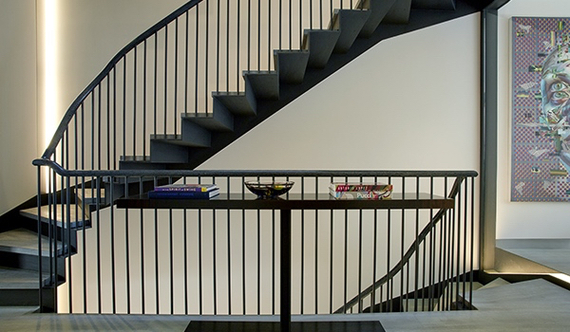 Townhouse design by Inson Dubois Wood with a cantilevered welded
solid steel plate stair. Photo: Mark Roskams.
A few of the interiors shown in the book follow holistically creative themes. One client, moving to a penthouse on Central Park from Connecticut wished to create an environment entirely from repurposed or natural materials in order to foreground a collection of antique, vintage and contemporary furniture - with products made locally such as steps to a bronze greenhouse which were made from reclaimed beams which survived Hurricane Sandy.
Another client wanted an apartment suitable for meditation; Wood used so much white that, if it weren't for the mid-century wooden bench - that sits among glass and steel furnishing on a floor of white-glass tile, you'd think you were looking at a black-and-white, rather than a color photo.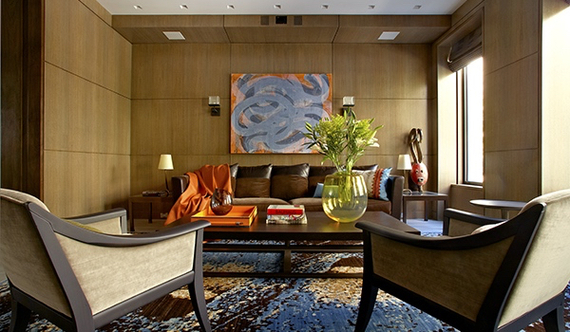 New Construction ground up Upper Eastside townhouse with architecture
and interiors by Inson Dubois Wood. Photo: Mark Roskams.
But most of Wood's clients encourage his diverse eclecticism. At a mansion in Greenwich, Connecticut, Wood used German and Russian antiques as references to the owners upbringing. A ground up townhouse on the Upper Eastside acts as both an art gallery and a comfortable home for a family. In a European farmhouse, the homeowner's roots were even more directly on display. As Wood explains, "We approached the project as if we were historical anthropologists mounting an exhibition." Old trunks found in storage became side tables and farmers hats were turned into sculptures shown alongside impressionist paintings.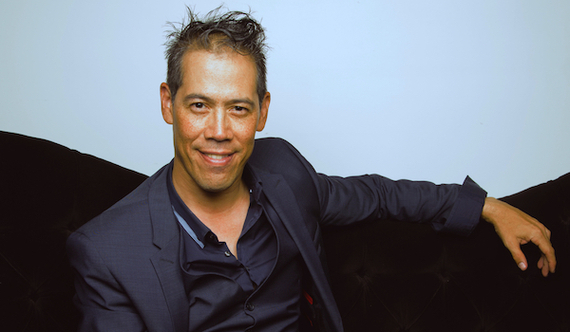 The "Thai French-American" Harvard trained Architect - Inson Dubois Wood. Photo: David Kim.
There's one project in the book that isn't for an individual client -- Wood's contribution to a prestigious Manhattan show house. Designed around the theme of Venice's carnival, it is appropriately excessive, with Rodin sculptures; bulbous Wendell Castle furniture; oversized blown-glass vessels; red-lacquered and gold-leafed ceiling adornments; and Harlequin-print drapes.
It is meant to show how many influences Wood can bring together in one room, and it does so. And yet it isn't that different from the other interiors in the book. Inson never pulls his punches. Inson Dubois Wood interiors, even ones that are nominally minimalist, are planned with care and executed with elan. It's always Carnival when Inson is around.
Inson Wood perhaps isn't as we'll known as his mentors, Molyneux and Easton, or as famous as some of the other subjects of Rizzoli tomes this fall, but judging from this book, he has them in his sights.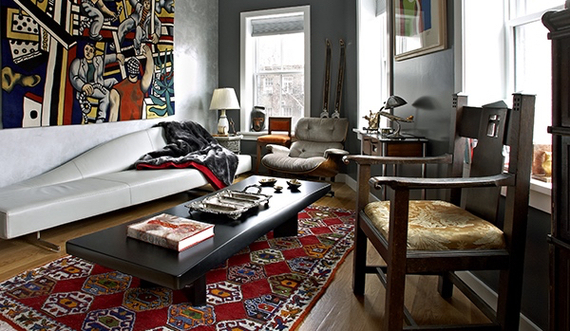 Greenwich Village townhouse with Interior design by Inson Dubois Wood.
Artwork by Fernand Leger. Photo: Mark Roskams.
Not everyone gets to combine their passion for cycling with philanthropy, but Inson Wood a New York-based interior designer, with the help of one of his training partners, Ric Wolf founded a cycling team in 2000 specifically for the purpose of raising awareness for charitable giving while supporting inner city youth follow their dreams of one day racing at the professional level.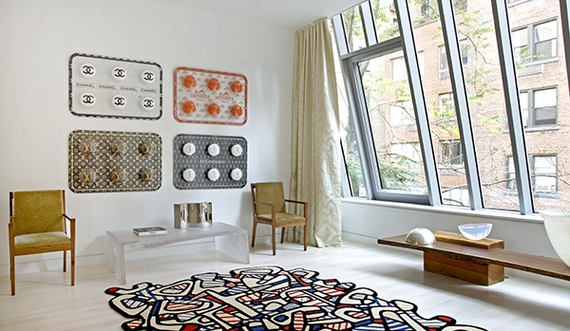 Upper Eastside townhouse by Inson Dubois Wood with wall art by Desire Obtain Cherish and rug tapestry by Dubuffet. Photo: Mark Roskams.
Flash forward to 2016, with support from six hedge funds (One Equity Partners, Highbridge Capital, Brookstone, Cap Rok, Loeb Partners, Davidson Kempner) and a variety of local NYC businesses and over fifty members strong - Foundation has supported young riders to race at the national level. Young riders now compete across the nation and have even returned to their countries of origin: claiming National Championships in Dominican Republic, Guyana, Trinidad, Kurasow and Jamaica. The team is also one of the largest non-business donors to Alzheimer's research and care.
Inson Dubois Wood is a visionary designer and philanthropic global citizen - the world could benefit from more people with his level of grassroots community giving and value-added for his fellow humans.
Related
Popular in the Community