A once in a lifetime pop up dinner is taking place this weekend only at Tempo Dulu, at The Danforth Inn, in Portland, Maine.
Tempo Dulu's owner is a frequent traveler to Asia where he first experienced Nang Gin Kui, a Private Dining experience in a couple's home, high above the city of Bangkok. Fortunately for those of us in Maine, Tempo Dulu invited the couple, Chef Goy Siwaporn and her husband, Florian Gypser, to prepare their 12-14 course meal here, for the first time, in the U.S.
In Bangkok their Private Dinners were the top rated dining experience on Trip Advisor for 100 weeks, with reviews ranging from "Simply AMAZING" to "The Best Thai Food Experience Ever."
Last night's diners were treated to a parade of jewel-like bites. The evening began with passed hors d'oeuvres of fresh fruit (cantaloupe, watermelon and more) topped with powdered dried fish, brown sugar and mint; delicate egg nests filled with potato, carrot and onion, and cucumbers filled with a tuna tartar made with Thai herbs for a particularly flavorful and unusual variation on this popular dish.
From there we proceeded to the dining room, all seated at large communal tables. Dinner flowed smoothly, with each bite more tantalizing than the last. The dishes were flavorful, with their mix fresh herbs, rich spices and a hint of heat, leaving you wanting more. The Thai chilis provided hits of heat that were not overwhelming but rather teased, and enhanced the depth of flavor in the dishes.
Seated we were first treated to a trio of bites: stir fried lemon garlic chicken in lettuce cups; a minced curry pork spring roll, and salmon wrapped asparagus spear with Thai garlic sauce.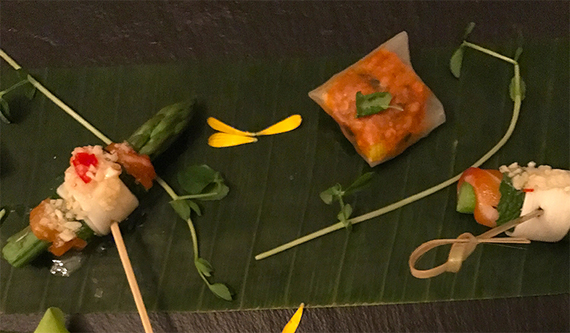 This was followed by a refreshing lettuce cup filled with a mix of Thai herbs, topped with palm sugar syrup, serving as a sort of palate cleanser following the Thai garlic sauce.
This version of Tom Kha Gai, a popular favorite soup of many, was rich and had a deep, warming heat.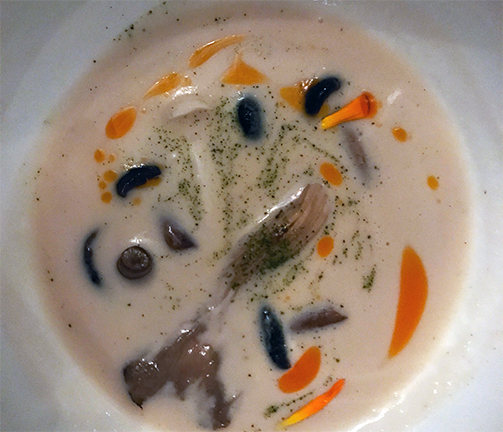 The grilled Maine lobster, drizzled with a Thai seafood sauce, was smoky, gingery and garlicky, the kind of dish that makes you want to lick your fingers.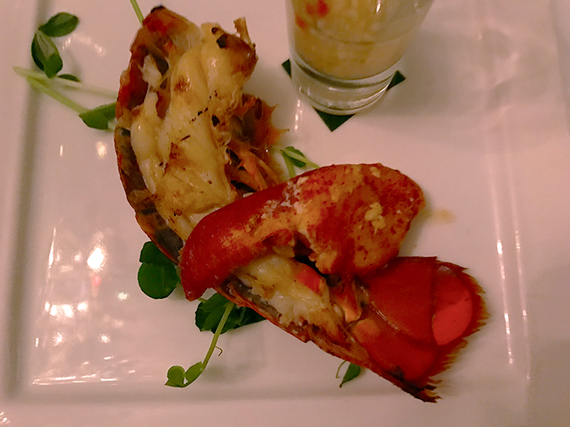 The final course before the dessert was Gaeng Hang Lae, a Thai-Burmese ginger curry with Jasmine rice. This was rich with ginger and was a comforting dish to conclude the meal.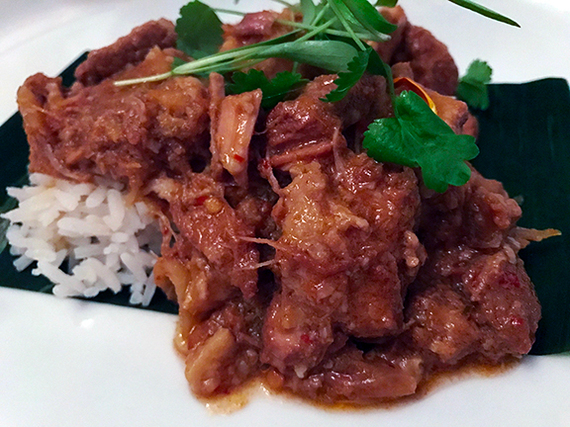 The evening ended with smoked coconut milk with beautiful green tapioca and sweet mango, sending everyone spilling out into the streets happy and satisfied with an extraordinary night out.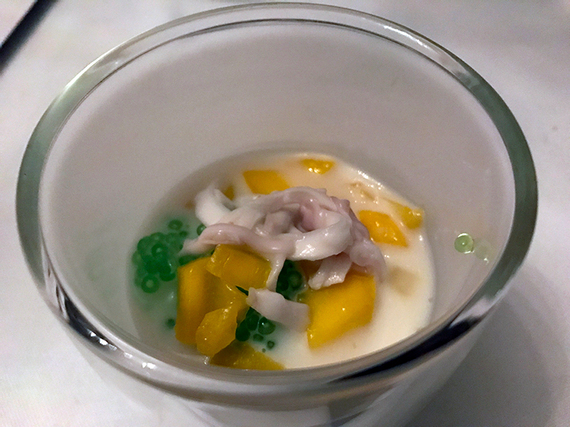 If you are lucky enough to be in the area, you should definitely take a trip to Bangkok right here in Portland, tonight or tomorrow night.