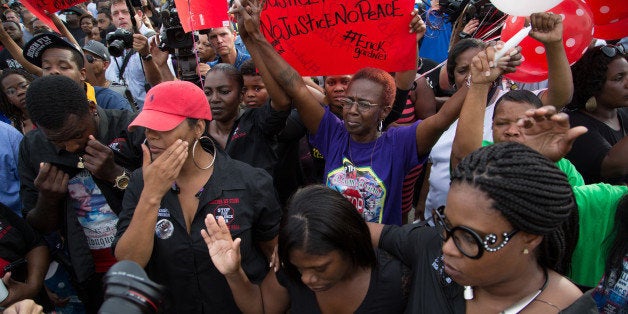 As I prepare to go to Baton Rouge, Louisiana after receiving requests from local activists and clergy in their legitimate call for justice in the death of Alton Sterling, I am reminded that when I return to New York City, I will be meeting with the family of Eric Garner.
July 17th marks two years since Garner was killed after police in Staten Island placed him in a choke-hold. As we get ready for a memorial march in New York, I am shocked at the parallels between the Garner and Sterling deaths -- which are horrific and eerie. Both were selling products in front of a store trying to subsidize an income for their families, and both tragedies were caught on video that if it did not exist, no one would have believed those of us that stand on the side of justice in these cases. While responding to the rallying cry in Baton Rouge, I was shocked to see yet another incident in Minnesota, this time involving the death of Philando Castile by police -- whose aftermath was also caught on video. Technology has allowed the marginalized, oppressed and voiceless to have a voice, but now we must harness that ability to deal with police reform systemically, instead of episodically.

For years, organizations like my National Action Network have pushed for accountability and reform across the board. We have repeatedly stated that the problem is not isolated; it's not a Louisiana problem; it's not a Minnesota problem; it's not a Staten Island problem -- it's a national problem that requires national reform of police culture and the criminal justice system itself. Nothing short of that will turn this calamity around. We must have independent investigations and prosecutions so that police are held accountable by an objective neutral entity, and the community is assured that there isn't even an appearance of a conflict of interest. Officers cannot be investigated by those that they interact with on a daily or regular basis -- that is common sense. Secondly, there must be extensive training and residency requirements that police live in the cities that they serve. That is the only way that they will respect and treat that community fairly.

There has been stunning silence of national officials and candidates running for everything from the highest office in the land to Senate and House seats and more until there is a tragic killing. And when those who consistently raise these issues and even win some cases get involved, we're branded as "troublemakers" before and after a case. In 2016, there are many important, priority issues in front of us and we must deal with them all, but none is more important than police reform. Some of us have advocated for this for decades, and will continue to advocate for it which is why we are still called by family members and communities while others philosophize, give interviews and move on.

This year alone, there have been over 550 people killed by police according to "The Counted" data tracker by The Guardian. When the rest of the world looks at us to uphold the values of democracy, freedom and justice, we cannot fail our own citizens. This is a systemic problem across the country and requires a revamp from the top down. We need national reform for a national disease. It's Louisiana and Minnesota today, and it could be anywhere else tomorrow. Our communities, our mothers, fathers and grandparents are tired of telling their children to be fearful of those that should be serving and protecting us. And they are tired of watching their loved ones die at the hands of those who have such little regard for the value of our lives.

While technology and social media have played a great role in disseminating information, raising awareness and galvanizing people, we need reform measures on the books without delay. We will not preach our way out of this, we will not march our way out, we will not tweet our way out, nor hashtag our way out. Rather, it will take all of the above along with national legislative action to change the structure and culture of policing, and enact true accountability. Instead of people competing for face time after a horrific incident like that of Alton Sterling or Philando Castile, it is change time. After continual death and a lack of justice, people demand action; our electeds and those running for any office must provide an adequate solution. We cannot continue to deal with each loss on a case-by-case basis.

A systemic problem requires systemic reform.
Popular in the Community