Someone dies from gun violence every 16 minutes in America.
YOU CAN DO SOMETHING ABOUT IT is a series of frank interviews with passionate men and women who are leaders, activists and influencers on the subject of gun violence in America. Some have been my teachers, champions and support system on this very complicated and emotional journey and some I have admired from afar for their bravery, audacity and indomitable commitment to the cause. Although our backgrounds, experiences and the challenges we face in our work are as complex as the causes and the solutions to this epidemic, all have shown that there is more that can be done to end this senseless loss of human life.
I am proud to introduce you to each of them and excited to share their insights into how all of us can be a part of the solution to Raise The Caliber of our communities.
Occupation/Title/Life Background: I am inmate #00A2303 at Sing Sing Correctional Facility. At Sing Sing I work with the Hudson Link for Higher Education in Prison program as an administrative assistant to the academic coordinator. Hudson Link is a non profit organization that provides college education, life skills and re-entry support to incarcerated men and women as well as their families and communities, resulting in lower rates of recidivism, incarceration and poverty.
I have lost half my life to a wrongful conviction. At first I was broken, but before my spirit deteriorated, my resilience led me on a path that allowed me to turn my trauma into triumph.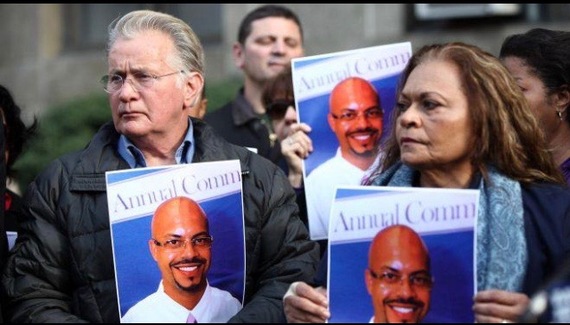 Race/Nationality: Latino; American of Puerto Rican Descent.
Where do you live? Sing Sing Correctional Facility. Temporarily.
What quote do you live by?
"It's not the duration of your life, but the donation you make to life that really counts." -The 12 Universal Laws of Success by Herbert Harris
What are you most proud of about your work/life?
I have found a way to overcome my adversity by becoming a voice for the voiceless. In a NBC Dateline documentary called Conviction, which aired in February 2012, I shed light on the tragic struggle innocent people face when they fight for freedom. I developed a program with prisoners at Sing Sing using their powerful testimonies about gun violence and the real life consequences which later developed into a unique movement with the help of an incredible NBC Dateline Producer Dan Slepian called Voices From Within. Most recently I had the honor of organizing TEDx SINGSING-The very first TEDx event held in a New York State Prison. Prisoners, celebrities and community activists came together to discuss ways to 'Create Healthy Communities.'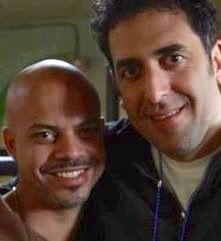 What is the biggest challenge you face in your work/Life?
The biggest challenge I am facing is to regain my freedom and correct an injustice that has destroyed the lives of my family, myself and the people I love.
Why do you think we have such a problem with gun violence in America?
Culture and access. Unfortunately gun violence is deeply embedded in the American culture. Guns have been symbols of power utilized to acquire wealth, prestige and dominion. Accessibility only exacerbates the problem. There are too many guns in the circulation of our nation. I cannot fathom the reality that it is easier to get a gun than it is to get a job or an education in this country.
What do you think is the biggest misconception about why we have such a problem with gun violence in America?
The biggest misconception about why we have such a problem with gun violence in America is that there can be an "immediate solution". This issue is too complex to be easily solved.
Do you think there a law that the government could enact that would really make a difference in reducing gun violence and building safe communities?
There is no single solution that will fix this issue. We need to combine technology and legislation to really affect the magnitude of the problem of gun violence in America. For instance, gun manufacturers should be required to utilize secured active RFID (Radio Frequency Identification tags) transmitters on all firearms so they can always be tracked and accounted for. Extra measure could be implemented with all the "smart" technology available today, making guns only able to be activated by an owner's own finger and palm prints.
Legislation requiring insurance and regular safety inspections for gun owners, just as car owner are required to maintain. This would encourage accountability and safety. It would also deter some people from owning guns just because they can!
Finally, there should be standard Federal laws that are uniformly applicable across the United States which require law enforcement to do thorough background checks and restrict individuals who suffer from mental health issues from owning a gun.
What are three things the average American citizen can do to "Raise The Caliber" of their community?
1. Enhance community relations through organized events designed to bridge the gap between responsible adults and young children.
2. Promote open and healthy communication between residents and law enforcement.
3. Foster educational opportunities to minimize the social barriers created by cultural differences.
Is there a must read book or article on this topic that has educated and inspired you?
Don't Shoot-One Man, A Street Fellowship, and the End of Violence in Inner-City America by David M. Kennedy
About the Editor: Jessica Mindich began the Caliber Collection in January 2012 as a collaboration with the Mayor of Newark, NJ, Cory Booker, as a way to turn illegal and unwanted guns from our cities' streets into jewelry. Their vision was to create a virtuous cycle by funding gun buyback and amnesty programs from the proceeds of the sales from the Caliber Collection. The jewelry is made with the serial numbers from illegal guns and the metal from shell casings. The Caliber Collection donates 20% of the net proceeds to fund voluntary gun buyback and amnesty programs in some of the toughest cities in America. To date, they have taken over 1,000 illegal guns off the streets and have raised approximately $100,000 for police departments in Newark, Hartford, the San Francisco Bay Area and Detroit from the sale of Caliber products to customers in over 85 countries.
From the success of the Caliber Collection, Jessica created The Caliber Foundation, which offers support to victims, families and communities who have been affected by illegal gun violence. The Caliber Foundation is the proud recipient of grants from MTV, Shepard Fairey/Obey Giant and The Serena Williams Foundation. Jessica is also the founder of the Raise The Caliber initiative, a National advocacy campaign to end illegal gun violence. Proceeds from partnerships under Raise The Caliber are donated to the Caliber Foundation.
www.calibercollection.com
Calling all HuffPost superfans!
Sign up for membership to become a founding member and help shape HuffPost's next chapter