Now four years in the making, the 2010 International Touring Exhibition of Common Ground has made its way to LA. The brainchild of Larry Richard, a collector and entrepreneur based in Southern California, the exhibition and presentation was first shown in Beijing in 2008 around the time of the Olympics.
40 artists selected from a pool of over 1,000 international applicants have been chosen to participate in the show.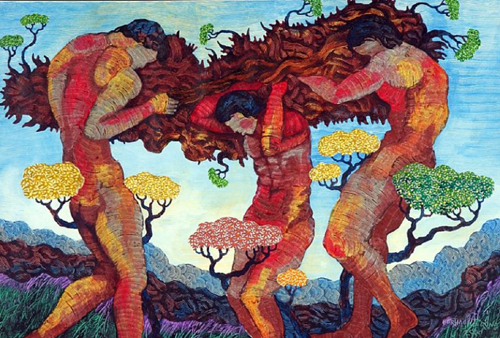 "Each one of the images in the Common Ground Collection is an original work of digital art," says Richard. "The artists have used digital technology to either create their imagery completely from within a computing and software environment or they have modified creative assets they brought to the digital environment from another medium," he adds.

Blending philanthropy with the visual arts and environmental concerns, Richard has a long-standing career in bringing interested parties together through his own style of innovative marketing strategies. For this project, which is likely to visit capital cities elsewhere, he has brought together a group of diverse partners like corporate sponsors (Hewlett Packard, Fujifilm and Larson-Juhl) alongside non-profits, including the World Wildlife Fund (WWF) and Global Giving.

Artwork exhibited consists of digital prints in various genres, almost all of which are printed on FujiFilm. Richards explains why, saying "FujiFilm is a leading supplier of Ultra Violet (UV) cured inks that are free of harmful volatile organic compounds (VOCs)."
"This type of digital ink has no hazardous air pollutants, and allow printers to emit lower amounts of VOCs than conventional solvent inks," he adds."
All artwork is available for purchase, with each print being sold in small, limited editions of 50 -- numbered and hand-signed. The prints have a digital seal; assuring potential collectors of their provenance and authenticity.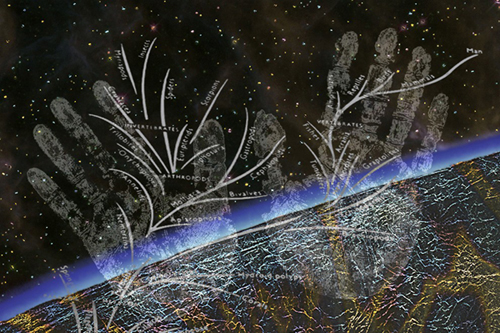 Victor Raphael and Clayton Spada's "Common Ground" is the piece that started it all. The image -- a dramatic overlay of color and texture across an archival photo of Albert Einstein's palm prints -- was co-created by an American and an artist from China, making it symbolic of the global mission for the organization. Richard calls the piece "iconic."

A digital collage of flora and fauna superimposed over the face of a young woman whose crying eyes are miniatures of planet earth, Karen Swaty's "Mother Earth" seems emblematic of environmental challenges currently faced in 2010 -- from Haiti's devastating 7.0 earthquake or BP's underwater oil volcano.
Swaty says of "Mother Earth" in her artist statement:
Like our human bodies, our earth is designed with delicately balanced systems intended to support and restore life. The amount of abuse both can survive is truly amazing, yet finite. Today, with the technology we use to analyze and monitor our ecosystems, what is our excuse for continuing to destroy our earth's ability to renew and nurture her inhabitants?
Pointedly, Swaty then asks, "What will we do when Mother Earth has had enough?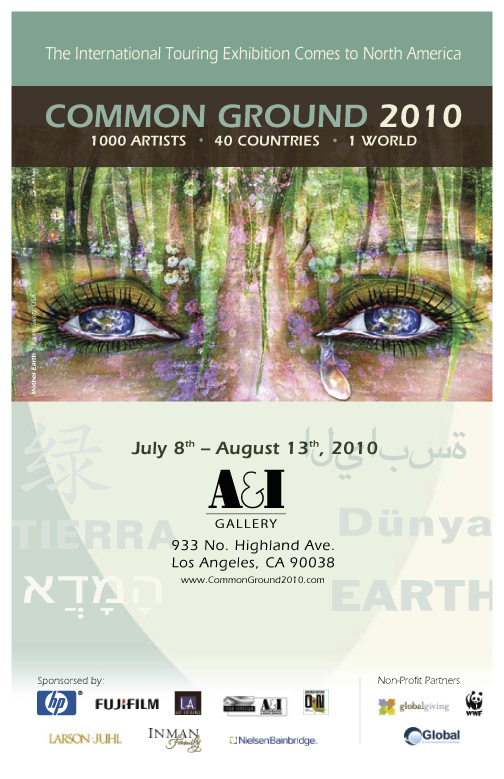 Calling all HuffPost superfans!
Sign up for membership to become a founding member and help shape HuffPost's next chapter