What makes Bettie Page so timeless and unforgettable? Perhaps we're all charmed by her uncanny ability to share a sunny smile while dressed in full heels and lingerie. Marilyn Monroe was described by famed photographer Andre de Dienes as "an earthly, sexy-looking angel." Betty Grable glanced back over her shoulder with a coy smile and won the hearts of a nation during wartime. It's been more than 60 years now and call it allure or "it" factor, these women still draw us in and leave us wanting more.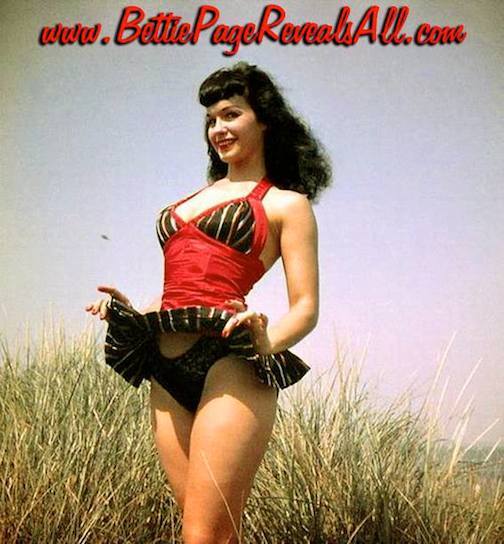 The more flirtatious Bettie - From Bettie Page Reveals All movie archives
Today, pin-up is enjoying a popular revival. Modern-day pin-up girls, like HellCath and others, have grown out of the subcultures of Rockabilly and Kustom Kulture and then been taken mainstream by social networking heavy hitters like, The Rebel Pin-up Page, whose editor Carrie Jean Dee explains:
It's not about being famous or a celebrity. It's about celebrating you. The modern-day pin-up can be anyone. One of our tag lines has always been 'In every girl there lives a pin-up.' The concept of the girl next door is attractive, because it's accessible to everyone, not just the select few.
In many ways, the recent popularity of modern pin-up is also in reaction to the perceived norms within the fashion industry. Pin-up girls come in all shapes and sizes and are more playful than pretentious, and a little more flirty and friendly, which perhaps explains their appeal.
The vanguard modern pin-up Dita Von Teese has said, "There is no true standard of beauty, apart from the little things that make us healthy." And of the audiences at her rousing neo-burlesque shows, which are 80 percent women, she's explained, "They're all shapes, sizes, ages, ethnicities... they get the same feelings as I do about creating glamor. I'm inspired when I look out into audiences and see a sea of girls with curls in their hair, red lipstick on, and their nails done."
Today, there are scores of events worldwide that celebrate the pin-up revival like Viva Los Vegas (April 2-5 at The Orleans Hotel), the annual Rockabilly Weekend and Car Show. HellCath, who some liken to Dita Von Teese, is a passionate and internationally known model who'll be competing at Viva Las Vegas' Pin-Up contest, and will also appear at the Bike & Tattoo Show (April 17-19, Laval, Quebec).
Growing up in Quebec as someone who "never fitted in" and always felt different, HellCath got her first tattoo at age 13 and never dreamed about becoming a beautiful pin-up, although she prides herself on always having her own style. Now, she says that a lot of women stop her in the street or message her complimenting her style and asking for advice about transforming themselves:
I began with pin-up style because I already had a passion for pretty much everything mid-century related. But it's not just about copying the pin-up look of the past, but taking it and modernizing it. You have so many choices, whether you want to become a professional or dress pin-up just for fun. You can transform yourself into a classic, rockabilly or contemporary pin-up. The style is timeless. But the key is showing a little bit of sexiness but also a lot of class... how to be tasteful without showing too much.
For women asking for insider advice on working with photographers and especially how to pose, HellCath offers some very helpful tips:
One key is the emotion in your eyes. Even if you have a killer body, if you don't feel at ease with your photographer or don't feel good in your own skin, it's going to show in your face. So, create a persona, relax and have fun! Another is perception. You have to display your body in a way that shows your best assets, and hide what you don't like about yourself. Tuck your tummy, point your toes, relax your face and keep in mind that everything closer to camera looks bigger. The best way to achieve both is to practice. Look at yourself in the mirror, pose for a friend to see what looks good or not. Then, do it over and over again! One more thing, attitude is big. Be positive, be polite, be funny, be professional, be humble... that can make a huge difference on your photo shoot as well as in your life!
HellCath's insights reveal how pin-ups work on charming the camera but her confidence and humility possibly uncover the mystery behind why we continue to love pin-ups, whether it's Bettie Page or a whole new generation of pin-up girls.
For more on how to become a pin-up, look out for The Rebel's Guide: How to be a Pin-up written by Carrie Jean Dee, along with this journalist/blogger.
Calling all HuffPost superfans!
Sign up for membership to become a founding member and help shape HuffPost's next chapter