I suppose the International Down Syndrome Coalition (IDSC) began the afternoon of March 17, 2005 -- only minutes after my beautiful daughter, Mary Ellen, was born. Call it coincidence or the luck of the Irish, but that St. Patrick's Day I met an amazing little girl who is a treasure, far more valuable than any pot of gold.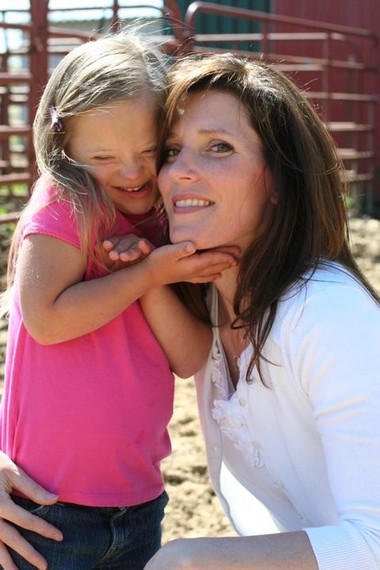 She was my fifth child so I didn't expect any surprises. My pregnancy wasn't anything out of the ordinary and I had no complications during labor or delivery. That is, until she was born, because a deep and penetrating hush fell over the delivery room. The feeling of fear hovered over the room so palpably that I thought my sweet baby girl had died. My husband looked at me in alarm and asked, "What's wrong? Is there a problem?" But then we heard her cry out. She was precious and alive.
The problem was how the medical staff reacted to her diagnosis of Down syndrome. My experience was an awakening into how many in the medical profession -- and the general public -- react to a diagnosis of Down syndrome. They communicated disappointment, they presented a list of limitations and challenges, and they hinted that life would be less rewarding because of that extra chromosome.
But that was my baby, so I asked the nurses if I could breastfeed her. They said babies with Down syndrome can't nurse, and instead they offered me a bottle. But I was determined and I'd nursed four other babies. Mary Ellen latched on immediately and nursed like a champion.
I looked at my husband, and through tears, I vowed I would never let anyone tell us what Mary Ellen could or could not do. I knew right then that I would need to advocate for our daughter for the rest of her life.
We called our family and friends to let them know our sweet little St. Patty's day girl was here, named after my mom and my sister, old family names that my Grandpa was proud of. We also shared with them that the medical professionals suspected she had Down syndrome. When my mother heard the news, without missing a beat she said, " Diane, life threw you a football, now pick it up and run with it."

Our outreach began like that of many other great organizations -- locally.
My husband, John, and I, soon learned that our experience with medical professionals was not unique, so we created a support group. We soon connected with other families receiving a diagnosis of Down syndrome from their doctors, and we were surprised to learn that instead of being directed to support groups, like ours, equipped to help them in their journey -- or sharing accurate information about Down syndrome and the medical advances made to help those with an extra chromosome -- nearly all these parents were given very pessimistic and, too often, medically false information.
It was the lack of support for new and expecting parents that we focused on, we knew filling that void would be crucial to our mission. "All life is precious" soon became our motto.
Fortunately, that motto has become a way of life for many, and in 2008, the IDSC was officially established.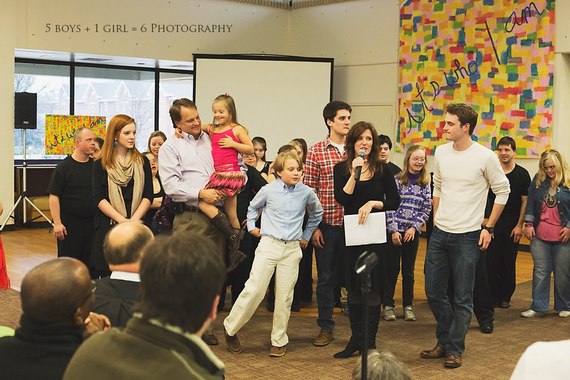 Little by little, we've grown. We secured the www.theidsc.org website that would eventually house thousands of photos from people all over the world that created our unprecedented and ongoing Photo Campaign.
We started an official Facebook page that has grow to more than 61,000 members strong.
I am immensely proud of these achievements.
But one of our greatest accomplishments to date goes beyond the success we've had in connecting people through Facebook. This year, we organized the first annual Kick Off to World Down Syndrome Day Meet Up at five Resorts around the country. Hundreds of families gathered to these locations. Children of all abilities were welcomed into a safe and fun environment where parents were able to connect in person. It was a huge success.
In fact, the demand has grown so high that we've expanded the 2014 Meet Ups to 11 locations -- from Williamsburg, VA to as far west as Grand Mound, WA and many Midwest and southern cities in between. We are even hosting a meet up in Niagara, Canada.
So whether you are a parent, family member or friend to someone with Down syndrome and are looking to meet others blessed with a special person in their lives -- or if you merely stumbled upon The IDSC by accident but share our passion to celebrate life -- I hope you'll join us again.
The IDSC will address a number of important issues in the coming months. We look forward to sharing the great joy and satisfaction of having someone with Down syndrome touch our lives, and we are here to share the tough times and mourn difficult losses as well. Most importantly, we will do it together, because we've learned firsthand that indeed, all life is precious.
Welcome. We are proud to be The IDSC, and we are excited to invite you into our community.
By Diane Grover, Founder and President of the International Down Syndrome Coalition
The International Down Syndrome Coalition (IDSC) is a 501 (c) 3 dedicated to promoting dignity and respect to all individuals who have Down syndrome. We are a coalition with worldwide representation, and do not attach ourselves to any specific religion, political party or political ideology. Our mission is to celebrate and enhance the lives of individuals with Down syndrome, as well as offer support to families of all ages.
Related
Popular in the Community