From Bitter to Better: Five Steps to Release Negativity
& Enhance Well-being
By Debbie Lyn Toomey, Health and Happiness Specialist™
Speaker ~ Author ~ Coach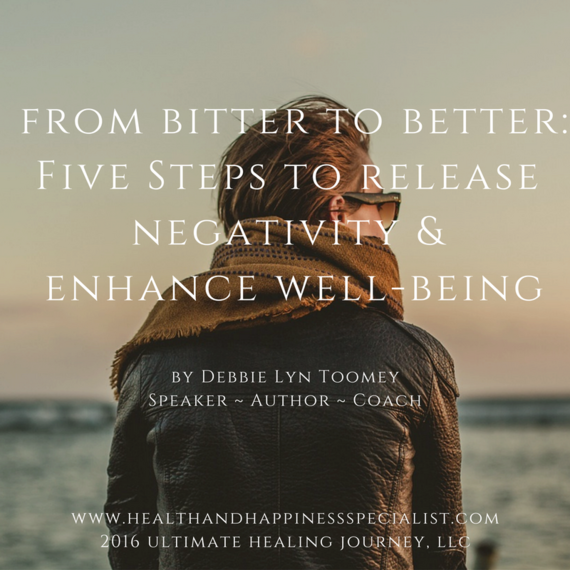 Is bitterness hurting your relationships both at home and at work?
Is it difficult for you to let go of your hurt feelings?

Is your sense of well-being suffering from the negative feelings you carry inside?
What I've come to learn as a Health and Happiness Specialist™ is that when our needs are not met, negative emotions occur. Whether they get expressed or suppressed, negative emotions impact all areas of our lives including our sense of well-being.
Life
Despite all the preparation and planning that we do, life happens and upsets our best laid plans. How we choose to deal with these events determines how we cope with these situations. It's a fact of life that harsh and hurtful feelings can hijack us because it brings up painful memories or future worries.
Stretched and stressed
Recently, I experienced compounding feelings of bitterness when my work, family, and volunteer life kept clashing and colliding. I felt stretched and stressed in all aspects of my life. It wasn't the smooth sailing end-of-the-summer that I planned. Basically, my dream of having a sweet and subdued August and September didn't happen. I felt irritated because of the delays in publishing my book. I felt bitter volunteering to chair a committee and disappointed when some people on my team were not able to help as they originally promised. Lastly, I felt scared and worried about my father's unexpected heart surgery. Needless to say, I felt overwhelmed by what was going on in my life. My dream of having a nice relaxing summer and fall season went down the drain.
Positivity skills
My negative feelings made me feel bitter. The only way I was able to overcome these draining and distracting feelings was to use gratitude, mindfulness and self-compassion. I had to practice what I preached and use positivity skills to help me rise above my sinking bad feelings. I gave myself self-compassion by giving myself permission to be human by feeling what I was feeling. Then I was able to realize that the reason for my delay in publication was that I added more content to my book which made it better than before. I also realized that my volunteering efforts were showing great progress, and I was grateful when another person volunteered to join the team, which made it easier for everyone else. Finally, I was relieved to see how well my father did after his surgery and happily surprised at how well he was healing and getting stronger every day.

Curiosity and compassion
During the times when I was starting to feel empty and exhausted, I mindfully gave myself the time-out that I needed to rejuvenate. Finally, I was able to study my negative feelings with curiosity and compassion and felt better for taking the time to unearth the source of my bitterness. Putting these positivity skills to use helped me go from feeling bitter to feeling better.
Five Steps
Here are five steps to move from feeling bitter to feeling better within minutes.
1. Give yourself permission to be human.
2. Find gratitude in what is happening in other areas of your life.
3. Take the time for self-care to rejuvenate.
4. Be curious and ask yourself what needs of yours were not met at the moment that could be causing your upset.
5. Notice the change in your feelings once you realize the root of your negative feelings.
If you are interested in 7 Simple techniques to create an A.W.E.S.O.M.E.™ life, then be sure to purchase my soon to be released book, The Happiness Result. It will be released mid-October 2016. Until then, I wish you a healthy and happy day. If you have other ways that can help people go from feeling bitter to feeling better, please share them below.