Is your workout week starting to look a little bland, and possibly expensive? Creating an eclectic fitness plan will put a little spice in your predictable workout schedule, keep you interested and engaged physically and mentally, and, according to researchers at Johns Hopkins, may stave off Alzheimer's disease:
The variety of leisure and physical activity one engages in -- and not its intensity in terms of calories expended - may reduce dementia risk in older people...
Cross training is an integral part of keeping an athlete's mind and body strong, and pliable. Keeping our muscles guessing about what activity is coming next delivers better results then performing the same routine day in and day out.
Bellow is a sampling of some local classes as suggestions for putting together a diverse and exhilarating six day fitness menu that won't leave you broke or bored. The classes shown below are Los Angeles specific, but these genres can be found in most cities. Feel free to mix and match, eliminate or add. Private classes are also generally available if required.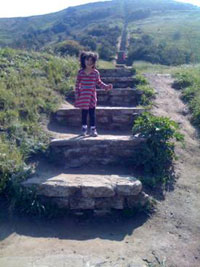 Monday: Hiking
Is there any better way to start your week then with a invigorating hike outdoors? The recent rain has made visibility spectacular and the air pristine. I would strongly suggest visiting the Baldwin Hills Scenic Overlook, which boasts breath-taking views of our beautiful Los Angeles Basin and Pacific Ocean. After mastering the steep ascent on oversized cement steps you may find it hard to resist feeling (okay and victory dancing) a little bit like Rocky. Los Angeles and its surrounding areas have many beautiful nature hikes. Most are best shared with a buddy for safety.
Tip: For the Baldwin Hills hike found here.
Parking is free on the street below. Pay parking is available for $6.00 at the top.
Time: 1 hour. Parks open at 8am and close at sunset.
Cost: usually free but parking fees may vary.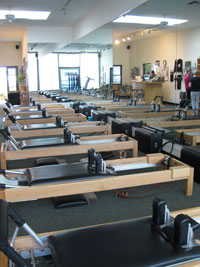 Tuesday: Pilates
A Pilates class is the perfect place to strengthen your core while stretching out stiff and sore muscles. Learning to master your body's movement through the art of Contrology, (Joseph Pilates' original name for the method known today as Pilates) is an experience no workout week should be without. Pilates Mat classes are readily available throughout Los Angeles, and a Private session may be a necessary treat.
Tip: Look for a certified instructor with more then a weekend worth of training hours. Winsorfit.com and Classicalpilates.com are two good websites to start your search for a quality instructor.
Time: 1 hour / classes run at various times all day.
Cost: $12-15 for a group class
What better way to get focused on hump day then to gain some perspective while working up a little sweat? Meditation is a skill that once developed can be drawn upon to focus the mind and find inner peace, and who doesn't need that after driving around in this town? A valuable muscle to strengthen!
Tip: Try Nirbhoa (Natalia) Kaur class at GoldenBridgeYoga.com Her calm demeanor, and relentless delivery of meditation combined with movement technique is a great alternative to after work drinks. Bring or buy water, you'll need it.
Other yoga options about town, try YogaWorks on Larchmont or City yoga on Fairfax.
Time: Wednesday night class at 7:30pm. Pay parking available at the Arc Light Theater.
Ready to feel the burn? In Los Angeles there are many classes that combine cardio, light weights and simple dance moves. The trick is generally finding one that works with your schedule. Having an inspiring and challenging instructor wouldn't hurt either. If you like your cardio served up with as little spice as possible find your nearest treadmill, elliptical, or spin bike and go for it. Aim for at least 2-3 miles.
Tip: Here are a few tried and true classes around LA to explore, or revisit...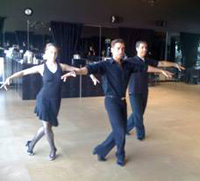 Friday: Dance!
Why not challenge your coordination and enhance or develop your social dancing abilities all at once? Ballroom dancing is an entertaining way to get out and meet people, and an exhilarating activity for a fun Friday night out. Who knew you could combine your fitness and fun?

Tip: Try Balliamos.com. Balliamos has a handsome studio found on Santa Monica Blvd. at Robertson. If you're looking for a private class, ask for Michael Padula, he's fab-u-lous!
3rdstreetdance.com is another popular local studio offering ballroom dance training and group classes.
Time: 1 hour / Evening group classes run Monday-Friday. Privates are readily available.
Cost: $15.00 - $25.00 per person for single group class.
Saturday: Body Conditioning
I'm not a fan of a hard-core torture session on my Saturday morning, but something in between suits me just fine. Finding an outdoor class that targets the whole body without visions of The Hurt Locker swirling in my head is my ideal situation for the sixth day of your fitness rotation.
Tip: Don't miss Lou Becker's East Side Walk It Out at Elysian park. His self-described "Pilates in the Park, Stretching in the Sun, and Looking good in the Grass" class will kick your *ss! For more info contact Lou at eastsidewalkitout90026@yahoo.com or on Facebook: "lou becker's east side walk it out"
Where: 1355 Elysian Park Dr. 90026

Time: 10:30 am class runs about 1 hour and 15 minutes
Calling all HuffPost superfans!
Sign up for membership to become a founding member and help shape HuffPost's next chapter