It's official: Enough countries have formally joined the Paris climate agreement for it to take effect and become fully operational.
The extraordinary speed with which the community of nations has embraced the Paris agreement underscores the global sense of urgency attached to our global fight against climate change. This marks a historic day for our children--and for all future generations--as a critical milestone in our collective effort to meet the central environmental challenge of our time.
With the recent announcement that several European Union countries formally joined this week, 72 countries accounting for about 57 percent of the world's emissions have now officially signed on to the Paris agreement. This means that it has now surpassed the threshold required for it to enter into force: 55 signatory countries, collectively accounting for 55 percent of the world's emissions. And as I type these words, still more countries seem prepared to take the final step, and to formally join before the year is out: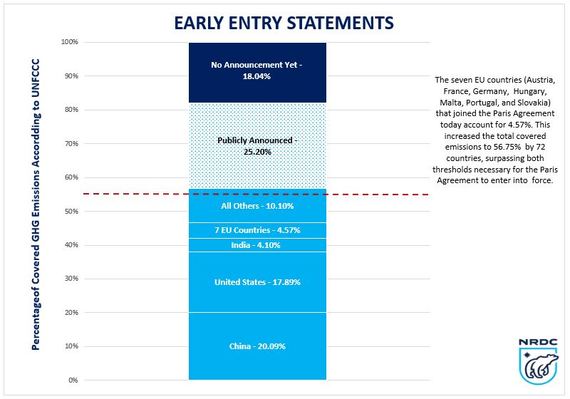 The Paris agreement signifies a critical turning point in international efforts to address climate change because it's based on several key building blocks:
First, the agreement spells out how major countries will go about cutting their emissions, by detailing their national targets. By signing on, these countries are legally enshrining these targets; the next step will be for them to implement the necessary domestic measures to achieve them over the coming years. Many of these countries have already begun strengthening their domestic actions to deliver on their commitments. China, for example, has seen its coal consumption decline two years in a row--and there are now indications that China's CO2 emissions from energy may already be peaking, due to falling coal consumption. For its part, the U.S. continues to implement a broad array of domestic climate actions, putting it on a solid trajectory toward meeting its targets. And India's solar energy market has grown five-hundred-fold in the last six years. More work remains to be done, but these early steps show that these major players aren't just sitting back and waiting.
Second--because we know that nations' current climate targets aren't enough, by themselves, to get us where we need to be--the newly activated agreement will also help us to obtain even deeper commitments from countries over time. The commitments submitted in advance of the Paris climate summit last November put us on the path to a 2.7° C (4.9°F) temperature rise by the end of the century. That brought us closer to the 2°C/1.5°C (3.6°F) goal set out in the agreement--but it still doesn't take us as far as we need to go. The language of the agreement establishes certain mechanisms to ensure that these targets represent the floor, and not the ceiling: namely, by creating a dynamic process that will allow countries to adopt more aggressive commitments beginning in 2020. It recognizes that we are going to need all players acting aggressively to reduce emissions so it creates an "action-agenda" to support cities, companies, states/provinces, and financial institutions in driving greater action. And to assist developing countries in not just meeting but beating their original targets, the agreement also commits to helping these nations secure the financing needed to build low-carbon, climate-resilient economies.
Lastly, the agreement contains provisions to hold nations accountable. Every two years, countries will be required to report their emissions, their emissions projections, and their progress toward achieving their targets. These national reports will then be assessed by a group of international experts. One of the most powerful tools for making progress will come in the form of climate action plans. Most countries recognize that acting on climate change is in their national interest--and that failing to act will only lead to grave consequences for future populations. This creates an incentive for strong climate action plans that have been tailored to the individual needs of each country, since most world leaders would never intentionally act against the self-interest of their citizens.
Getting to this point wasn't easy. It took the determined pushing of citizens around the world who nudged their leaders to rise above their differences and agree to a framework for greater climate action. It also took the creativity of the innovative minds who originally drew up that framework, and who nurtured it for the many years that it took before it could become a reality.
And--just as importantly--it took leadership.
The reaching of this milestone is testament to what can happen when key countries evince strong leadership. More than 175 nations signed the Paris agreement on April 22nd. Around that same time, the U.S. was sending a clear signal to other countries that the world's largest economy would not only be joining the agreement, but that it would also be working closely with China to get it to join, too. And the U.S. has made sure to apply similar "friendly" pressure to every country it has crossed paths with this year. In doing so, it has set the benchmark for the kind of leadership we'll need to see from the world's superpowers. Leaders must push, nudge, and cajole for strong domestic and international climate action on this, the gravest challenge facing humanity in this century.
By pushing the Paris agreement over this threshold, world leaders have chosen to make the world safer for us, our children, and our grandchildren. They have shown what can happen when officials lead not just with rhetoric, but with actions. Now they must redouble their efforts to ensure that they--and their neighbors and allies on the world stage--deliver on their plans for greater clean energy, less deforestation, and more climate action on all fronts.
Calling all HuffPost superfans!
Sign up for membership to become a founding member and help shape HuffPost's next chapter