We all know those weeks. The 40 -- more like 60 -- hour work week -- chock full of "reply all" emails, conference calls, the to do list that never seems to dwindle, working hard and skating into payroll. You limp out on Friday numb, broken, stressed out, feeling like an obscure machine of work, work and more work.
But then it's the weekend and a trip to the farmers market can make you feel all tingly inside. Suddenly hope and sunshine are in front of you in the form of fresh fruit and a fresh start.
I'm not that good of a person that I will choose to watch vegetables grow and then sell them at a reasonable price to people trying to be better people by shopping organic. But I love and support those who do. They populate my juicer and make feel like I'm on the path to healthy eating. They are the crunchy granolas who have the patience to make a living of being crunchy granola. They have my deepest admiration.
As a small business owner, I get a rush seeing dollars spent with small businesses existing on the authenticity of a dream, unhooked from the "Walmart matrix," choosing to go it on their own with micro-enterprises. Farmers markets can offer almost anything for sale and make you want to skip from booth to booth, giddy.
My favorite is the Yellow Green Farmers Market in Hollywood. It's HUGE, 100,000 square feet, with crazy clothing hanging from the 40-foot ceilings. Boiled Cajun peanuts at Amber's Tropical Oasis is my weakness. Amber is an almost-stay-at-home mommy who cooks all week, in between PTA meetings, for her weekend working and holding court at her raised, lively wooden bar. She offers a killer frozen sangria, salmon cakes, bbq pulled pork and whatever she can conjure. Amber is a smart, savvy woman who engages every customer. Like home, except at the farmers market.
Stroll the market and you'll find the expected super-duper fresh fruits and veggies. But then there's also puppies for sale, $6 wine, an olive bar, alkaline free water, tie dye anything, African black soap, Amish pastries, knife sharpening, no cage eggs, shoe repair, massages, gorgeous carnivorous pitcher plants, fresh mozzarella, exotic perfumed oils, truffle sea salt, herbal tea, shitake olive oil, homemade ethnic foods and classes on how to keep your temperamental orchids alive. Special mention to the wild haired lady in the corner singing "No Woman No Cry" with such sincerity you'd think she was one of Bob's lovers.
The belle of the Yellow Green Farmers Market is The Chill Bar, a straight up addicting oasis of gourmet food, an omnipresent cool breeze and "electric" (get my drift?) lemonade. Married 32 years, The Beckers are a husband and wife team who treat every customer like they've missed them. Frank, the chef, studied macrobiotics under Michio Kushi and has owned several restaurants all over the country. Elizabeth, is akin to a buxom gliding blonde fairy with pixie dust. She wanted to re-create The Alhambra, that magical place in Spain with open garden fountains that make any area naturally cool. All organic, the menu is heavy on eclectic brunch food like WOW waffles with jalapeno honey butter, sunny side eggs with mango chutney and blackened salmon, Savannah Shrimp & Grits and a whole lot more. Most refreshing are the unusual cocktails rimmed with candied ginger and fresh mint or muddled with coconut milk and vodka kahlua. 3 words. A.MAZ.ING.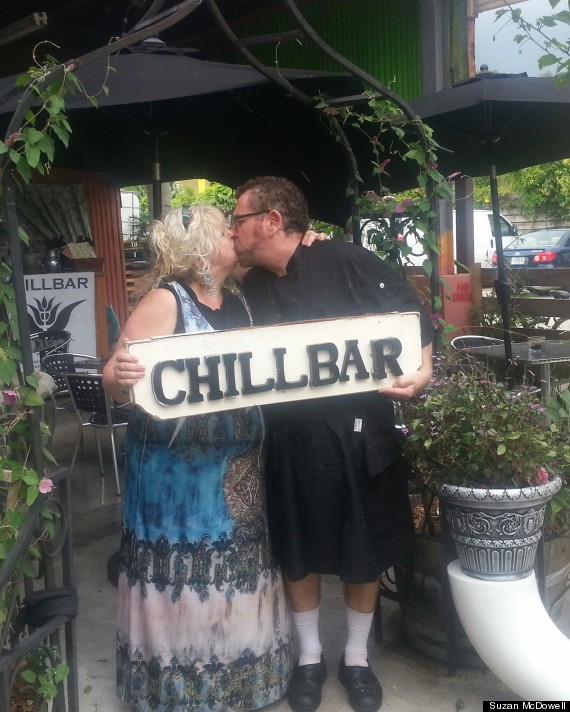 Then there is the small but lovely market at 66nd & Biscayne on the Upper East Side in Miami, anchored by The Urban Oasis Project, one of the only non-profit farmers markets whose mission is to make healthy local food more accessible to all. Pick up fresh kale, spinach, collards, thyme, basil, oranges, dragon fruit, tomatoes, etc. They even take EBT (food stamps) and will match it dollar for dollar. One of its superstars is Clive "the juice man" who's very serious about his craft. A Chinese Jamaican, he makes the wickedest fruit concoctions, including my favorite the tamarind sugarcane ginger smoothie. If you ask real nice, he'll fling in fresh june plum.
The most serious of them all is the Glaser Farms Market in Coconut Grove on Grand Avenue. These folks are hard core all organic all the time vegans. They specialize in tropical fruits, winter vegetables, herbs and a crazy amazing salad bar with wild rice, avocado, corn and olive salads, all complemented with vegan dressings. Who ever heard of a raw food pizza and nut pate? I asked that question and got the side eye. Looks too healthy to be good but the place sure is packed. The products are all superior like the raw virgin coconut oil that's amazing for ashy skin. It's not cheap but its top quality and the shopping experience is wondrous.
After a week of keeping that fake-please-pay-me work smile on, grab some shorts, a raggedy t-shirt and flip-flops then leisurely make your way to the farmers market. You can thank me later with a cup of Amber's boiled peanuts.