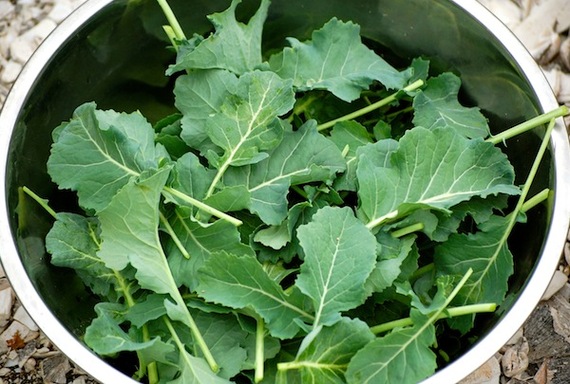 As both a vegetable farmer and a cookbook author (Fresh From the Farm), I get pretty excited about new vegetable varieties. We have our market favorites we grow every year, but we always try something new--or at least new to us, or a little out of the ordinary. Things like Peppermint Swiss Chard; Artisan Blush Tomatoes; or Ruby Streaks Mustard. Last year I accidentally wound up harvesting a new vegetable--broccoli leaves--when I planted an Italian broccoli, Di Cicco, in our winter hoop house. This broccoli produces a lot of small heads--and a ton of gorgeous, tender, green leaves. After harvesting the heads, I had so many leaves that I began cooking with them, and then selling them at the farm stand. Our customers snapped them right up.
Now, in the latest (Feb./March 2015) issue of Fine Cooking magazine, I see that broccoli leaves are highlighted as a new vegetable soon to be available in supermarkets. Turns out that Foxy Organics is growing and selling broccoli leaves nationwide, under the name of BroccoLeaf. I am so happy to see this, as they are delicious and versatile. Try them in this recipe for Super-Quick Sautéed Greens, Confetti Style or in this recipe for Stir-Fried Broccoli Florets, Stems & Leaves with Orange & Ginger that I did for Vegetarian Times magazine. You're also likely to find more broccoli leaves at farmers' markets this year, too. Farmers have traditionally composted broccoli leaves, but with the increased demand for super-nutritious greens, this will likely change.
We're not saying good-bye to kale, either. In fact, some specialty varieties are becoming more available. I see the delicious paddle-shaped Portuguese kale known as Tronchuda Beira (or sometimes just Beira) in both The Cook's Garden and Burpee catalogs this year. Beira, which resembles collard greens, is the real deal for Portuguese kale soup and is great for the high-summer garden as it tolerates heat better than some kales.
And thanks to kale--and Brussels sprouts--there is a truly fun (okay, cute) new veggie that we'll now be able to grow or find at markets and groceries. Called Kalettes, the small flowerettes are a cross between the two vegetables, originally bred in the U.K. by Tozer Seeds (and called Flower Sprouts) and introduced to the U.S. last year. They'll be in farmers' markets and the grocery this year, or you can grow them from seed available exclusively from Johnny's (listed under both Kalettes and Kaleidoscope Mix). Nutty and a bit sweet, they're delicious sautéed with garlic, chile, Parmigiano and almonds, as in this recipe from cookbook author Domenica Marchetti.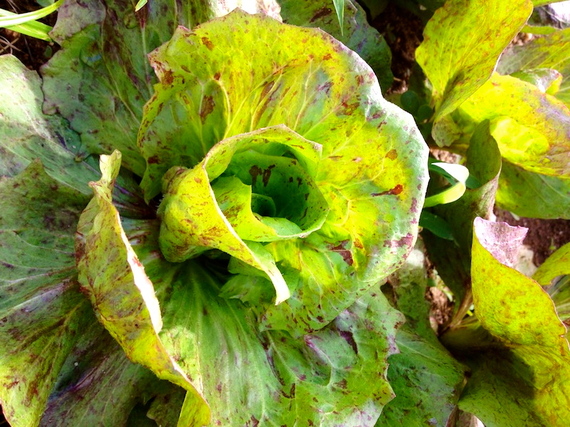 I'm also a lettuce freak, too, and every year I fall in love with another beautiful variety. I now count Freckles, Speckled Amish, and Red-Eared Butterheart as three of my favorites. (And the lovely Bel Fiore radicchio, above.) This year I've got my eye on new Ruby Glow Romaine, which has frilly red leaves and a deep magenta heart. It's on the cover of The Cook's Garden catalog and the seed is available from Burpee as well. You're sure to see this gorgeous lettuce at farmer's markets, too.
The trend toward more colorful vegetables is still rolling, and the Territorial Seeds catalog has a whole section devoted just to purple vegetables. (The purple color generally indicates a high nutritional content). From purple tomatillos and Indigo tomatoes to purple jalapenos and purple peacock broccoli, the colors are dazzling. I've still got my heart set on growing purple-podded peas and red burgundy okra. No stopping the orange trend either: There are cute new ornamental pumpkins with names like Batwing and Cinnamon Girl, a melon called Tigger, and the glorious Tangerine Dream pepper.
Whether you're growing veggies this year or gathering them at your local market, keep your eyes open for all of these delicious and colorful vegetables, and one thing's for sure, meals will not be dull.
Photos by Susie Middleton
Popular in the Community