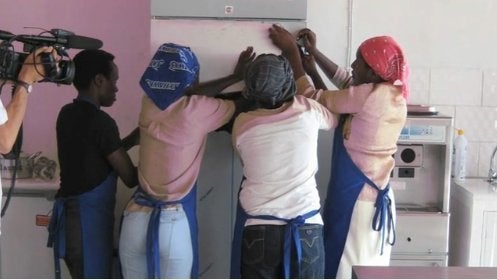 When Jennie Dundas and Alexis Miesen opened Blue Marble Ice Cream in 2007, they wanted it to be bigger than a humble, eco-conscious, all organic ice cream shop in Brooklyn. But they never imagined that their business would lead them halfway around the world to Rwanda, still recovering from the brutal civil war that claimed nearly one million lives.
The project "Sweet Dreams" came about in July 2008 when Dundas, an actress by trade, met a Rwandan woman, Odile Gakire Katese, at a theater workshop in Utah. Katese heard that Dundas owned an ice cream shop and asked her to start one in Butare, Rwanda's second largest city.
Katese, artistic director at the University of Butare's Center for Arts and Drama, thought an ice cream shop could give jobs to women widowed by war and boost the economy. But more importantly, she wanted to share the simple pleasure of ice cream to reawaken happiness that had been dulled by the 1994 genocide.
"Rwandan women want to reshape life in its simple and sweetest form," Katese said. "We want to share moments that are not embossed by despair and death. We want to create a place where poverty, disease and illiteracy are not obstacles to happiness and barriers between human beings."
Dundas and Miesen started a non-profit organization, Blue Marble Dreams, and embraced the project enthusiastically, applying for an American Express grant to extend their business across the ocean. They got community support, a key requirement of the grant, but did not win in the end. Undeterred, they organized a fundraiser and got a few angel donors interested in the project.
This January, the two owners went on an exploratory trip to meet Katese and a number of Rwandan women eager to get involved in the business, which they would eventually take over. The women were really excited, but wondered whether Rwandans would like a cold product not part of their diet, and they worried about the cost of the treat. "I was very, very important to us that we not create a product that is only accessible to non-Rwandans," Dundas said. "The whole point was that common people would enjoy this."
Once a reasonable price was set, Dundas and Miesen approached the manufacturer Taylor Products, and the company donated an ice cream machine, shipping it all the way from South Africa to Rwanda. Despite a few initial glitches, the grand opening was ultimately a great success.
"Watching people eating ice cream for the first time was one of the most hilarious and gratifying experiences," Miesen said with a laugh. "The older customers were so shocked by the coldness of it and many asked, 'Does it has to be this cold? It's quite cold.'"
Dundas and Miesen are thrilled that this "sweet dream" has finally come to life, the shop is open and people are enjoying sweet cream, passion fruit, pineapple and coffee ice cream -- with toppings ranging from granola to fresh fruit. But the business, they point out, it is still very much in its infancy.
"Like any small business it needs a little bit of influx of cash to augment the operations," Miesen said. "So we are still raising funds, we are still seeking our angel investors who want to support this shop and really make sure it has the resources it needs to succeed."
Related
Popular in the Community