MATT HIRES' "HOLD YOU UP" TO BENEFIT RMH
"'Hold You Up' is the first in a series called The At Home Project that will raise money and awareness for Ronald McDonald House Upper Midwest. The project was started by my good friend Paul Fletcher, a radio DJ in Minneapolis, who had a personal experience with Ronald McDonald House that made him really want to give back. His daughter was born with a condition called Hirschsprung's Disease that required her to be in the hospital for weeks when she was very young. During that time a nurse told them about RMH. The house provided them with a place to stay, hot meals to eat, showers, laundry, and so much more. It allowed them to feel as normal as possible while they were going through the hardest time of their life.

"When he asked me to write a song for the project I didn't know much about RMH, but through hearing his story and visiting one of the houses in Minneapolis, I was able to get a feel for everything that they do for people, and I wrote "Hold You Up" based on all of that. I remember Paul telling me that while he was going through the darkest time, he felt love like he had never known. That's the heart of what the song is all about.

"Every download of 'Hold You Up' on iTunes, Amazon, Google Play, or wherever benefits Ronald McDonald House and all they do for families. So if you like the song, or even like it just a little bit, you 99 cent download will go to an amazing cause. I'm happy to be a part of this project and to be able to use music to support such a great cause."
******************************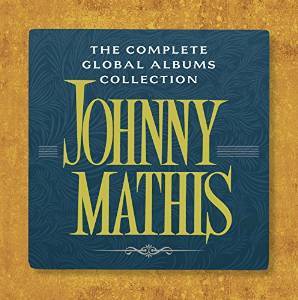 A Conversation with Johnny Mathis
Mike Ragogna: Johnny, there's a new box set of thirteen CDs of your Global/Mercury period. Before you get into the box set, why did you leave Columbia Records and what was that period like for you?
Johnny Mathis: I was a kid and I was looking for direction. I went from my little singing in San Francisco at jazz clubs to meeting people like Mitch Miller who guided me in a direction that eventually of course was a proper direction for me vocally. That's what I was concerned about; I just wanted to sing. I had a business manager who was very important in my life, she discovered me as far as my singing is concerned and got me to Columbia records with a wonderful man by the name George Avakian, in charge of jazz at Columbia. Of course, I wasn't a jazz singer. But eventually I got a chance to work with Mitch Miller and make some really wonderful recordings that turned out to be the fundamental basis of my career. So that was fine, but also there were other things that people wanted me to do. There was a guy by the name of Quincy Jones at Mercury records who was a big fan of mine. I worked with at Mercury, so that was kind of the reason I left Columbia. I was just looking around. It didn't matter who I recorded for, I didn't think, but of course I found out later on that it had a lot to do with how they distribute your recordings. That was probably the only thing that was a little bit of a negative for my career because they didn't have the distribution capability that Columbia had. But I ran there and did a lot of recordings. Some of it was good and very meaningful for me but some of it was not so good. But it's all chronicled in some of these albums. I'm looking at a list of them now and, my goodness, there's quite a few.
MR: One of the titles was your second Christmas album. You've got a reputation as one of the great Christmas artists at Columbia, so I guess it's logical your first comeback record at Mercury was a Christmas record.
JM: Oh yeah! They found that Christmas music was a big seller, in my situation. I think in 1963, that was maybe the first album I did of Christmas songs for Mercury. I was just looking around for stuff to do.
MR: There's also your unreleased "Broadway" album. It wasn't unusual for artists at that time to do Broadway albums, but the fact that you recorded one and it wasn't released is interesting, considering, in general, they also sold pretty well. What happened with that album?
JM: Corporate machinations. I found out a lot about that. I recorded a wonderful album with a fantastic arranger, Allyn Ferguson. Allyn was also my musical director for a few years early in my career and went on the road with me and I learned a lot from him. He did most of the arrangements on the album. We did Broadway songs that were not particularly recognized. A lot of the songs were kind of jazz oriented, but quality-wise it was a wonderful album that I'm very proud of, but it was probably during our transition. A lot of the artists at these record companies are kind of the tools of people who are in transition in the hierarchy of the record companies. The president of the company likes your singing, so they go out of their way to release your music, or sometimes, they don't know who you are so you've recorded product and it never gets heard. All of those things are kind of part of what you do as recording artists.
MR: So many artists were releasing successful avant jazz meets Broadway albums at the time. One didn't necessarily have to record the most popular songs on the market.
JM: Yeah, hindsight is something. I was really quite amazed at how little clout I had whether my music was released or not. I would always get the green light to go into the studio and record whenever I wanted to, but that didn't mean that they were going to release the music after it was recorded. That was what happened a lot of times, especially in my situation. Fortunately it didn't happen too often but it did happen and we're trying to correct it by releasing some of the stuff that was not ever heard before.
MR: In your opinion, during this Global period, where you were able to explore music a bit more before going back to Columbia? In other words, was this period useful to do some exploring or make a purposeful artistic statement?
JM: I have to explain something to people who don't know what someone like myself gets involved with. I'm a singer. I never was quite good at knowing what was best for me to sing. I had friends like Miles Davis and people of that ilk. Those were my big heroes musically so I used to try all sorts of stuff. That didn't mean that they were going to release it and it also didn't mean that it was ever going to see the light of day or what have you. I needed guidance. I needed someone to tell me, "This music will probably be better for your career." That really is kind of what was missing as far as my tenure with Mercury was concerned. I didn't have that close connection, and I don't know why other than the fact that it just didn't happen. So I did the music and then I wanted to have a little more guidance from someone at the company who really liked my music and would help me. So at the first opportunity, I took advantage of the open invitation Columbia gave me to come back and find somebody who knew how to handle my career.
MR: Did Columbia invite you back or did you put out feelers?
JM: You know what? The product I had at Columbia was so much that they wanted to continue it. "Let's get back to making hit records." That was fine. I didn't really know the importance of having hit records. I knew that I had some, but I didn't know how important they were to the longevity of my career, but they did and of course that's the business that they're in. Recording companies want hit records. I was still available vocally to do that, so they wanted to start all over again.
MR: Johnny, in general, how are doing these days?
JM: I certainly came to the realization when I started my exercise routine about twenty years ago that so much depends upon what the public thinks of you and how you look and how you sound. It really doesn't matter what you did a few years ago; you have to be able to maintain that in some manner, in some way. A lot of people merely maintain it by staying in the public eye through some ways, but I wanted to sing and I wanted to sing as well as I could. In order to do that you really have to be in physically good shape, not only to sing, but just to travel for instance. Traveling is very tiring. For someone who make a living singing, it takes a toll on you physically. The best thing that I ever did really was to go back to my physical exercise routine that I had in high school and college--I was on the track team and the basketball team and I was a high jumper and a hurdler, the whole thing. I was in really good shape after I left school and started to record, and I got back into that routine just through necessity. That doesn't always guarantee anything, but when you put it together with all of the nuances you have to have going for you it means something. Then there's a lot of luck. I was lucky, I met the right people at the right time, I'm still open about my singing to people who have knowledge, what I can do and what I can't do. That's very important. It's all just something that is not tangible; it either happens or it doesn't. I guess you can make it happen by being in the right place at the right time. Who knows.
MR: One of the people in your life is Deniece Williams, your duet with her "Too Much, Too Little, Too Late" having been a huge hit. Were you surprised by that?
JM: There's a wonderful singer by the name of Minnie Riperton, and at some point in my career one of my producers said, "how'd you like to do a duet?" I said, "Great!" So we called Minnie, and Minnie unfortunately was not feeling well. Eventually, of course, she passed away, but there was a lady who was touring with Stevie Wonder at the time and she was our second choice. I never told her that, but she'll find out eventually. Anyway, I think the success that we've had over the years has eclipsed any feeling of negativity she'll have. Deniece Williams came along just in time and we recorded of course a song that I never quite knew what it was all about, "Too Much, Too Little, Too Late." Okay, what does that mean? I even asked the guy who wrote it, a guy from Australia, I think, and he says, "Oh, it can mean whatever." So that's about as much as I know and that's about how vague some of this stuff is that we do. But anyway, it was an opportunity for me to record with Deniece, and we are still just absolutely lovers. We love each other very much and we see each other all the time and reminisce about our careers and the music that we made. We made some wonderful songs.
MR: What's your advice for new artists?
JM: I was so lucky, I had some people in my life that I loved very much, my dad was my best pal, my best buddy in the world. He would say, "Son, let's find a teacher," and then he said, "Stay in college, I don't think this is such a great move," when there were a lot of people who came along who wanted me to go on the road with them, and dad said, "No, that doesn't sound too good for you. Then when the opportunity came to make a record he said, "This looks like it might be the way to go. If it doesn't happen then you can go back to school." You need some kind of catalyst in your life like my dad was for me. Find somebody that you really like and put your heads together and get some basic, sound, fundamental ideas about what you're really going to want to do all your life.
MR: What would you tell the Johnny Mathis who was just beginning to have hits?
JM: You know, I sit down and chuckle at myself because I am the same kid that I was when I was nineteen years old and I was in the studio with people like John Lewis of the Modern Jazz Quartet and all of these famous people. My eyes were as big as saucers. And yet the other night I went to a function at one of the hotels here, it was for a good charity and I got a chance to hang out with some of the greatest singers and producers of films in the same room and my eyes were bugging out because I could actually socialize with these people. I am the same person I was then, the only thing is that I realize how important those people were to my life, and not to just sit around and play golf and take what comes, but to try to be a little bit inventive, try to be a little bit creative about this part of my life--I'm now going to be eighty years old in one more year. Of course, age doesn't mean what it used to because nowadays you have the doctors who'll fix you up if you're ill and what have you. So I'm going to take advantage of everything I can do now to keep this wonderful, wonderful association with music that I've had over the years.
MR: Do you have a favorite song or album that you've recorded?
JM: I have two. I did an album of songs for films with Henry Mancini, and Henry was one of my best, most wonderful pals in the world, a great composer and arranger, but just a lovely, wonderful man who was a big part of my life. I think the album that we did is probably the best stuff we've ever done. I also am very proud of two albums of Christmas songs that I recorded. Those are two albums that I listen to every year on the radio and I go, "Oh my goodness!" It's so meaningful and so wonderful that I've been able to have music, especially Christmas music, because it meant so much to my mom and my dad. I come from a big family--seven kids--and Christmas was the greatest time in the world, so when I hear my Christmas music played on the radio it's the most meaningful thing in my musical career.
MR: So Christmas is still the most wonderful time of the year for you?
JM: Yeah! [laughs] You oughta write a song by that title.
MR: Speaking of hearing things on the radio, what do you think when you hear your recordings?
JM: It's the most wonderful feeling, that somebody still cares about my music. It's a great feeling, I never get over the wonderful euphoria that I get when someone plays my music or even tells me about my music. It's a personal thing that I'm very, very just over the moon proud about. It's the thing that perpetuates my interest level in tomorrow and the next day and the next day. That music is such a big part of my life.
MR: Tomorrow and the next day and the next day, what's the plan?
JM: Mostly you try to keep that thing that got you where you are. In other words, don't get too involved with anything other than what's in front of you at the time. If you think about too much in front of you and maybe you'll never get there. If you think of what you did in the past, that was fun and wonderful, but that was the past. Let's do something creative today. Make sure you're physically capable of doing it, keep the exercise routine going, y'all.
Transcribed by Galen Hawthorne
******************************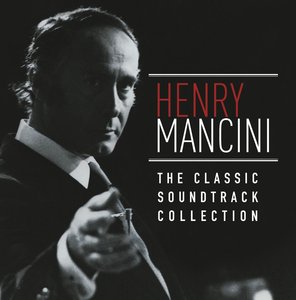 A Conversation with Monica Mancini
Mike Ragogna: Hey, Monica, there's this Henry Mancini's Classic Soundtrack Collection, a box set with nine CDs, but two albums per disc. How man times have you listened to the whole thing?
Monica Mancini: [laughs] I have it in my hand and I have not opened the box.
MR: It seems like magic, the ability to interpret the visuals of a movie and then express it through music. Why do you think he was able to do that?
MM: Those are the kinds of gifts that you just can't describe. He just had a gift for it. He was a master of making the perfect music and matching it up to those visuals that he saw. I can't explain it, I never asked him, he just did what he did and he did it really brilliantly. I don't know how you speak to that, really. A lot of times, you could really see his personality come through with a lot of this music. It was a really good way to know him. Know the music, know the man. He really had that much going on.
MR: That's what I was going to go to, also. Which films do you think really spoke to his personality? Maybe The Pink Panther?
MM: That one's pretty obvious. He and Blake Edwards had that very long, over thirty year professional and personal relationship. Their sensibilities were pretty in line. They were both goofy people who had really wacky senses of humor, and I think that's why they had such a great working relationship, because Blake didn't really have to tell him what to do, dad figured it out. And his humor really does come through a lot in the underscoring and the cues and whatever, they're just quirky. Dad had a side of him that was very funny.
MR: Even in something like Hatari! with "The Elephant Walk," that's a surprising yet interpretive choice of music moment when that happens. And the humor...
MM: Totally! I don't know how you come up with that little piece of business when you see those elephants taking a bath, but it was just kind of genius. It was perfect.
MR: Are there a couple of movies that gave him a bigger challenge than others?
MM: Yeah, there was one called White Dawn, it was about whale hunting. He was having a lot of trouble with that. My mom knows all these stories, there was one in particular and I'm not sure if it was this one or another where he was having a hell of a time trying to figure it out and my mom gave him this experiment. I think she was into Silva Mind Control or something at the time. She said she wanted him to go to sleep and put a glass of water by the bed that was half full, and just to look at the water and see it being half full. There was some other visualization that went along with it, I can't remember the whole thing, but for some reason this experiment worked. He woke up and tore into writing and came up with this gorgeous theme. My mom's got little quirky stories like that, you should ask her.
MR: [laughs] You know, being a couch potato psychologist myself, I wonder if whale hunting was a shocking subject to him, so much so that it put him off composing.
MM: Well, that's interesting, I don't know, and I guess we'll never know probably, but that's a very interesting thing to ponder.
MR: I just want to run through the albums on this collection really quickly: High Time, Breakfast At Tiffany's, Experiment In Terror, Hatari!, Charade, The Pink Panther, The Great Race, Arabesque, What Did You Do In The War, Daddy?, Two For The Road, Peter Gunn, Darling Lili--which I loved as a kid--Oklahoma Crude, and a few others that go under the radar like Who Is Killing The Great Chefs Of Europe.
MM: [laughs] I have to be perfectly honest; I don't even think I saw that one. Now that I'm looking at this box set and looking at Experiment In Terror, when he did that, that theme scared the crap out of me. I'll always remember it because that movie scared the hell out of me. It's terrifying. Every time I hear that theme--not that I hear it often--it just brings up that whole movie. I don't know if you saw it but Ross Martin who plays just this creeped out asthmatic, psychotic guy attacks Lee Remick in her garage and you just see--Even talking about I'm getting freaked out! It's a great Hallowed movie. The theme just terrified me. It's one of my favorites. Don't ask me why. Oklahoma Crude is another one of my all-time favorite themes of his. It was a really funny movie and for some reason that theme is very uplifting and exciting. I just get a big smile on my face and want to get up and dance when I hear that thing. But as far as the movie goes I couldn't even really remember what that whole movie is about.
MR: The music leaves such an impression that even if you didn't get what's going on, you still get what it was trying to communicate.
MM: Yeah! And then there the obvious ones. Who could not like Breakfast At Tiffany's' score? It's wonderful. And, of course, Two For The Road, the song itself is a family favorite, and I thought that movie was brilliant. I just thought that was one hell of a movie. The score from The Great Race; I thought that stuff was great! It was a very exciting soundtrack to me.
MR: And there's "Moon River," of course, from Breakfast At Tiffany's, a classic. I'm not sure it was Andy Williams' hit that made it stick, I think it was something that your dad created within that music.
MM: I wouldn't say that Andy Williams' version is the most popular or the version most people think of when they think of "Moon River," but if you compare that to the image on the screen of her sitting outside the fire escape with that guitar, it's just breathtaking. That's what the song is about. It's not about Andy Williams' vocal. As wonderful of a pop hit as that was, that's not what I think of when I think of "Moon River." I perform that song all the time because I do pops concerts all over the world, so it's definitely part of my repertoire. The biggest challenge for me, of course, is bringing life to that song that is so popular and so familiar to everybody. What that song does for me when I see Audrey Hepburn singing it, it just tells you what the whole damn song is about. When I perform it in concert I would like to be able to communicate that much depth with that song to an audience that one would see on the screen with Audrey Hepburn. It's kind of my personal challenge, to put that song over in a way that perhaps someone isn't familiar with the interpretation.
MR: Speaking of interpretations, I believe the last time we spoke was about your Mancini Covers Mancini project. Did you discover anything about your dad's approach to music as you were reinterpreting it?
MM: There's a lot expected of me when I'm interpreting my dad's music. So I really spent a lot of time going deeper, although for me as a singer it's mostly about the lyrics that you have to really delve into. The one thing that I can say is that over the years that I have performed his music it never bores me. I never don't connect with it. It's always something that gets me closer to the man. I don't know how to answer that about the music other than that it moves me.
MR: And it's in the genes?
MR: Do you think your dad was the big influence for you to have a life in music?
MM: I don't know that I could've taken another path given that he did what he did and my mom was a singer. It was pretty easy for me, being in that house, to figure out where I wanted to go. But you know, as we may have discussed a long time ago, I really had no plans to be a solo artist. I was in the background singing world, the studio singing world. That's a very different thing. It was only because dad passed away that I was given the opportunity to go out and sing his music. I was never guided or led toward anything growing up. I never was told or even encouraged to go into music by either of my parents. We just spent our time growing up and trying to get through school. None of us at that time were very career-minded. I just think that my path sort of evolved, just being in that environment. Obviously, the influences were around me all the time. He was always delighted to have me be in that business, but like I said, I was never encouraged or discouraged in any one way or the other as far as going into music. I think for me itw as sort of a foregone conclusion that that was where I would end up at some point in time when I figured it out. I'm still trying to figure it out.
MR: What are you working on?
MM: Right now, I'm kind of in the middle of a project with Dave Grusin. It's all Grusin music and we've got new lyrics to a lot of his themes, because he's done a lot of film themes that are just instrumental. We brought some lyricists on board, one being Janis Ian, and Leslie Bricusse did another one of new music from Dave Grusin. It's just piano/vocal, there are only two of them where Oscar Castro-Neves did a little Brazilian thing on one--obviously, before he passed away--but it's mainly just a piano/vocal record of Dave Grusin themes. It's really exciting, because I don't write music, so to come up with a "new song," is neat. They're familiar themes from Dave's work, so if you know the movies you'll know the music, but they'll probably be unfamiliar to a lot of people. So to have a lyricist come on board and write a new piece of music, for me that's great. So that's my latest little gig. Greg, my husband, is now doing a lot of musical things with Kevin Spacey, so I've been a sort of groupie following him around and doing that stuff. It's been really fun. We've got a nice little life going on here.
MR: By the way, Kevin Spacey got me back into Bobby Darin.
MM: Well, yeah! Back when he was doing that film, our dear friend Phil Ramone who produced the music to that film, he brought Greg on board because he wanted Kevin to learn to play drums. They cut it from the film, but he was going to do some drumming in the movie. Greg came over and taught him some techniques so that he would look like he knew what he was doing on the screen. Greg and Kevin have been friends ever since an d they're going down this musical path together.
MR: Nice, and I think Phil Ramone was the one who made me a more attentive interviewer.
MR: Because he was one of my first blog interviews, way back when I started posting interviews regularly with The Huffington Post. I used to interview with an agenda, but after I asked him a question with that line of thinking, he occasionally would ask, "Don't you want to ask me_____?"
MM: He produced your interview!
MR: [laughs] Yeah, so I took that with me from that point forward. I interviewed Phil a couple more times after that and he didn't correct me once, so I guess I passed.
MM: He was a great mentor to Greg. Since Phil has left us Greg has taken over a lot of his work, doing concerts with the library of congress and other things. It's really been a lovely transition. Greg learned a lot from Phil, they would just hang out at night after work, because Phil used to stay here with us, and have their little cocktail and recap the day's events. Greg was just like a sponge, he just thought Phil was the most fascinating, wonderful guy. He is missed.
MR: It seems like Monica Mancini was meant to do the great songbooks. Maybe you work now with David Grusin and then it's John Williams, or some other composer of weight!
MM: Yes, composers of weight. It was a tricky one for me to try to figure out where to go. This is my sixth album now. I think that Dave's music is so classy and tasty, I just couldn't wait to get my hands on it. I haven't had the bug yet to do the traditional standards thing, I don't think you're going to hear tha tform me, but this kind of thing appeals to me a lot.
MR: New material from the great writers. Are you familiar with Rupert Holmes?
MR: I'm not pitching you here, but I hope that someday someone comes up with the concept of doing a Rupert Holmes project.
MM: Years ago, Rupert was involved in trying to get a Mancini thing off the ground. This was--I've got to say twenty years ago. I know that he was talking to me, he was talking to my mom... It's a vague memory at this point but he was definitely involved in some sort of musical thing to do with Mancini music.
MR: What advice do you have for new artists?
MM: Oh, God. You're not the first person that's asked me that. I have a couple of friends who are young writers who I think are uniquely talented. They have had such a struggle trying to get out there and get over onto the next level, and I don't know what it is. I don't know what they would have to do. I think if you've got talent and a little bit of drive that's a good start. I am the last person to ask, even thought you're asking me. I would not know what to tell a younger person other than what I've told one person in particular who's just this knock-out gorgeous girl who writes terrific songs and can't get arrested. Just keep doing it, or else you're going to go to waiting tables--which we all need, because I like a good waitperson! [laughs]
MR: But what about somebody who isn't interested in "making it?" Someone who just wants to do their art?
MM: I didn't really do anything that I didn't learn "on the street." I would say to someone get an education. Learn to write music. I just heard Barry Manilow saying something on QVC the other day, they asked him what he would tell young people, and it's not my experience, but he said, "Absolutely learn to read music. Whatever you do, if you sing or play or whatever it is, learn the basics." My dad would do the same thing, encourage people to learn the basics. Once you have that you at least are grounded in something and you're not flailing all over the place. I think that's kind of important, just to have the basics down. If you're a lyricist or a songwriter, I have friends that have classes that they take in songwriting from the masters, the people that haven't been successful doing that. I would go in with Barry on that one. Listen to the people who have had a lot of success and do what they do! That's a good path to follow if you can.
MR: Did your dad ever give you any advice that stuck with you?
MM: I would love to say, "Oh, he gave me these pearls of wisdom," and all that kind of stuff, but no, he didn't. It's nothing that he would say, it's just what he did. I always thought he was so interesting and fun to be around. The short answer is "No," there's nothing that comes to mind about words of wisdom or encouragement or any of that kind of stuff. I got encouragement from him just by his actions and him asking me to, say, do demos for all of the Victor Victoria stuff that he was writing for Julie Andrews. He had me do Julie's demos for her, and the fact that he thought enough of me to do that--we're talking friggin' Julie Andrews here! The fact that he didn't just hire a studio singer who was really good at doing these things but he asked me to do it. He wasn't the kind of guy that did anybody any favors more than once. If you couldn't cut it, if you couldn't deliver, he wouldn't ask you to do it again. I just thought that that was his way of showing me that he thought that I was good. That meant a lot. That was the encouragement that I needed from him, rather than little pearls of wisdom thrown my way. Personally that was kind of how I got that he thought that I was pretty good. But as far as words of wisdom, he had a lot of them for a lot of people, but we never had a one-on-one saying, "Here's what you do, honey." That never happened.
MR: The only other thing that I should ask about you is what are you going to be up to in the near future?
MM: Well I love to work and I love to perform and the feedback I get is that the more I do it, the better I get, and I find that as well. It's like I said back when I was talking about interpreting dad's music, it's always a challenge for me to be better. I go to a lot of concerts and I see a lot of people perform. I learn so much just from people's performances. The next thing is always for me to do a better show, for me to give more, for me to let it hang out more. I'm a work in progress. Other than my Grusin record, hopefully coming out soon--because I have a husband producer who is so busy with others as I told you--we really have to get down and finish this thing. But other than that coming out and doing performances of that, because Dave would like to do that, I just like to be out there doing what I do and being better at it every time I do it.
Transcribed by Galen Hawthorne
******************************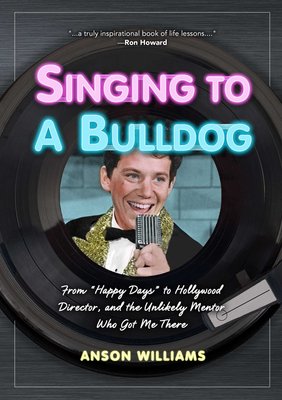 A Conversation with Anson Williams
Mike Ragogna: Mister Bulldog!
Anson Williams: [laughs] Hi Mike!
MR: Anson, your new book Singing to a Bulldog: From Happy Days to Hollywood Director and the Unlikely Mentor Who Got Me There is published by Reader's Digest. How did the association begin?
AW: It was interesting. Reader's Digest is the publisher and then Simon & Schuster are the distributor. You knows a reporter how difficult it is to get published, especially with this kind of national campaign. It was from the heavens. I was called because certain people at Reader's Digest through the years knew some of the stories which are in the book. For many, many, many years through this whole fame thing I felt like Forrest Gump. "I'm in a place and what am I doing here?" They love those stories. They loved getting kidnapped by the president's daughter, they loved all of those crazy stories and they wanted to just write up a couple for the magazine. I thought, "Okay, that could be fun," so I sat down at the computer and then all of a sudden it just hit me so strongly. "You know something? There would be no stories without Willie Turner. The introduction to the book is what I sent to this person at Reader's Digest and it went up the line and publisher said, "This is a book." All of a sudden it went form a couple of stories up to a serious motivational book. It was a chance for me to go back in time and pay Willie Turner's lessons forward. I didn't want it to be, "Here's the ex-sitcom star of the week telling a cute little memoir." I wanted to write something that meant something. I wanted to write something where the stories are entertaining but there's a greater story to each story that goes back to when I was a fifteen year-old kid lost in a janitorial room at Leonard's Department Store and this illiterate, fifty year-old African American man who was a functional alcoholic helped me find me. It took two years, but his lessons found me. I wouldn't be talking to you today without Willie Turner. I thought, "Wow, there's a book. That's what I want to write about."
MR: You mentioned the president's daughter story, that was a favorite section of mine. Can you go into that story?
AW: I don't want to get too complex with it, because the story does tie into a lesson I learned from Willie, but the basic story is that during the height of Happy Days, I got a phone call requesting that I sing "America The Beautiful" at an azalea festival in Virginia where they were crowning Susan Ford, the president of the United States' daughter, as the azalea queen. I thought, "Wow, that's kind of nice." So I flew back and then they took me to a little bit of a band rehearsal, I did "America The Beautiful," everything worked out fine, and then they asked if I'd like to meet the president of the United State's daughter Susan Ford. I said, "Yeah, well, that's why I'm here. I might as well meet her, right?" She was at the rehearsal in another area, I don't know exactly what they did, they just completed fittings or whatever and a few of her friends were hanging around. They introduced me and she kind of looked at me and said, "Oh hi." Kind of rude! I thought, "What the heck?" But there was this lesson from Willie: "People gots ta earn your respect." I thought, "I flew here all night, here I am singing 'America The Beautiful' and I get a 'Hi' and turned away? That's not very respectful." So I went up the coordinator of the event and I said, "I am not singing 'America The Beautiful' if you don't move me off from her table. I will not sit at the same table." "What? What?" I said, "I'm going home. I'm done. No way." So they moved me to another table. They had the dinner and the whole ceremonial thing and I went up and sang "America The Beautiful" and then there was dance music going and I didn't say "Boo" to her. Then of course in the evening I felt this tap on my shoulder and I turn around and it's Susan Ford looking absolutely beautiful. She said, "These people are bugging me, can you please dance?" I thought, "All right, sure." So I get up and we start dancing, and she apologizes to me. "I'm so sorry, I didn't mean to be rude." Evidently something had happened, whatever, and she understood that it wasn't right. I immediately respected her. I went, "All right, that's cool. Thank you." She turned out to be the most fantastic person. Just real and fun and nice and had so much fun.
So that was great and then a few weeks later, I got an invitation in the mail to come to the white house for an afternoon tea thanking the participants of this particular festival. So I flew back, I had to go on an all-nighter because I was working, it was a turbulent flight, we get to Washington and I've had no sleep so I'm just dying. I get dropped off at a hotel, maybe get ninety minutes, two hours of sleep, wash up, and then I'm taken over to the white house for this afternoon tea and it's in the east room. It was nice seeing everybody who was at the festival again, and then a little time goes by and down these grand stairs comes Betty Ford and Susan Ford. They walk down and there's a greeting line, Betty Ford comes up and I couldn't believe she knew me, she knew I sang "America The Beautiful," I thought, "Wow, that's pretty neat." She goes by and Susan comes up and I say, "Nice place you got here." She says, "Eh, you should see more of it." So they finished the receiving line and go away and we finish up the tea and then one of the white house staff says, "Mrs.. Ford okayed a VIP tour of the white house. We're even going to take you to the Lincoln bedroom."
Now, I'm dying, I'm just looking for a bed. I can't keep my eyes open. I'm exhausted. We're going around, we get in the Lincoln bedroom, I don't even remember it, I'm sitting in a chair falling asleep. Finally we come back down, it's toward the end of the tour, we're going down the hall of presidents which is all the busts and everything and a secret service guy comes up and says, "Please come with me." I go, "Why?" and he says, "Susan would like to see you." I go, "What?" All of a sudden we go behind the partition and into that famous elevator that goes to the residence and there's this older guy who's been there for years working the elevator and all of a sudden we get off the floor and they take me right to the solarium. It's a very famous, famous room in the residence. There I am, Anson William Heimlich, lower middle class in the solarium watching Liberty, the white house dog on the lawn. Back then there weren't cell phones or anything like that. I said, "Can I make a call?" She goes, "Sure!" So I pick up the phone and try to call my best friend Jeff Shredder. He wasn't there, so he never got the call from the white house. Anyway, when I walked into the solarium there was Susan; "Have a beer!" She's in jeans and a t-shirt, some of her friends are there, she said, "I thought you'd get bored and maybe want to hang out." So we just had the greatest time and then she says, "I'm kidnapping you." I said, "What are you talking about?" She said, "I'm taking you to a Harold Melvin & The Blue Notes concert." I go, "I'm dying!" she said, "You can wash up in my room."
So there I am with a brand new white house toothbrush and toothpaste. By the way, the room looked pretty old, it was kind of funky! The bathroom had Holiday Inn-type towels. And there we go, I wash up and there's the secret service and [whistles] the whole shebang, man, to the Meadowlands theater or something like that. They take us in separate entrances and we see a Harold Melvin & The Blue Notes concert and I think I have five dollars on me, I forgot to bring money. I guess I was a real smartass then, because I said, "Okay, I'll go, but I'm paying for dinner." Everybody, the whole entourage stops in front of Roy Rogers' Roast Beef while the bodyguards check out the place. We all stood in line at Roy Roger's Roast Beef and I bought her a roast beef sandwich and a coke.
MR: Have you two kept in touch through the years?
AW: No, we stayed in contact a little bit and then it went away. It was just a great moment, she was really a phenomenal person. But what an experience, right? And Willie's lesson helped that. I won't let anybody get away with disrespect. It was a great lesson in terms of not being a victim. Did you read the story about when I briefed the president of the United States at Shawnee Mission High School?
MR: Yeah, that was a pretty unusual encounter.
AW: Well, Willie Turner was my guide from fifteen to seventeen years old, and I learned that because of his dysfunctional upbringing, he had a disabled sister who one day wasn't there ever again. They just couldn't afford it and all of a sudden, he just lost his sister, never to hear from her again. He told me, "Don't let families fall apart. If you see a place you can help somebody, you darn well help. Get outside of yourself and see a bigger picture, and if you've got a feeling, you move forward and you make it work." That was such a strong story from Willie and there we are years and years later, I had written a film in 1980 called Skyward, Ron Howard directed it and it starred Bette Davis and Suzy Gilstrap who was the first disabled actress to ever have a lead in a movie of the week at the time. Anyway, it did very well, it got great reviews and I think it had some effect on bringing some attention to the disabled. I got a call from the National Association of Student Leaders, which is around today. It's the student body presidents of the country and student council heads, all the young leaders of the country from high schools all meet in a different place every year for a convention, and that year it was Shawnee Mission High School in Shawnee Mission, Kansas. They asked if I would do the keynote speech on leadership. Having never been elected to anything ever in life I thought, "Wow, what an honor, sure!" It all kind of tied into Skyward and all of that.
So I went down there the night before the speech and I was able to meet all of these wonderful high school kids. It was really moving just to see the intelligence and the future of the country through these potential young leaders. One young lady really affected me because she was from New Mexico and was a student body president but she worked as a maid many hours a week to help support the family because her mother had a really debilitating, I think terminal situation and she worked at the same hotel for less hours. Together they made enough money to put food on the table and help support her ten year-old brother who was a straight-A student whom she also mentored. At the same time as all that this girl was a student body president. It brought me to tears, her story. I mean, what an individual! She really hit my heart. I was trying to figure out, "What can I do?"
A few days before I arrived, I got a call asking for my social security number and other information, it turned out the president of the United States was going to that event for a speech on education and I found out that I would be doing my speech in the auditorium and an hour later the president would be doing his national speech with the national press in the gymnasium. We weren't really tied in, but they needed to know all the information about who's around, so great. Anyway, I do my speech, it went great, they asked if I wanted to watch President Reagan's speech. I said, "Sure, great!" They gave me a really cool seat close up and President Reagan came out and gave just a phenomenal speech, just charismatic and really effective, but during the speech it looked like he made eye contact with me and it was a little unnerving. Really, I was like, "Oy," like my grandfather would say. At the end of the speech, there was a standing ovation and then I thought, "Great, better go pack and get back home." They asked me if I wanted to be in the receiving line with about forty other people to meet the president as he was going off to his motorcade. I said, "Sure!" So I'm in line to shake the president's hand and here we go again, a secret service guy comes up and says, "Mister Williams, can you come with me please?"
Remember, Michael, we're at Shawnee Mission High School, there are lockers and classrooms; it ain't the White House. So I'm going, "What's going on?" We're about forty feet down the way and I ask the guy, "What's going on?" and he says, "The president would like to speak with you." Now I'm getting gas. We're walking down this hallway with lockers, we stop outside a typical classroom, he goes on the walkie talkie, the door opens and there's the leader of the free world and I can see through the window the street outside the classroom and there's the whole motorcade with flags waving, and there's the president on a phone coming out of a briefcase. He gives me the body language, holding up his hand, "Just wait a second," and I'm going, "No problem! Take your time!" They close the door again, now I'm hyperventilating.
Now I'm scared to death. It's out of body. A few minutes later, the door opens, I can't even talk. I'm just flabbergasted. I'm totally intimidated, but in ten seconds this man made me feel like the president of the United States. He shook my hand, held my arm with his other hand, "Thank you Anson, thank you, thank you for taking the time." I'm thinking, "Well, it was your coffee. Yeah, I can give you a few minutes, mister Prez." I'm in a classroom with a photographer, a couple of secret service guys and the president of the United States. He started explaining how disappointed he was that the way his schedule was he could not spend time with these kids. He said, "This is more important than anything I've done in months! These are the future leaders, I'm so disappointed I can't be with them, I can't talk to them. I saw you in the audience and I asked what your participation was. I understand that you spent time with these kids, I thought maybe you could brief me on the event." So I briefed the president of the United States on the event! Then I thought of Willie. "You do good, boy," and I thought about the night before and this young leader and I told him the story. There were literally tears in the president of the United States' eyes. He said, "What's her name?" I wrote it down, and he wrote down the little information I had and he said, "We have programs for wonderful young people like this. She's been a maid long enough," and changed her life. Instantly.
That was Willie Turner. That was a lesson taught, remembered, and paid forward. It would not have happened without Willie Turner. What I'm saying is this whole book is not just about cute stories. Every story that I put in there needed to have a bigger story. Not only did everyone else have their chance in the talk room and be inspired by the same lessons but hopefully to inspire them and motivate them with a little more hope after reading that book. "It's such a cute story, hopefully you gave me something a little something for my life. I feel a little better about me. I feel a little stronger. I feel more hopeful. I feel I have a shot." again it's years and years later that I'm paying Willie Forward. And the big thing about this book is never, ever judge. Ever. Where are you going to get the magic? Where are you going to find the tools for your life to find you? Here's this man, African American, fifties, alcoholic, illiterate, did not have a great vocabulary, and yet had the words to change my life, was my hero, had the words to move me forward. I might not be George Clooney today, or as large a director as Ron Howard, but you know I've had a lot of success in my life that would've never happened, wonderful opportunities even today, so many varied parts of life and business and entertainment that would've never ever happened if I'd judged this man at fifteen. If I wouldn't have listened, if I wouldn't have taken the time, if I judged him by his color or by his speech or his alcoholism, I would not be talking to you, Michael. That's why I wrote this book. That's what's important to me. If you've seen anything that I've written or directed in the past, I always connect to hopefully a larger picture. Something more. Something that means something.
MR: Paying forward, beautiful. Anson, let's get into other parts of your career, for instance, your directing. Some of the shows that you've associated with were more titillating at the time, like 90210, but you directed these episodes with depth, a "human" factor. Willie influenced you and you influenced millions of people, so beyond the book, Anson, you've already given him a living tribute.
AW: Yeah, he lives in my heart and head every day. It's just paying forward, that's what it's about. It's moving forward, it's paying forward, it's continuing and connecting each generation. It's an opportunity for Willie Turner to keep connecting.
MR: I have a common question that I ask everybody, it's kind of my paying forward. What advice do you have for new artists, whatever that means to you?
AW: I think I've got it. So, you're in it. Always be "in" it, never be "of" it. Like with me, "Oh, my God, I'm in it, I'm making this music, I'm writing this script, I'm writing this book." It's what you do, it's not who you are. You don't need it, don't hide behind it. Move forward.
MR: I think that's the first time I've ever heard an answer phrased that way. Is this something you would've told yourself, too?
AW: I learned this lesson a long time ago. Move forward. You're in it, don't be of it. It's not who you are, it's what you do. You leave it and you move forward to the next challenge, the next whatever. Don't hide behind these things. If you do that, you disconnect from yourself. The whole Bette Davis story is about that. When you're of it, you're hiding behind it. You're running away from yourself. Does that make sense?
MR: Yeah, absolutely. And when you look at the people you've surrounded yourself with--Ron Howard and Steven Spielberg and others--I think you fell into a pocket of people with the same life approach.
AW: In addition to Willie, my other huge influences are Garry Marshall and Ron Howard. But they are in it, not of it, too. They're selfless people. The greater good always prevails, they always move forward. They're givers and they're teachers and all of that generosity sure didn't hurt their success.
MR: Yeah, they both seem like real mensches.
AW: Yeah, there you go. Ron hasn't changed one bit, he's the same person he's always been. What strength of character. Huge. Did not waver.
MR: As you're moving forward, how do you plan to continue paying forward? You've written this inspirational book, you're already living your life as an inspiration to many people, so where do you go from here?
AW: Just continuing to connect. I really hope this book does well enough because I have so many more books in me to write--not only motivational, but also in novels and whatever else. I'd love to write many more books. A lot of it could be adapted to film, but this had to do well. If this doesn't do well, [buzzer noise] that's done. If it does do well and it catches a little fire, I would just love that. It actually gives me a better island to create more of my own things, too. When you start going it just gives you a platform to do many more things in the entertainment business. I want to do things that absolutely sell but have a reason for being.
The other thing is I've been in the product business for sixteen years, I create products. There are a couple amazing things I've just made. I just sold QVC on The Hundred Calorie Chef cookbook. There's a whole hour story of entrepreneurship attached to it, but "hundred calorie" is part of the social fabric now. They spend billions of dollars marketing it, but these guys didn't buy up any of the real estate. We've figured out a whole new point system that's better than Weight Watchers for a whole new level of portion control. It's a whole new business going to QVC. Then I just made a deal with my uncle. We're going to do a line called Heimlich Health / Live Long. It's non-prescriptive, natural products that really, really help your life. We have these alert products that are really kind of criminal, how well they work. I'd be filming out in Palmdale and I'd want to get home and not spend the night out there, but I couldn't keep my eyes open after a long day. Doctor Heimlich told me, "Anson, just bite into a lemon or bite into a hot pepper," and he explained how sour citrus hits the blah blah nerve on the tongue, sensory connection to brain. It's a natural reflex action for adrenaline to hit and wake up. It's not even in your system. It's products like that that we're developing that will save your life. That excites me, too.
MR: Awesome. Looks like Potsie made good!
AW: Hopefully the character Potsie gave people some heart and laughs. That was our job. If it just gives people a smile we did our job. But it's what you do with it, that's what counts, and going forward with it and doing something larger from it. But it takes work! It's like Ron Howard told me--it's in the book--I was complaining about being called "Potsie" and he said, "What are you worried about? I've got Opie and Richie!"
AW: He said, "Anson, you've got to earn your name," and I said, "You know what? You're right." Use this and earn your name. They know you as Potsie because that's who they see you as, and that's fair. Earn your name. You know something, Michael? We've all earned our names. Everyone on that show earned our names.
MR: That was a sweet show. But since you've directed for many television series--the Star Trek franchise, SeaQuest, 90210--you've had the mentor role over the years. Do you enjoy that role?
AW: I love it! I've done all these shows with so many young people, the most current was Secret Life Of The American Teenager, I did thirty one episodes. It was wonderful to be with all these young upcoming people, it was wonderful. Shailene Woodley mentored me more than I mentored her. She taught me so much about environmental stuff I didn't know. She's a champion. What a young lady. She walks the walk when it comes to the environment. It ain't talk; she walks the walk. She goes, "Don't buy new furniture." I said, "What are you talking about?" She talks about the chemicals and the deforestation, I had no idea! And that's just a minor thing! She is so smart, and she reminded me of Dolly Parton a lot in terms of being a giver. We'd be on the set, these twins played the part of the two year-old kid and they were always screaming, but they loved her. She wouldn't leave the set, she'd be there babysitting those kids. And the work it took to do that, let me tell you. Little things tell me a lot, Michael. I have five daughters, I know what it means. I know how draining it is to be with a screaming kid. If you don't go to your trailer, you stay there to calm these kids down during lighting setups? That's a pretty spectacular individual to me.
MR: You mentioned Dolly Parton. Do you have a close relationship with her?
AW: No, but I worked with her those times and here and there we'd see each other and we connected at the time. I was so overwhelmed that she wrote a testimonial for the book. I was overwhelmed. "Wow, she had the time to do that?" So I feel close, but I haven't seen her for years and years and years.
MR: So despite his challenges, Willie helped you achieve a better life. But it also says a lot about the person who received his guidance and utilized his lessons.
AW: That's true, but Willie Turner helped me discover me. He didn't put that in me, but he helped me discover it.
MR: What do you think you helped him discover?
AW: I was so young back then, but now that I've thought about it, he wanted to have a purpose. It was his way of paying forward. I'm sure it made him feel great knowing he was helping this busted out kid. One of the proudest chapters in the book is "Conversations With Willie," the last one. I wrote it in script form. I did not know how to finish this book. I was half dreaming and I said, "Oh my god, I need one more conversation with Willie," and at three in the morning I went up there and had one more conversation with Willie. I wrote that whole thing in twenty minutes, not one word was changed. It just poured out and I had that last conversation.
MR: The completion must have felt nice.
AW: It wrote itself, man.
Transcribed by Galen Hawthorne
Calling all HuffPost superfans!
Sign up for membership to become a founding member and help shape HuffPost's next chapter