On October 9, 2012, Malala Yousafzai, a 15 year old Pakistani student and education activist, was shot in the head and neck in an assassination attempt by the Taliban. Like people around the world, I was stunned. My shock quickly turned to outrage at such horrific violence against a young girl courageously speaking out for girls' right to education. I thought about the significance of education in my life, and my very early recognition of its significance. When we migrated to Canada from Kenya, I missed my nursery school so much, I begged my mother to take me to school. I was below the cut-off age to start Junior Kindergarten, so my mother was unable to enroll me. That didn't stop me. I kept pleading until my mother begged the principal to let me start. He did. I wouldn't be the person I am without that opportunity; without my right to education being honoured.
A few months ago, I was fortunate enough to be invited to the Gardiner Museum for a preview of Bullets to Butterflies, an interactive art exhibit by Canadian artists Unaiza Karim, Saba Syed and Huma Durrani, inspired by Malala Yousafzai. I was deeply moved by the artists' passion for the issues underlying Malala's story, and their determination to transform violence into peace and positive change.
I felt strongly that the exhibit was an ideal fit with the mission of my agency, Farahway Global , that engages the global public in action for human rights and mental health. In the process of planning with the Centre for Social Innovation - Regent Park, where Farahway Global is based, Artscape requested that we host the exhibit in the Daniels Spectrum South Lobby for Asian Heritage Month. In anticipation of our Closing Reception on Thursday, May 30, 2013, I interviewed Huma Durrani about the show.
FNM: What inspired you to create this exhibit?
HD: After the shooting of Malala, there was a strong desire to do something more about the education problems in Pakistan. Saba and Unaiza have children who go to Sunday school together, and while their children were in class, they discussed putting together an art show about Malala's courage, to raise awareness and funds for schools in Pakistan. When Unaiza told me about the project, I immediately asked to join forces with them.
FNM: Tell me about your professional backgrounds that enabled you to come together and create such a beautiful, powerful exhibit?
HD: All three of us are artists, and were referred to each other by other friends who insisted we needed to connect.
Saba Syed is a Canadian artist specializing silk screening based in Port Perry, Ontario. Saba completed her Fine Arts education at York University in Toronto, Canada. Currently, Saba lives in Port Perry, with her husband and three children. She runs her own silk-screen printing studio and teaches art to local children.
Unaiza Karim graduated with her Masters degree from The Prince's School of Traditional Arts, London. She has specialized in the Art of Illumination from the Islamic tradition and was professionally trained in Turkey. Her work has been exhibited internationally. Currently she is working between Canada and the United Kingdom as an artist and educator.
I am a Canadian artist based in Mississauga. My work is inspired by Islamic art, geometrical patterns and a modern contemporary aesthetic. The majority of my work is done by hand cutting delicate Japanese papers into intricate and precise designs. I studied Mathematics at the University of Waterloo, where I also took courses in Visual Arts. I have exhibited in several galleries in Toronto, including the Art Gallery of Ontario and the Royal Ontario Museum.

FNM: How does your exhibit address girls' right to education?
HD: All of our pieces address different issues related to the story of Malala Yousafzai - her courage, her mission to speak out for all children to be educated - and also to the education crisis that currently exists in Pakistan. Many people, including Pakistanis who are living abroad, are not even aware of how serious the situation is. We wanted to bring attention to this emergency, and do something about it. The beauty of this exhibit, is that all three artists have different specializations that they are bringing to this show. With the combination of detailed illuminations, silk-screen prints and delicate paper cuts, the show brings together different art forms and ideas addressing a single issue.
FNM: Can you tell me more about each of your unique pieces in the exhibit?
HD: In Saba Syed's piece, 'See Me', the young veiled child provokes ideas of gender and religion. 'See Me' challenges our assumptions that this is an image of a veiled girl but is in fact of a veiled boy. Saba explains, "I wanted a piece that would remind us that we should always question our 'truths'. Often understanding only comes when we are open to the realization that all may not be as it seems."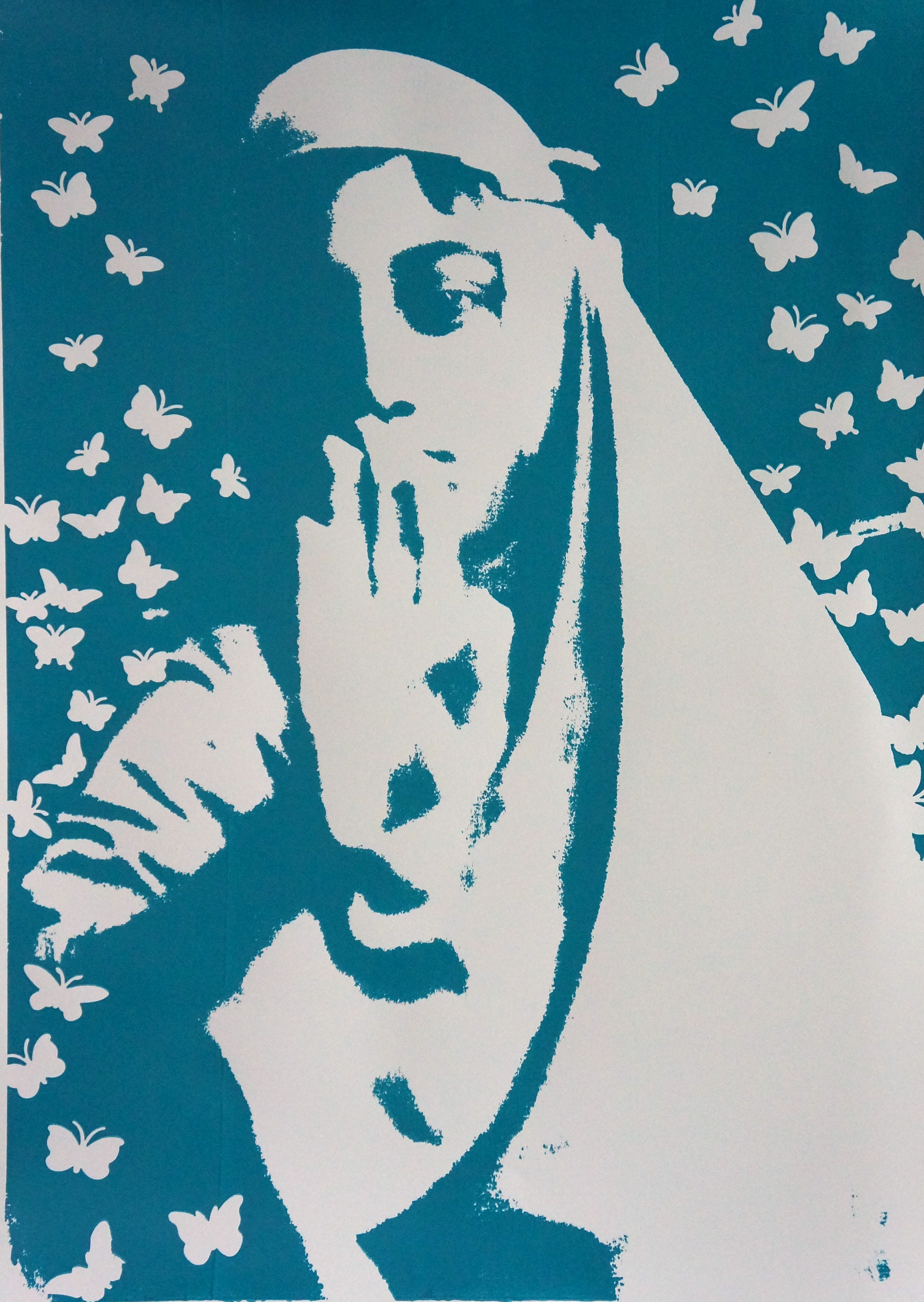 In relation to the Taliban, the veiled boy represents their inability to see themselves within the feminine. Encumbered by this mindset, this creation of 'The Other' creates a separation that justifies the use of violence on those who are 'different'. The butterflies symbolize metamorphosis; that although Malala's was shot down for her views on the rights for girls to an education, she survived. Her message actually spread and has gathered many supporters.
Unaiza's piece, 'The Invitation "Dawat"' is based on traditional book arts. In this style, each page is carefully decorated to prepare the reader for what is written on the page they are looking at and what is to come. Many medieval Qurans begin with the 'garden page' - a visual feast of natural world themes, symbolism and geometry that sets the tone and serves as an invitation to continue.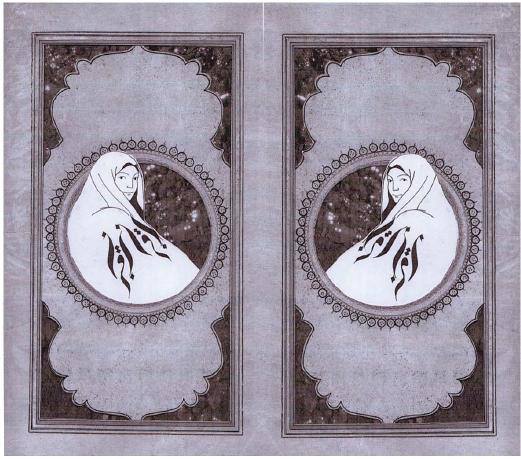 Unaiza elaborates, "I offer a similar 'dawat' (invitation) in this traditionally ornamented page, inviting the onlooker to read, to learn and to grow - every child's right."
My piece, 'The Butterfly Effect', is made from hand cut Japanese paper. It speaks to the importance of education for all, regardless of gender. The first revelation of the Holy Quran is this verse: "Read, in the name of your Lord" - Qur'an (Chapter 96, Verse 1). Reading is an act of worship and has been encouraged in Islam for all people. The holy verse is hand cut into the wings of the butterfly.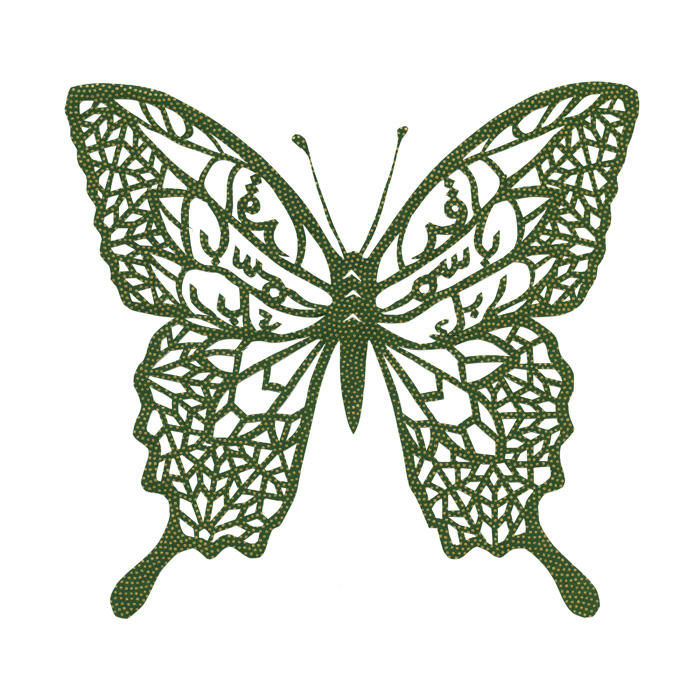 This piece presents that when the feminine power takes hold and implements the command to read, the power that she will hold and share with the world will have an impact on all that surround her. The extent of the effects of women having knowledge is boundless.
FNM: How have you made the exhibit interactive?
HD: We wanted to engage people coming to the exhibit, and make them a part of the art. Our bullet-ridden wall was designed by Saba Syed. In our first exhibit, we invited attendees to answer the question "If you could trade all the bullets in the world for something else, what would you trade them for?" and insert their responses in the bullet holes. One of the most thoughtful responses was from 7 year old Zain Rashid:
"I would trade for more schools. Because if there are more schools, people will learn more, and when people will learn more about peace. When there is more peace, there is less fighting."

FNM: You say you wanted to "do something about" the education crisis in Pakistan. I am sure that your exhibit inspires the same desire in others. How are you integrating the potential for such action into your exhibit?
HD: At the show, we sell prints and other items of merchandise to support schools in Pakistan. For our first show we supported Developments in Literacy (DIL) Canada, and for our second show we are supporting the Hope Uplift Foundation. Both of these organizations are doing incredible things to address the education crisis in Pakistan. In December, we were able to raise $500 for DIL Canada. We have also set up an Etsy page where people can buy prints with partial proceeds going towards schools in Pakistan.
Schools, museums, libraries, and other organizations and spaces can host the exhibit to continue reflection, discussion and action on these critical issues.
FNM: Thank you so much for sharing your powerful work and thoughts. I hope this piece will encourage people to join us at the Bullets to Butterflies Closing Reception: May 30, 6-8pm, South Lobby, Daniels Spectrum, 585 Dundas St. E., Toronto, ON. I also hope people will participate in the exhibit on Facebook and Twitter.
UPDATE: The exhibition has been extended to June 10
REAL LIFE. REAL NEWS. REAL VOICES.
Help us tell more of the stories that matter from voices that too often remain unheard.