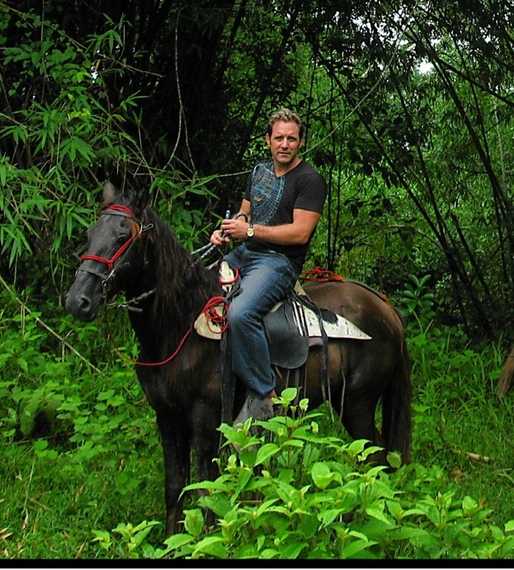 Creating positive social change has been a deep seeded desire from my earliest memories and is part of who I am. Although a firm believer in capitalism, it is my heart for people that drives me and has been at the core of my entrepreneurial career since leaving home at 17, with nothing but $300 and a dream. That dream was to build a company where people wanted to work hard, felt they mattered and were encouraged to reach for the stars.
I knew undoubtedly that to have the influence needed to make a real difference in the world you have to have money. Three years later, with money saved from working two jobs, and a new credit card with 21% interest, I started my first company. In the space of six years we had a clothing company with $120 million in sales and manufacturing in 19 countries.
Growing up with not much more than food on the table and a roof over my head I understood first hand what's like to be treated as though I didn't matter. No matter where in the world, people don't believe that a kid with no money, no college education, and no connections could do anything significant or amount to anything worth their time. I knew they were wrong. Why? Because what's needed to be successful, create positive social impact and change the world, money can't buy, and no status can create.
What is it? For me it was a strong work ethic, faith in God, enough confidence in myself to take risk, enough strength to get back up when knocked down while learning from my mistakes, enough humility to know what I knew and what I did not know. And most importantly, I cared enough to understand people and what they wanted. I knew instinctively that focusing on the needs of others was the key to fulfilling my own dreams. But even so, everyone needs the opportunity to shine. One open door; one person to believe; one chance. I worked hard for that opportunity, and even harder through years of blood, sweat and tears to capitalize on it.
There are millions of people who wake every day thinking that because of their circumstances they have no hope for a better tomorrow. All they need is an opportunity to prove they have what it takes to change their own destiny. I want to give that opportunity to those looking for a hand up, the chance they need. The rest is up to them.
My philosophy on how to build a great company has never changed. Nor has my belief that building a business culture of respect, encouragement and professionalism for all - employees, shareholders, customers, and local communities is the best way to create positive social impact that contributes to the eradication of poverty.
Many people believe for capitalism to be positive, a compromise in the form of lower financial returns is necessary to generate social and environmental impact. That goes against my belief, that truly long term positive impact comes from successful businesses, and for that to occur a company must be competitive in all aspects of the financial marketplace. No compromises in financial returns are needed if you execute correctly and are not short sighted. Short term financial returns might be lower while you enact proper processes, controls, training and get independently certified ensuring social and environmental impacts are, and continue to be, positive. However, the return on investment evens out within a few years, and over time those policies add significant value to earnings and the company.
EcoPlanet Bamboo is focused on making money while creating positive social impact, but includes an expanded desire to address environmental issues. We are focused on providing a sustainable fiber to capitalist corporations whose consumers have growing appetites for wood based products, everything from toilet paper to clothing. The motivation that pushes me every day to build the best company possible is the excitement of securing a legacy for everyone involved by providing solutions for so many destructive business practices, from deforestation to the pollution that is destroying our climate, water and the air we breathe, all while creating thousands of jobs for those in need. It is the vision of making the world a better and more hopeful place.
EcoPlanet Bamboo is the culmination of my entrepreneurial career, my philanthropic work and my desire to impact positive change. It is the destination of a boy who never stopped believing in dreams.
Troy Wiseman is an serial entrepreneur, businessman, investor and leader whose mission is to make bamboo the natural world's next disruptive technology - while making money, providing deforestation free solutions to a world with a growing need for fiber, and helping eradicate poverty. Named one of Ten Outstanding Young Americans in 2006 Troy's entrepreneurial career includes B.U.M. Equipment, the Investlinc Group and EcoPlanet Bamboo. He is also an active philanthropist, having co-founded World Orphans.
Support HuffPost
The Stakes Have Never Been Higher
Related
Popular in the Community