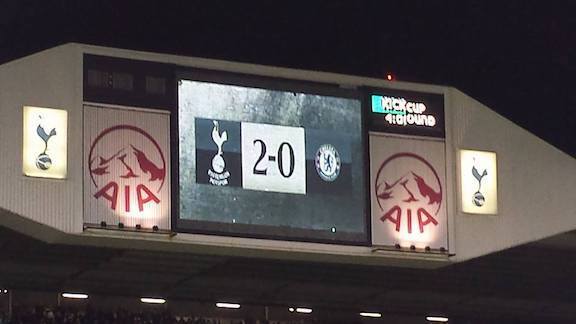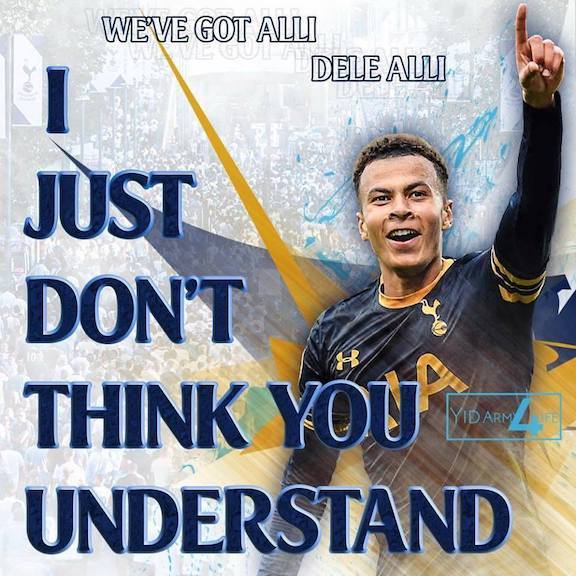 "We've got Alli, Dele Alli/ I just don't think you understand/ He only cost five mill/ He's better than Ozil/ We've got Dele Alli" — Tottenham Hotspur song
On January 4, we were standing in ecstasy, 85-strong at the Greyhound Bar in Los Angeles, standing in community with our fellow Spurs fans in San Diego, San Francisco, Chicago, New York, and across America, and with a handful of Atlanta, Columbus (Ohio) and LA Spurs members visiting White Hart Lane to see us defeat prohibitive Premier League favorites, Chelsea (2-0). The Blues had been unbeaten in 13 games and were on the cusp of breaking an English football record.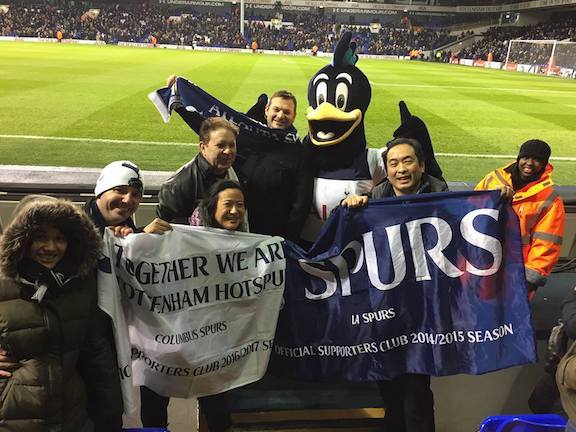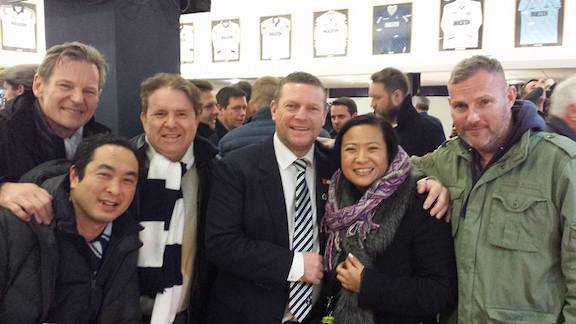 But Spurs prevailed, dominated and won what erudite blogger Alan Fisher calls, "The derby of bitterness and bile. The venom in the stands is matched apparently in the respective boardrooms. Spurs went about the act of revenging last season's away draw with remarkable calm..."
And the media, and the rest of Chelsea's competitors were all over it: Fisher's TottenhamOnMyMind blog heralded, "Spurs Sweet Victory Up There With the Very Best'; the DearMrLevy blog called it "Killing Them Softly"; the Guardian said, "Tottenham deliver statement of intent against Chelsea but revenge tastes sweet"; and the Daily Mail added, "Mauricio Pochettino says Tottenham are ready to fight for title after Dele Alli ends Chelsea's winning streak."
That would be Dele Alli, Tottenham's 20 year-old "prince of White Hart Lane," who scored with two crafted headers both set up by magical Christian Eriksen — they're both key cogs in manager Pochettino's no "I" in starting team approach. All for one, and all that glorious rot. And we Spurs fans are on for the full ride with a club that earns £100-200m less in annual revenue than the top-5 teams (Man-U, Man-City, L'Arsenal, Chelski, and Liverpool) — so, whenever we beat the top-5, we're punching above our financial weight. But not above Tottenham's legendary history.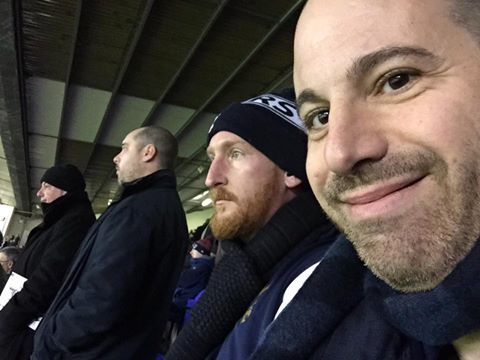 LA Spurs diehard Barry "Bazza" Lampert attending the derby game described it: "The Spurs support was EPIC. They had very loud away fans. But after the first goal we drowned them out entirely. This ranks as the loudest Spurs support and probably the best game I've been to." Visiting SF Spurs member Mark Gabel added, "We sang the Dele Alli song many times tonight. Non-stop singing! Never heard anything like it before."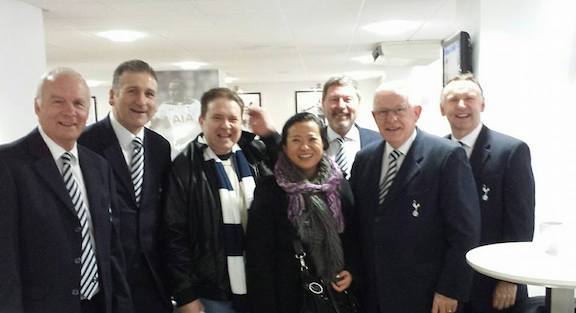 And London-born and LA Spur Eliana Fu surprised her fellow SoCal visitors with a pre-game treat of meeting a Spurs legend: "I kept the Micky Hazard meet a surprise. You should've seen Bazza's face. I thought we were just going to see Micky really quickly. I didn't know he was going to whisk us away to the Spurs Lounge. Suddenly we were standing in front of legends like Alan Mullery, Mark Falco, Paul Allen, Phil Beal, then Clive Allen and I couldn't believe it. I squeaked out to Clive, 'I had your picture on my exercise book at school.'
Yes, there's half a season still to go and Chelsea are still favored with all their Russian rubles, but I'll leave it to the bloggers and journalists to add their spin to this proud Spurs win: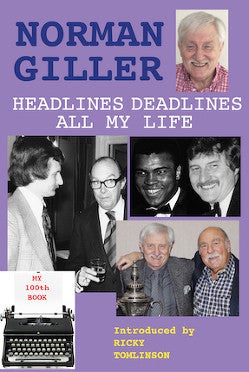 I feel privileged to watch Spurs. They play the game in the right spirit, in the right style and right motives. We're very lucky. Pochettino has built a great team ethic, with humour stitched into the foundations. Did you see Dele winding Eric Dier up in the after-match interview? I recently spent a day with them and Alli is like a terrible two-year-old, full of fun and mischief... Happy days #COYS

Well hello there my dear old friend momentum. I've missed the warmth of your big bosom. Never leave me again. It's cold without you. Oh happy days, giving back some love to Chelsea for all the personal attention they've paid us in recent years. Doing so with not a hint of petulance or brutality either. Controlled and contained throughout, tactics this time taking precedence over emotionally charged passion. A standing ovation for our commander and chief Mauricio Pochettino. Everything in preparation and execution played out nigh perfectly. It was a master class. This is Tottenham at our very finest... What impressed me so much about the Chelsea win (much like the City one) was that simply put, on their day Spurs can beat anyone in this league...Twenty games in. Seven points off the top. I think we're in the title race lads.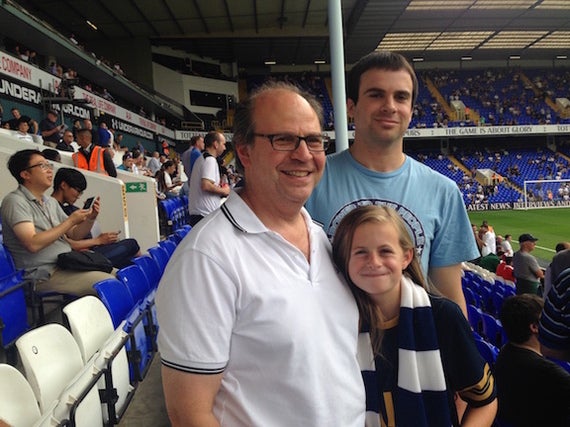 Last night my heart nearly burst out of my chest, I was so proud of my team. Spurs took on the champions-elect and outplayed them in every aspect of the game... On this outstanding showing, Spurs don't know just how far and how high their potential can take them. A thrilling, memorable, life-affirming night at the Lane that ranks with the best of them. I love this team. Bloody love them.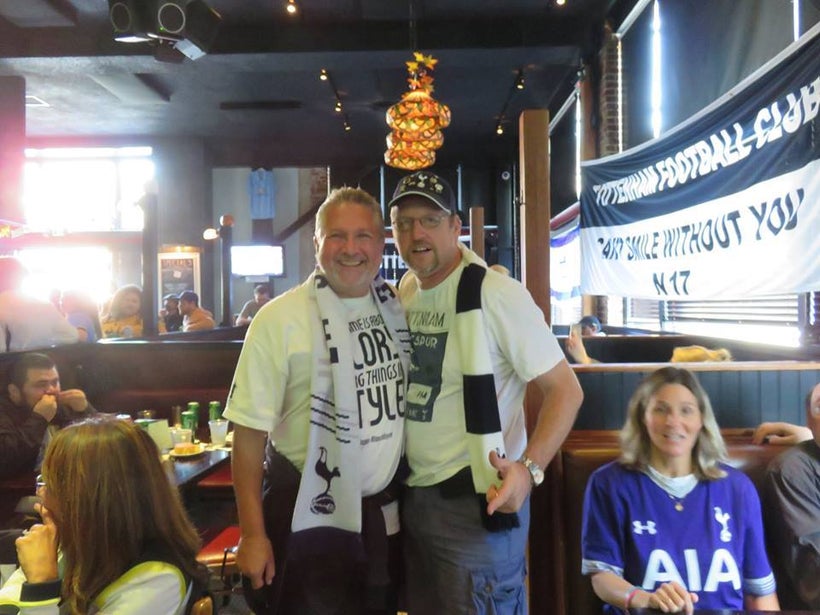 Personally, singing the Alli song, along with the other great player songs for Eriksen, Dembele, Dier, etc with my fellow Spurs fans — well, nothing could be finer! Come on you, Spurs!
Finally, props to two young Chelsea fans visiting from Pomona, Mario and Daniel, who thought they'd walked into a lions' den of exuberant LA Spurs at the Greyhound. I suggested they should be savvy and switch allegiance to the "Tottenham boys making all the noise everywhere we go..."
Calling all HuffPost superfans!
Sign up for membership to become a founding member and help shape HuffPost's next chapter
This post was published on the now-closed HuffPost Contributor platform. Contributors control their own work and posted freely to our site. If you need to flag this entry as abusive,
send us an email
.