Recently, during a trip to Boston, I invited Emerge Massachusetts alumna and Boston City Councilwoman Michelle Wu to lunch. I was excited to meet her because I knew that her race and win were "historic"--Michelle was the youngest woman elected to the Boston City Council at 28 years old. She is also one of only 11 women and only two Asian-Americans EVER elected to the Boston City Council.
Michelle asked me to meet her in an Irish pub near the Massachusetts State House. When I entered the front door of the pub, the first thing I heard was a baby crying. We were downtown at lunch time and it wasn't a place that I expected to hear a baby. I started looking around for Michelle and sure enough, I saw her changing her 11-week-old baby boy in one of the booths. As I said hello, the baby started peeing all over--as little boys do when they are getting their diapers changed. Michelle handled it well--meeting a new person and trying to contain the stream of baby urine--and she deftly put a cover around herself and proceeded to breastfeed her fussy little boy.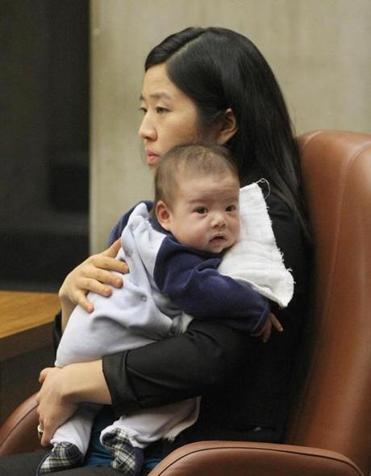 With baby in tow, Michelle and I managed to sit down to lunch and talk about her time in office. She told me a little about herself: She was the child of immigrants who did well enough in school to find herself at Harvard University. She said when she arrived at Harvard and was asked whether she was a Democrat or Republican, she didn't even know. Slowly, she became politically engaged and found herself recruited by Emerge America, a program I founded to recruit and train Democratic women to run for office at every level. (She proceeded to tell me that she would never have run for office without Emerge asking, which was music to my ears!)
I asked what it is like to be the first woman to have a baby while serving on the Boston City Council. She said that she could technically take 12 weeks off because of the Family and Medical Leave Act, but that they were unpaid. Due to the long hours of a city councilor and the lack of paid leave for city employees, Michelle struggled to balance fulfilling her duties and taking care of a newborn baby. Despite the challenge of this new balancing act, Michelle said she still enjoys serving her community and will definitely run again because she wants to make a difference.
And she is making a difference. In March, Michelle filed an ordinance with Councilor Tim McCarthy to create the first ever paid parental leave policy in Boston, which will grant up to six weeks of paid leave for both men and women employed by the city, including same sex couples. The ordinance was unanimously approved in a vote in April! Michelle also helped to pass legislation that would allow transgender city employees to access the health care they need, and she is currently trying to make sure that city information is translated into multiple languages.
I left the lunch with a full and grateful heart that this young mother with so many professional options available to her would choose to pursue a career in public service. I wonder how long it would have taken to get paid parental leave for city workers if she had not been elected.
The United States is one of only 3 countries in the world without a paid family leave policy. Could this be because only 15.5% of Congress are mothers?
As we approach Mother's Day, it is important to consider how we can make it the new normal to have mothers like Michelle serving in office. As a society, we can't afford NOT to have them at the decision-making table. So this Mother's Day, I want you to reach out to a mother you know--maybe your own--and encourage her to run for office. Maybe she'll say no, but maybe she's just waiting for someone to ask her.
Andrea Dew Steele is President and Founder of Emerge America, the premier training program for Democratic women. Emerge America is changing the face of American politics by identifying, training and encouraging women to run for office, get elected and to seek higher office. Our intensive, cohort-based seven-month training program is unique. As the number of elected Democratic women remains flat or even declines, the need for our work is growing across the country. We currently work in 14 states: Arizona, California, Colorado, Kentucky, Maine, Maryland, Massachusetts, Nevada, New Jersey, New Mexico, Oregon, Vermont, Virginia, and Wisconsin. Emerge America's role is to serve the states where we work, open new state programs and build capacity to train more women in each of our current states. We are working to open new states to offer our programming to more women in more locations.
Popular in the Community