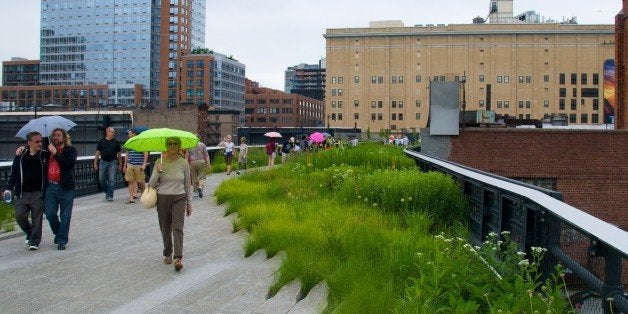 Five years ago this summer, the first section of the High Line, from Gansevoort Street to West 20th Street in Manhattan's Chelsea neighborhood, opened to the public. The success of this project - a disused freight rail line transformed into a beautifully designed and landscaped linear park - has prompted efforts in a variety of cities to follow suit. Philadelphia's Reading Viaduct, Chicago's Bloomingdale Trail, and the West Toronto Railpath are just a few of the proposals to repurpose infrastructural relics into public greenways. Within New York City, projects like the QueensWay, a 3.5-mile stretch of abandoned railway in Central Queens, and the Lowline, an underground trolley terminal in the Lower East Side of Manhattan, also seek to replicate the High Line's almost magical combination of effective grass roots organizing, savvy real estate economics, and high quality design. All of these projects adopt the High Line's appealing rhetoric of historic preservation: turning a reminder of a city's industrial past into a pedestrian pathway to its green future. But the comparisons only go so far. None of these projects run through as desirable or expensive a neighborhood as Chelsea, enjoy celebrity neighbors as allies, or benefit from as favorable an economic and political climate as mid-2000s New York.

Former Mayor Bloomberg presided over an impressive and significant investment in public space, leveraging the frenzied pace of real estate development to subsidize new parks. Yet, somehow, the new open spaces built in the past decade - free and accessible to all - have come to symbolize, for some, just the opposite: elitism and the inequality of opportunity. Mayor de Blasio staked his campaign on a vision of a more equitable New York, one in which his City Hall would demand many more concessions from real estate developers, and the glitzy growth that characterized his predecessor's tenure would give way to more affordable housing and early education. The new mayor has yet to articulate any specific policy directions for public space.

Some of this shift in perception has to do with the fact that many of the new, grand parks delivered in the last decade, such as Brooklyn Bridge Park as well as the High Line, are managed and financed through public-private partnerships and big-money transactions reliant on high-end residential development. And new parks aren't the only element of public space policy that seems out of step with current political priorities. The Bloomberg era strategy for improving New York's streetscape - the building of bike lanes and the creation of pedestrian plazas out of vehicular lanes - has been replaced by De Blasio administration plans to eliminate traffic fatalities. Have a decade of innovative strategies made public space seem less public and less palatable? And if so, might there be a lesson here for projects around the country that seek to turn underutilized infrastructure into accessible amenities?

The capital and operating costs of these transformations are significant, the financing complex, and the timelines slow. The Lowline project is estimated to cost $50 million and its best hope for success makes it seem a whole lot more like an underground shopping center than a public park. While the QueensWay project estimates costs and considers implementation strategies - the feasibility study, funded by a $467,000 grant from New York State, is expected to conclude this summer - several counterproposals argue that reactivating the rail line to add much-needed public transit capacity would create more public benefits for this part of Queens than a park.

As park planning projects in other cities come up against financial challenges as well as changed political landscape in which access to jobs and housing are considered more urgent than access to recreational space, they might look to another example from New York City. Corona Plaza offers a model of creating public space that shares the High Line's ethos of bottom-up transformation, but just might be more feasible as well as less vulnerable to the cycles of the real estate market and debates about public benefit.

Corona Plaza used to be a triangular parking lot wedged between the shops of Roosevelt Avenue and the elevated tracks of the 7 train, in a dense and bustling Queens neighborhood known for its ethnic diversity. What began as a few local businesses putting up Christmas lights each year eventually grew into a broad coalition of community groups, cultural institutions, and City agencies dedicated to creating a vibrant, open space. The City Department of Transportation (DOT) pedestrianized an access road and provided planters and seating - a low-cost, kit-of-parts strategy for pop-up open spaces that the DOT has deployed throughout New York. But what sets this plaza apart from others is the continued involvement of local stakeholders and cultural groups, fostered by the nearby Queens Museum, that keep the transformation process active and ongoing. Engagement efforts consistently assess community needs as well as the plaza's ability to respond to them in incremental steps. Performances, demonstrations, informal gatherings, and a variety of art interventions make this space feel truly public.

The kinds of activities possible in Corona Plaza differ greatly from what's possible on the High Line. Neither is a park in a traditional sense - no ball fields, no meadows. But both turned hard infrastructure into open space, and both required sustained community effort and creative partnership with local government. As cities continue to grow, we'll need more of both models. But the low-cost, flexible strategies evident in Corona Plaza just might be more replicable. Many cities have industrial relics, elevated or underground, that could be repurposed with the right amount of dollars, both public and private. All cities have underperforming, street-level spaces that can be activated with much less.
Related