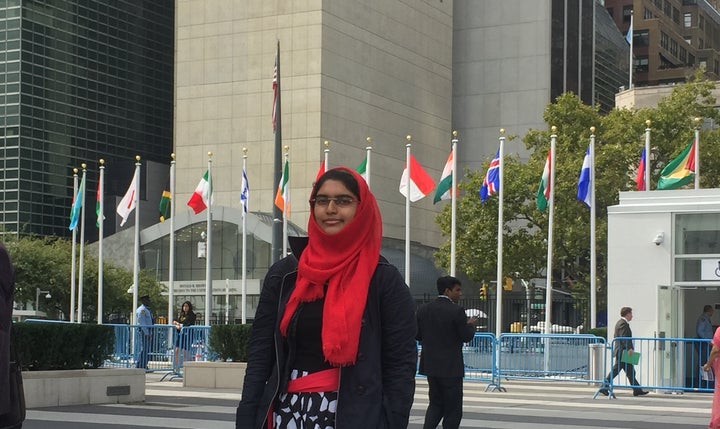 The 71st session of the United Nations General Assembly has recently come to a close. UNGA, as it is better known, is an annual gathering of world leaders in New York to discuss the most pressing issues, in a series of high-level meetings.
One such issue is Education in Emergencies. Also referred to as Safe Schools or Emergency Lessons, this is a phrase that has been going around a lot lately. It refers to the worrying trend of displaced children being denied the right to education. This can be due to conflicts, disasters or diseases. By now, you might have figured the number of children affected by these factors is unacceptably high - 75 million children to be precise. Many of these children are refugees. In fact, according to Uprooted by UNICEF, 1 in 200 children worldwide are refugees and 1 in 2 refugees are children. If you include the number of children out-of-school due to the other reasons, the figure is too high.
I was selected as one of two A World at School Global Youth Ambassadors (GYA) worldwide (and the only one from India) to attend many meetings during the UNGA in New York and to support the cause of Education in Emergencies.
On Sunday, 18th September, I attended the launch of a detailed report by the International Commission on Financing Global Education Opportunity, or the Education Commission, citing recommendations that were presented to UN Secretary General, Ban Ki-Moon. Five former prime ministers and presidents and three Nobel Laureates are among the 20 world leaders who sit on the commission to review the state of global education. A youth panel - which includes Nobel Laureate Malala Yousafzai - also makes up a part of the Education Commission.
I met a few of the youth panellists over brunch before we headed to the United Nations Headquarters for the launch.
I also had the opportunity to meet the Education Commissioners and other prominent figures in the field of education, and speak to them about their views on the issue:
Gordon Brown, Education Commissiom Chair, UN Special Envoy for Education & Former British Prime Minister
Julia Gillard, Education Comissioner & Former Australian Prime Minister
Kailash Satyarthi, Education Comissioner & Nobel Peace Prize Recipient
Anant Agarwal, Education Commissioner, CEO of edx & Professor, MIT
Research is a crucial aspect of problem-solving: you need to have a clear understanding of the issue before attempting to find a solution. Education is no different. Over the course of the week, I attended a myriad of research-based discussions.
Education Equity 2030: Met By All, explored research and statistics of the inequality in education. This event brought together multiple organisations that are working towards the same goal - education equity. These included Save the Children, FHI360, UNESCO Institute of Statistics, UNICEF, Theirworld and PALNetwork.
The launch of USD 10 million research envelope known as Evidence for Education in Emergencies (E3) by Dubai Cares at an event jointly hosted by INEE (International Network of Education in Emergencies) proved to be an important milestone, showing evidence to aid policy-makers to better tackle education in emergencies. Some of the astounding facts presented, emphasised the importance of this form of research in the field of education in emergencies. The panellists and attendees included David Miliband, President & CEO, International Rescue Committee (IRC); Tariq Al Gurg, CEO, Dubai Cares; Justin van Fleet, Director, Education Commission; Carina Omoeva, Director, Education Policy and Data Centre, FHI360; HRH Princess Sarah Zeid of Jordan, advocate, maternal and newborn health; and representatives of various UN bodies, and non-profit organisations.
Left-to-Right: Ousmane Ba (fellow GYA), Dean Brooks (Director, INEE) and me
With Princess Sarah Zeid of Jordan
Plan UK's Real Choices, Real Lives research discussion gave a human face to the statistics in education inequality. The event showcased case studies and stories of some of the 142 young girls followed for a period of 10 years, in 9 countries. These girls have routinely faced gender-based discrimination.
The panelists were: Tanya Barron, CEO, Plan International UK; Rebecca Marmot, Unilever, Global Vice President Partnerships & Advocacy; Lili Harris, Real Choices Manager; Anette Trompeter, Country Director, Plan International Brazil; Nora Fyles, UN Girls Education Initiative (UNGEI) Secretariat; and Takyiwa Danso, UK Youth Delegate. There were also 2 young advocates from Malawi, who spoke from their personal experiences. The all-female panel explored the role of poverty, gender and age on girls' education.
Together for the 2030 Agenda: Partnering for Women, Children and Adolescents, to Thrive and Transform the World (co-organised by Every Woman Every Child (EWEC), the Scaling Up Nutrition (SUN) movement, the Zero Hunger Challenge (ZHC), in collaboration with the Global Partnership for Education (GPE) and Sanitation and Water for All (SWA)) saw numerous decision-makers, world leaders and advocates talking about the importance of the Sustainable Development Goals in communities in general. Speakers included Aung San Suu Kyi, Michelle Bachelet, Alice Albright, Kevin Rudd, Helle Thorning-Schmidt and many others.
Ousmane and I with Kevin Rudd (centre), Chair, Sanitation & Water for All & Former Australian Prime Minister
With Helle Thorning-Schmidt, CEO, Save the Children International & former Prime Minister of Denmark
Later that day, Sarah Brown, President, TheirWorld and wife of former British Prime Minister, Gordon Brown, spoke to me about my work as a youth advocate and my organisation, Child Awareness Project (CAP).
My final event of the week was a Global Business Coalition for Education (GBC-Ed) breakfast meeting; followed by a roundtable discussion chaired by Julia Gillard and Sarah Brown. This invoked the partnership between corporates and non-profits while placing emphasis on the social impact of businesses, with a special focus on education. The meet saw various leaders, educationists, business heads, and government representatives.
With Amel Karboul, Education Commissioner & former Minister of Tourism, Tunisia
The week was expectedly hectic, packed with numerous meetings, panel discussions and events (including a vigil for #ChildrenFirst by UNICEF). As a young advocate for children's rights, I was happy to see the time and effort put into ensuring education for all children: the research, the funding, and the collaborations. All of this will go a long way in making education a reality for many, by 2030.
Youth involvement is usually noticeably minimal in high-level events such as these. Our role as youth ambassadors served to remind leaders that young people are watching - and expectant. It also sends a powerful message that youth representatives must be frequently included in such discussions, as they are one of the most important stakeholders in this issue.
Ousmane Ba (my co-GYA at the UNGA from Sierra Leone) and I documented each day's events during the UNGA week. You can find the links to our blogs here.
You can also visit theirworld.org for more information regarding the Safe Schools campaign and other initiatives. For more information about Taha's non-profit, Child Awareness Project, visit theCAPro.org. Taha's bio is available at about.me/TahaFathimaKhan
The 'A World at School Global Youth Ambassadors' group, comprising nearly 500 young advocates around the world, was launched in 2014 by the United Nations Secretary-General Ban Ki-moon and the United Nations Special Envoy for Global Education Gordon Brown.
EDIT: Four additional tweets and one additional blog was linked to this article. Minor grammatical corrections have also been made since this blog was first published.
Popular in the Community