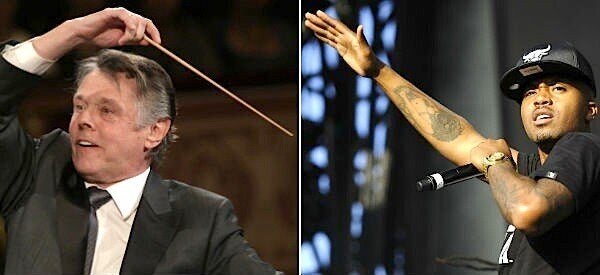 It seemed unthinkable for me to leave the world forever before I had produced all that I felt called upon to produce. - Ludwig Van Beethoven
Growing up in the urban decay of Whitehaven, South Memphis, Tennessee, I was always aware that my musical journey was destined to be one of depth and contradictions -- and I loved the possibilities. My mother was a professional opera singer and my father was the First Chair clarinet for forty years in the Memphis Symphony Orchestra -- the first African-American to hold that position. Even my extended family were no strangers to clefs and staffs; my grandmother was a piano teacher and my aunt played the violin and taught music classes at NYU.
This classically trained ancestry ensured that by the time I was 3 years old, I had a recorder in my hand; by 5 years old, I was playing the clarinet. Though my dad instilled in me a thirst for classical music, it was my mother who made sure that the timeless sounds of Curtis Mayfield and '70s soul and funk played through our home -- providing the soundtrack to our inner-city blues.
Still, from when I was born until I was about 10 years old, the mesmerizing sounds of Beethoven, Jean Sibelius and Johann Sebastian Bach dominated my urban landscape riddled with bullet holes and drug deals. Powerful notes -- in the key of life -- became my compass as I navigated a dark world that seemed destined to suck me into its vortex. My mother was diagnosed with debilitating diabetes around the same time that I was introduced to southern Hip-Hop legends, Tela and Three 6 Mafia. The pounding rhythm of the streets provided the baseline to the orchestral music that, until that point in time, defined my musical experience.
Realizing that the wrong path was in my sights, my mother transferred me to an "upper-class" -- in Memphis, that was still code word for predominantly white -- school in Cordova, Tennessee. It was there that the bridge between my environment and my vision began to take shape; I learned how to analyze the world from a unique perspective that many musicians could not even begin to grasp. I made All-West Tennessee Band playing the clarinet, was asked to be in the Youth Symphony Orchestra, and some of my classical compositions were even used to teach kids how to remember quadratic formulas; at the same time, I was selling Hip-Hop beats to classmates from the trunk of my car and I realized playing other people's music wasn't the route that I wanted to take in life.
Orchestral and Hip-Hop -- along with Rhythm & Blues, Jazz and Country -- are all necessary ingredients in the Memphis gumbo that seasoned my perspective on manhood and music. Though I flirted with selecting one genre and perfecting it, once I began studying the diverse career of iconic composer Quincy Jones, I began to realize that the merger of Hip-Hop and Classical music is not impossible -- it is inevitable.
There is an electric synergy between the two genres of Classical and Crunk, but one has to have a discerning ear to recognize the instinctive connection. One has only to listen to Nas's sampling of Beethoven's Fur Elise in his inspirational ghetto hymnal, I Can, Coolio's C U When U Get There or former G-Unit soldier, Young Buck rhyming menacingly over Mozart's Requiem in Say It To My Face, to feel the mirror tension and twisted beauty that lies in both genres. The theatre of Carmen: A Hip-Hopera -- based on the 1875 French opera Carmen, by Georges Bizet, and Kanye's 'Runaway.'
In my own career, I utilize orchestra scales to help me have a complete ear when working with such rap artists as T.I., Young Jeezy, Waka Flocka, Kanye West, Wale, Rick Ross and Drake. The unexpected merger of dueling techniques and sounds never fails to produce something unique -- and the cadence embedded within the folds of my favorite composer's art inspires me to delve deeper and create outside of the box. From his 3rd symphony (Eroica), to his 5th symphony (Symphony No. 5 in C minor), I find my true, kindred spirit lives within the music of Ludwig van Beethoven. He couldn't hear at the height of his career when he created his masterful 9th symphony -- what many consider to be his magnum opus and the first symphony by a major composer that incorporated vocals -- but, he, like I, understood that music transcends sound; it breathes with each note that is created.
The big, compelling power of the orchestra, those notes that reverberate and echo through veins long after the last curtain call, that is the energy that I want to flow through my music. One hundred years from now -- even two hundred years from now -- I want my music to be as alive and timeless as the strands of Moonlight Sonata. When I tackle genres that many people with tunnel vision believe to be the antithesis of Hip-Hop, they don't realize that I'm not broadening my horizons or crashing into a classical members-only party -- I'm merely coming back home to Memphis, Tennessee, and the orchestral roots that lie deep beneath my beats. I don't want people to merely hear my music, I want them to experience my music. I want them to inhale my sound as deeply and completely as if they've been transported into another world during an operatic performance -- or reliving the pain, joy and love of urban struggles that find their way into Hip-Hop classics.
If people were a little more like Beethoven, closed their ears and actually listened, the relationship between two genres that, on the surface, seem polar opposites, wouldn't be such a far-fetched idea. Maybe, just maybe, as society moves to blur the lines between gay and straight, black and white, rich and poor, music will undergo a similar transition that will eradicate the stereotypes that cling to Hip-Hop -- and the many men and women who live for this music with just as much honest purity as the first strains of Chopin's Nocturne.
Calling all HuffPost superfans!
Sign up for membership to become a founding member and help shape HuffPost's next chapter