On a given weekday morning, Aleksandar Smiljanic--better known as Sax--will wake up early, clean himself up, and get dressed. Maybe he'll wear a tie, though it's more likely he'll go for a more casual look and wear jeans. He then heads to the cafe nearby for breakfast--at precisely 8:30--where he'll order his standard, a macchiato caldo and a croissant. After breakfast, he'll head to his office to begin the day's work.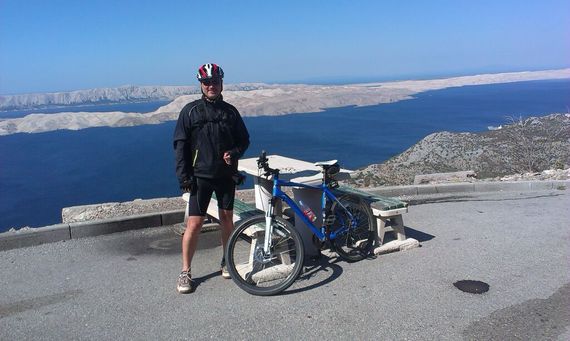 (Photo Courtesy of Aleksandar Smiljanic)
Sound familiar? Hang on. There's a catch. Sax is a full stack freelance JavaScript developer at Toptal, whose distributed model means the company doesn't have an office for him to go to every morning--the engineers in Toptal's freelance network are free to work from wherever they please, provided they have a reliable internet connection at all times.
Sax's office? A dedicated "work room" in his home in Zagreb, Croatia.
"I have a double desk, a double monitor, and my music. I treat it as my office, even though it's at home."
So why go through all the trouble of waking up early, getting dressed and going out in the morning as if he were off to a 9 to 5 office job?
"There's no way I could just sit in my underpants all day bumming around the house, doing tasks as they come in. That's horrible for productivity. I'd get nothing done."
Sax's work ethic comes from many years of experience in the technological and entrepreneurial world. His impressive resume lists him as a co-founder of one successful tech company and the CEO of another, but after years as a leading figure in the European tech industry, he relishes his job as a freelance programmer. He now looks back on his many accomplishments and lessons learned with a fondness and humility indicative of a man who's been in the thick of the ups and downs of the European tech boom.
"You have to practice a lot. You have to keep learning a lot continuously. Otherwise you will get left behind."
One does wonder how someone could go from CEO to freelancer, but to hear Sax explain it, it sounds like the perfect career move.
"Toptal is an incredibly well-oiled machine. It's so nice. I don't have to worry about anything. All the pain and stress of freelance is taken away by the organization. And Toptal clients are often very interesting startups, so I get to be involved in the whole business process, which is something I love, and yet I don't have to be involved in all the sales and stuff I don't care for, because Toptal takes care of that. It's really a win-win."
After completing his university degree in electrical engineering, Sax's first job was helping with such IT issues as system automation for a Croatian company whose steel rolling mill plant was in Slovenia. A reliable job by all accounts, but one which Sax felt did not fully utilize his skills and ambition.
Fortunately, Sax was soon offered a scholarship to complete his master's degree in Milan, where the emphasis of his studies would be artificial intelligence. He landed a job with an oil company in Milan, where he did interesting research but quickly discovered that the corporate world was not his ideal work environment.
"Working for a big corporation, especially in Europe, it becomes very monotonous. You ultimately feel like you've been reduced to a government desk clerk. It's all very bureaucratic."
It was during this time in Milan, however, that Sax would ultimately meet people who shared a similar passion for innovation and entrepreneurship.
"This was around '97 or '98, and the internet was just opening up to a wide audience. Software was something that was becoming very important. We were a very ambitious group of young people. We wanted to do something really big."
In 1997, with a group of programmers in Italy and Croatia, he co-founded Sinapsi, a company whose speciality work in Java and JavaScript made them a major force in European e-commerce on the cusp of the dot-com bubble.
"It's like they say, in the Gold Rush, in order to really make money, you wanted to be the guy selling shovels. For a time, Sinapsi was selling shovels--when the Internet really got huge and the bubble was getting bigger and bigger, everyone was looking for Java programmers. Startups could make a lot of money that way."
Because Sinapsi's team was split between Milan and Zagreb, Sax got an early taste of remote work, an experience he enjoyed and still values to this day, as 100 percent of his work is remote.
"This was the early 2000s, so there was no Skype or anything. It was a pretty big accomplishment to run this distributed company smoothly. But what it really taught me, this experience, was how much I loved being involved in the whole operational process. I don't like sales, don't like having to go through all the business deals and transactions, but I do love that second tier, the ones that have to do all the troubleshooting. Usually you are the fire brigade, so you participate in solving problems wherever they pop up, be that in project management, design, anywhere. Wherever there's a problem, you have to jump in and solve it."
Sinapsi enjoyed a great deal of success until the Internet bubble burst and they were left scrambling to pick up the pieces.
"We had done very well in terms of sales, but once that bubble burst, we had to learn a pretty hard lesson. We finally closed in 2010, but the lessons we learned have been very valuable. That's how you get better."
From Sinapsi, Sax moved into his second highly touted position, becoming the CEO of SmartRm, a digital rights management company whose success only continued to grow under Sax's leadership. Although he was a highly sought-after developer, he also wanted to sate his appetite for fast-paced entrepreneurial environments. He found this balance tricky in the corporate world, where he often had to devote his time to the many bureaucratic matters that come with the practical side of running a business.
Sax turned to freelance development as a solution, where he hoped he would be free of red tape and could devote his time to the aspects of work he really enjoyed. What he found, though, was that freelance work can often be unreliable.
"Doing remote work and freelancing is complicated for both clients and freelancers. With open freelance marketplaces, it's a very complex process, very convoluted. You're not sure how and when you'll get paid, communication is often not clear enough, things like that."
That all changed when Sax discovered Toptal. Because he knew so many people in the tech community in and around Zagreb, he often would hear the latest talk around the metaphoric water cooler.
"I heard about Toptal via word of mouth basically. It was actually a bit eerie. A lot of people I knew and liked suddenly started talking about Toptal at the same time. And people were raving about it. Toptal has a great community. When I joined, the Toptal circle in Zagreb was already at least 70 strong. It immediately felt like I was joining a community, which is very important to a freelancer like me, because most of the time I work alone."
It was just over a year ago that Sax passed Toptal's extremely rigorous vetting process (approximately 3% of applicants are accepted) and joined their network of freelancers. Joining Toptal made his remote working life all the more rewarding as it gave him the freedom to enjoy the aspects of tech work he loved with interesting clients. Sax says he also relishes the very approachable, amicable nature of Toptal's global community. As Croatia is a major hub of Toptalers, there have been many Toptal dinners, meetups, and tech conferences in Zagreb
"Sometimes it is hard working alone, working from home. You can get stuck feeling like you don't have any co-workers or friends. It can get lonely. But Toptal completely takes that away. You think, 'How can a company with no office have such a strong community of coworkers?' Well, Toptal does it, and it's really great."
Part of Sax's routine also includes time for leisure and camaraderie with his fellow Toptalers. He emphasizes balance in all things, and he makes sure to structure time in his weekly schedule for the things he enjoys outside of work.
"I do a lot of outdoor stuff. I cycle two or three times a week. I like to go on long treks. I play tennis, go skiing, sailing, hiking, whenever I can, swimming once a week. I have plenty of activities, and this is only physical. Though I'm not a keen trainer. I don't treat my exercise like another job. I'm not counting kilometers or calories, I just like doing it with friends, fellow Toptalers, family too. We'll bike ten miles to a nearby lake, have a coffee or beer, socialize for a while, then ride back. It's great."
Sax also points out that thanks to Toptal, he has more valuable time to spend with the most important part of his life: his family.
"I have a wife and two kids. My kids are grown up, and the best thing about freelancing and working at home is that I'm spending a lot of time with my kids. We go out together, we spend much more time together than we did when I was working other jobs. My relationship with them has really improved. Toptal has made it a lot easier to get really good freelance projects while also allowing me time to enjoy my activities outside of work."
Each night, after he has shut down his computer, gone for his bike ride, and enjoyed time with his family, Sax can head to bed knowing that it has been a day well spent. You can sense the warmth in his voice as he talks about his satisfaction: he is pleased with his work and enjoys his daily life. The many steps in his career, the ups and the downs, have led to an appreciation of where his journey has led him. His Skype greeting message speaks to this warmth, this desire to do good work and share it with his community: "Wherever you go - I hope it's profitable!"
Sax tells me he doesn't have any major plans for the future ahead--he's perfectly content with his situation now.
"I'm not taking up painting or anything, no hobbies of that kind. Maybe when I'm older, when I retire."
He tells me goodbye laughingly on Skype before he chimes in with one last bit of sage wisdom:
"Oh, one more thing I forgot to mention. Do open source. I didn't do it when I was younger, and I regret it. Learn from the best, contribute, get involved."
Calling all HuffPost superfans!
Sign up for membership to become a founding member and help shape HuffPost's next chapter