"We celebrate our lives every night at sunset, with a glass or two of wine while enjoying the view from one of our decks."
This is the nightly routine Lawrie Lock and his wife Lynda get to enjoy in their home on the Mexican island of Isla Mujeres.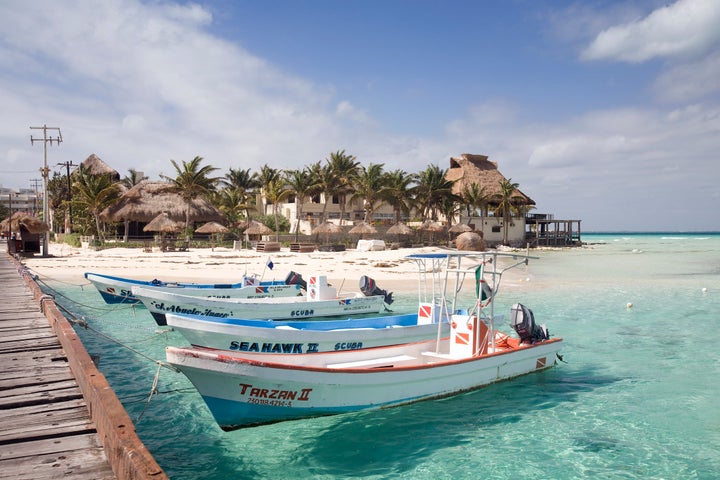 "We live on the windward side of the island, facing the open ocean," says Lynda. "That's where all the action is. We often see pods of dolphins feeding just offshore and sea turtles basking right on the surface.
"We'd vacationed on the western side of Mexico for many years. But when we discovered the Caribbean side back in 2002…Wow! The turquoise and green water, fresh sea food, and the friendly islanders here on Isla Mujeres, along with the warm weather, were too much to resist."
They were so awestruck with Mexico's Caribbean that when it was time to retire back in 2008, Lawrie (now 75) and Lynda (66) sold everything, except for a few prized possessions. They loaded up their small Nissan and drove from their long-time home in Canada's Okanagan Valley to Isla Mujeres, eight miles off Cancún on Mexico's Caribbean coast.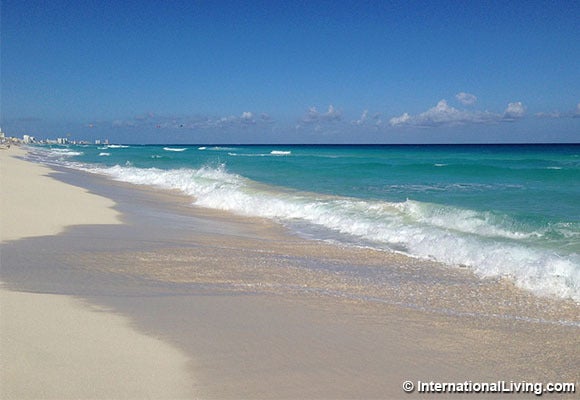 "We only kept some clothing, special tools, and a few sentimental items," Lynda says. "If it didn't fit in the car, it wasn't going. That was our rule," says Lawrie.
Isla Mujeres may well be the perfect retirement island. At least the Locks seem to think it is—and a large community of expat retirees agrees. The island enjoys a warm tropical climate (low to mid-80s F for most of the year) and a laidback vibe; golf carts are preferred to cars as the main means of transport. Every winter, the permanent population of around 13,000 is joined by thousands of snowbirds fleeing colder weather up north. At four miles long and less than a half-mile wide, this tiny Caribbean island is connected to the mainland by high-speed ferry service that leaves every 30 minutes during daylight hours. "We make a trip to Cancún once a month to stock up on things," says Lynda.
"But mostly we get what we need right here on the island."
There is plenty for the couple to enjoy on Isla Mujeres. Naturally, water activities top the list, as the nearby reef offers amazing opportunities for fishing, swimming, boating, and snorkeling. Isla Mujeres also boasts beautiful, white-sand beaches, both on the north and the south ends of the island. These draw day-trippers from the mainland, as well as vacationers and expats, all of which contributes to the island's active social scene.
"We tend to cook at home, but there are so many wonderful restaurants on the island that joining friends for a good meal is something we do frequently," says Lawrie.
"We have a large circle of friends," says Lynda. "Some live here full-time and others come for the winter months. Winter is our busiest social time and summer is our wind-down, re-group time."
"We both read a lot. And I try to write every day, either for our blog or for my next mystery novel. We're also active in an animal rescue group and a children's charity, assisting local kids with their school needs."
Since importing everything onto an island is costly, Isla Mujeres is not as affordable as elsewhere in Mexico—though it's still good value by Caribbean standards.
The Locks paid cash to build their home (around $250,000 back in 2008), and they say their dream retirement costs about $3,000 a month, all in—typical for expats here. A meal for two in a mid-range restaurant typically sets them back $25 to $28, and electricity costs them only $30 a month, since they no longer need winter heating. They can also see a British-trained doctor when they need to—she charges around $30 for a consultation, including house calls. Between $7 and $8 a month does them for water. Internet (for the year) runs around $285. And they spend around $560 a month on food—although they don't scrimp, and this includes pricey items like steaks and wine sourced in Cancún. ("Basic food is definitely cheaper here, much cheaper," says Lynda.)
As well as the warm weather and laidback lifestyle, another benefit of life in Mexico is the discounts the couple can get.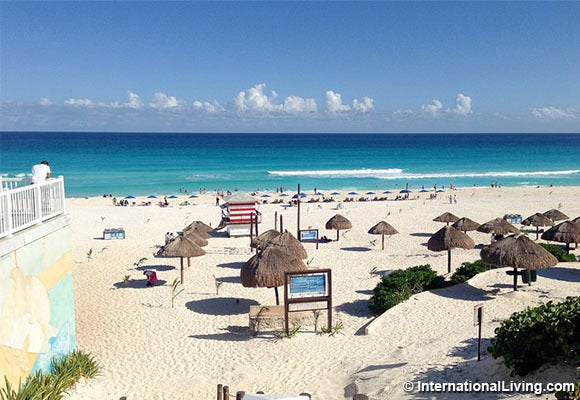 "The INAPAM card, the Mexican seniors' card, gets us discounts on many things," says Lynda. "We get access to national parks for free and reduced rates for movies. We also get a discount on drugs and reduced rate for bus trips (not city buses), air travel inside Mexico, and the passenger boats to Isla Mujeres. To get this, you must prove you are a resident of Mexico, not a six-month visitor, and are over 60. It's a huge help financially."
After four visits to the island, the Locks purchased an oceanfront lot in 2006, planning to build their retirement home on it.
"We thought we'd start slowly, as we were still working. We wanted to transition, staying a few months at a time. After construction was completed, we spent that next winter here on the island. When it was time to return to Canada, we arrived in the middle of a big snow storm. That was it for us," says Lynda. "We told our employers that we'd be leaving permanently in October 2008."
Nine years later, the couple are as happy here as ever and encourage others to take the plunge.
"Our best advice to anyone considering a move overseas is to arrive with an open heart and an open mind," says Lynda. "Be respectful and cheerful and give your new life a chance. If it doesn't work out, you can always make a change! Give it a try.
Related
Popular in the Community