He was the first person in his family to go to college. He went on to become the third youngest President of the United States, at age 46. The story of William Jefferson Clinton is one that is uniquely American -- ripe with education, opportunity and upward mobility that is still rather unique among the nations of the world. Hillary Clinton's family had its own set of challenges, too. According to Chelsea Clinton, who moderated a panel at the CGI America premiere of Underwater Dreams in Denver, Colorado earlier this week, "My mother's mother was abandoned by the time that she was eight -- twice."
Perhaps it is because the challenges many Americans face are so close to their own family, that the Clintons have become such strong advocates for solving the world's problems and improving the lives of those facing the harshest conditions. As Bill Clinton is fond of saying, "Talent and ability are evenly distributed across the human race, but opportunity is not."
Together, the Bill, Hillary and Chelsea Clinton powerhouse trio have become Chief Commitment Officers -- dedicated to challenging their members to create a better tomorrow. The main difference of the Clinton model is that members cannot just talk about solutions. They have to collaborate, brainstorm, form partnerships and create meaningful change. As Secretary Hillary Clinton described to the audience at CGI America on June 24, 2014, CGI partners "solve problems and seize opportunities faster, smarter and at lower cost."
The octane of optimism at CGI America is, simply, astonishing. It makes the droning lectures of most conferences seem rather last century -- where participants get fired up for a day, and then return to their silos and routine, carrying none of the ideas forward.
At the Closing Plenary on June 25, 2014, Tony Hsieh, the CEO of Zappos.com and the author of Delivering Happiness, described his Downtown Vegas project -- how he is transforming a blighted and abandoned area into a mecca of "inspiration, entrepreneurial energy, creativity, innovation, upward mobility, discovery, and all that good stuff." Tony and his friends have committed $350 million to his Downtown Project, where entrepreneurs can incubate their small businesses, tech companies have access to startup capital and $50 million is set aside for the arts, music and education. According to Tony, "If we can do it there, then hopefully that will inspire other communities and cities."
One of the unique approaches that Tony is taking is to value ROC over ROI. What is ROC? Return on Community; Return on Collisions. Tony told the CGI America audience that he "uses the word collisions a lot," in terms of thinking, "How do we get people in the community to have serendipitous encounters with each other as often as possible?"
To promote interaction between Zappos' employees and people in the community, Tony removed the bridge that runs directly from the parking lot into the office building. Employees are forced to walk past the parks, cafes and musicians in the neighborhood before finding their way into the office. Some of the outside community might even find their way into the Zappos' campus pub - at least during the tours that Zappos offers.
At CGI America, there were NGOs, CEOs and policymakers working on the challenges of Detroit and West Virginia, where jobs have been lost and industries are struggling, due to the decline of American auto manufacturing in Detroit and coal mining in Appalachia. Colorado, the host state of CGI America, faced a similar challenge of how to transform away from coal and into cleaner fuels and energy. The state made a commitment to one of the most aggressive renewable standards in the nation - to reach 30% clean energy in the urban grid by 2020. Coal jobs are being replaced with wind, solar and hydrothermal jobs. According to a Vestas Wind Energy spokesperson, Vestas currently employs 1500 people in Colorado, and is hiring more.
Colorado also offers innovative mortgage loans that reward energy conservation and clean power generation. Denver maintains one of the most elaborate trail systems in the U.S., which makes commuting by bicycle safe and enjoyable, and surely contributes to the state's boasting rights of having the leanest population in America -- at 20 percent obesity, compared to a national average of 35 percent. Clean energy, health, economic empowerment (particularly for women and girls) and reducing obesity are all areas of focus at the Clinton Foundation.
Denver Bike to Work Day: June 25, 2014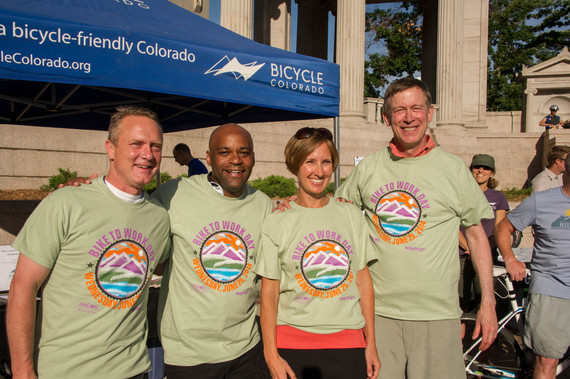 Photo (left to right): Denver City Council member Chris Nevitt, Denver Mayor Michael B. Hancock, Denver Director of Transportation Crissy Fanganello, Colorado Governor John Hickenlooper.
Photo by: Marie Commiskey. AvalonPhotography.com
The Passions of Hillary and Chelsea
Last year, Dr. Chelsea Clinton became the Vice Chair of the Clinton Foundation. When Secretary Hillary Clinton retired as the Secretary of State, she, too, became active at the foundation. Their passion for women, girls and families is seen in two new initiatives -- No Ceilings and Too Small to Fail.

The Too Small To Fail CGI commitment promotes talking, reading and singing to your baby. This is a simple, scientific (and fun) solution for lighting up the brain of your toddler and promoting literacy. According to Secretary Clinton, speaking at CGI America on June 24, 2014, "By four years of age, children in lower income families tend to have heard more than 30 million fewer words than children in more affluent families. Therefore they begin school with smaller vocabularies and struggle to catch up. The Word Gap leads to an Achievement Gap that can have lifelong consequences." The love of language can be sparked in any community, even those where parents are overworked and tired, through the Internet, television shows and educational outreach. Too Small To Fail has been embraced by Univision, by the hit TV show Orange is the New Black, and even has President Obama as a spokesperson -- all united to #CloseTheWordGap. According to Secretary Clinton, speaking, reading and singing to your child builds brains no matter what language it is delivered.
Earlier this year, Hillary and Chelsea launched No Ceilings: The Full Participation Project. While women in the U.S. are graduating from college and advanced degree programs in greater numbers than men, in other parts of the world, the ceilings are still really low. "Girls don't even get birth certificates because when they are born, they are not considered as important as boys," according to Secretary Clinton, speaking in a No Ceilings Conversation on April 17, 2014. "Girls get to go to school, but for not as many years... More than five million of them are married before the age of 15, often before the age of 12," Secretary Clinton continued.
Chelsea Clinton encourages women around the world to share their dreams, ambitions and frustrations with the No Ceilings Project, and to be candid. The conversation is important because, according to Chelsea, "The challenges that my mom faced are different than the ones that I faced and are different from the ones that you are facing." You can take the No Ceilings survey on the ClintonFoundation.org website. Since the project is worldwide, please share the survey with women in foreign countries.
The Clinton Foundation has been promoting health, advancing clean energy, creating jobs, educating the underserved and cracking the glass ceiling for women and girls around the world since 2005, using the talent and capital of the world's most respected CEOs, policymakers, Presidents, entrepreneurs and NGOs. The premiere event is the annual meeting of the Clinton Global Initiative in New York City each September. Earlier this week the Foundation convened in Denver, Colorado for CGI America -- an event focused specifically on creating jobs and solving problems here at home. Over the past five years, I've seen schoolgirls from Kenyan slums receive full college scholarships as Clinton Scholars. I've watched the success of the Cash for Clunkers Program, and listened to entrepreneurs beam about the jobs that they have created in their communities.
As Chelsea Clinton told the crowd watching Underwater Dreams, "Resilience is possibly the best predictor of success." Chelsea comes from a powerful line of resilient American dreamers and overachievers. Now as Dr. Clinton and the vice chairman of the Clinton Foundation, Chelsea fits seamlessly alongside Hillary and Bill, as a Chief Commitment Officer. Chelsea's voice is fresh, candid, full of empathy and wisdom, and right at home with the most powerful decision-makers in the world.
Now through June 30, 2014, Hillary and Bill are putting their money where their hearts are. They will match every dollar you donate to the Clinton Foundation.
Calling all HuffPost superfans!
Sign up for membership to become a founding member and help shape HuffPost's next chapter