The Dalai Lama's visit to Brussels recently was hardly low-key. A crowd of 10,000 people turned up to listen to His Holiness's speech on individual commitment and global responsibility, after prominent scientists, psychologists, ethnologists, economists and other experts from far and wide had gathered for a conference on the themes of 'Power and Care' during the previous two days.
It is to be hoped that the impact that these discussions have on the Brussels policy scene does not end there, however. In one speech, the Dalai Lama reflected that, while compassion is a feeling essentially experienced on the mental level, care for others is rather defined by action. When it comes to restoring the Earth's delicate balance and tackling climate change, it's time for the EU to add more care to its compassion.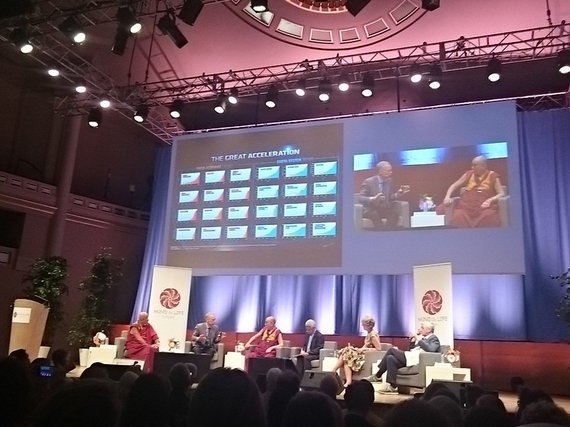 Johan Rockström in conversation with the Dalai Lama discussing the "Great Acceleration" in industrial production and the impact on Earth's life support system Image: Nikolet Zwart
Let us recall the extremely compelling scientific reasons for why we should care in the first place. While the Earth's climate has always changed to a greater or lesser extent, the last 11,000 years - known as the Holocene epoch - have been remarkably stable. It is this climatic stability that has allowed humanity to cultivate land, sustain ourselves and flourish during that time.
Since the industrial revolution and especially in the last few decades, however, humans have stretched Earth and its resources to breaking point. Cutting down trees at unsustainable rates, overfishing and burning the fossil fuels that release heat-trapping greenhouse gases into our atmosphere and contribute to global warming - these human actions have taken us to the limits of the planetary boundaries, defined uncompromisingly by nature, within which we reduce risk of Earth slipping into a new state.
In concrete terms, this means that, after several consecutive months of record-breaking high temperatures, last month was tied with July 2016 as the hottest month the world has seen in the last 136 years. Arctic sea ice is melting at alarming rates with hugely disruptive consequences on the way in which heat is distributed around the world. The Great Barrier Reef - the world's largest reef system and one of the most beautiful sites on earth - is bleaching. Climate change has contributed to recent floods in the US, India and China, wildfires in Canada and drought in Africa.
Indeed, the EU's care for our climate need not exclusively be motivated by compassion for others - Europe, too, is extremely vulnerable to the negative changes to which it has contributed. Research suggests that the devastating June floods in France - which caused one billion euros worth of damage - were aggravated by global warming. The continent is also expected to suffer from a combination of ever scarcer fresh water and rising sea levels.
EU Heads of State and policymakers within the EU institutions are not oblivious to these facts. Few of them would challenge the statements of leaders like EU Climate and Energy Commissioner Miguel Arias Cañete when he called tackling climate change 'our solemn duty' and said that 'Europe has some of the broadest shoulders in the world and we are ready to continue leading by example'.
And yet, Europe, which has long prided itself on being a leader when it comes to climate action, is not doing all it can to save us - Europeans and non-Europeans - from the worst effects of global warming.
As I and other scientists have argued elsewhere, the scale of the decarbonisation challenge to meet the targets set out in last December's Paris Agreement is often underplayed in public discourse, and this is the world's biggest gamble. To limit warming to 2˚C compared to pre-industrial levels and have a fair chance of limiting warming to 1.5˚C drastic and immediate action would be needed within and outside of Europe to change the way we produce energy and goods on a level that we are still far from today. The world has already warmed by over 1˚C since the industrial revolution started, and even 1.5˚C and 2˚C worlds would impact our lives and those of the biosphere severely.
In the same paper in the journal Earth's Future, my colleagues and I assert that only a carbon roadmap will put the world on course to collapse GHGs and create the essential carbon sinks for Earth-system stability. The Paris Agreement has provided a framework for action and defined our end goals, but we must have a global plan for exactly when and through what means they will meet this challenge.
Progress has of course been made, globally and in Europe: renewable technology is developing at a rate few predicted, as is the battery storage technology that, when coupled with renewable energy sources such as wind and solar, has the capacity to revolutionise energy generation. Renewable energy costs are falling, investment in renewable technologies is rising and jobs are being created. The existence of the Paris Agreement is itself a huge step forward, with all countries, on paper at least, putting a second-half-of-the-century time limit on the bringing down global greenhouse gas emissions to net zero.
The impacts of climate change are only getting worse, however - neither the EU nor any other country or bloc should ever feel justified in responding to calls for greater ambition by claiming that they have done enough. Upcoming Montreal Protocol negotiations to include hydrofluorocarbons (HFCs) in the list of banned substances used in the refrigeration industry due to their atmospheric warming potential provide the EU and the world with an opportunity to further prove their commitment to climate action, especially as viable and less harmful alternatives to HFCs already exist. Negotiations on reducing aviation emissions within the framework of the International Civil Aviation Organisation (ICAO) and talks at COP22 in November to iron out the fine details of the Paris Agreement do the same.
To return to the title of the conference led by the Dalai Lama, then, EU politicians certainly have the 'Power' to effect change - they must now make sure that 'Care' is at the heart of how they use it.
REAL LIFE. REAL NEWS. REAL VOICES.
Help us tell more of the stories that matter from voices that too often remain unheard.