With hundreds of thousands of dollars at stake and fierce competition for clients, being an event planner in New York City is no easy feat. Cheryl Gentry, President of Glow Media an event management company, has crisscrossed the globe supervising, coordinating and executing the pieces of the puzzle that must come together to produce a memorable event for top tier clients.
Her company is able to innovate and provide "experiential" events and her team of 10 understand the complete scope of each project along with the goals for each client.

Cheryl Gentry President of Glow Media
Strategic partnerships are important to the business. Cheryl said:
I had to learn how to play golf, because one client was so heavily involved with it. I couldn't work with them and show up at meetings and not know how to play. As a result of that experience, Glow started a women's golf initiative that we've held at the PGA Village in Florida for the last few years. It's a leadership program to teach women how to use golf to enhance their business. Many men take off on Fridays, and they're on the course. Women don't do that--they're always in the office and the last ones to leave. But the conversations I've had on the course, those four hours of talking to someone and getting to know them proved to be ultimately more important than just hanging around a boardroom for an hour.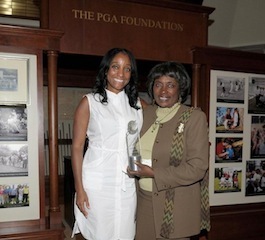 Cheryl at the Glow Golf event with legendary golfer Renee Powell
Glow Media aims to create unique events and the details are all important. Cheryl pays close attention to how the physical surroundings influence an event experience. The Glow team uses real people to guide event attendees rather than cardboard signage. Glow uses aromatherapy to influence the mood of an event and colors, sounds, and lighting to energize, relax or excite. Her mantra is "we handle everything from concept to cleanup." She has won several prestigious awards for her creative events.

She advises charging per event, not per hour. "I never look at it on an hourly basis because you're putting in a lot of hours. I look at it on a project basis and then factor in all the deliverables, to measure how long it might take."
Cheryl founded Glow Media 15 years ago, leaving the corporate world to branch out on her own. She is on the board for the Network For Teaching Entrepreneurship in New York City. Additionally, she was a judge for the Ernst & Young Entrepreneur of the Year awards in 2013.
Here are a few of Cheryl's tips for entrepreneurs.
1. Know which tools to use. Cheryl stresses the importance of using tools--in her case, mastering golf to better achieve strategic partnerships outside of the office, using quality work to build her brand through word-of-mouth, and using her website to share her insights.

2. Hire a bookkeeper. "From the beginning, we've worked with big budgets and multi-city events. One thing I believe in is to let people do what they're good at. I knew I loved producing events but not necessarily keeping records."
3. Understand the importance of customer service. "One of the things that we talk about is having "top notch, premium or white glove" service, an amazing experience for everyone. It can't be cookie cutter; everything has to be a personalized experience."

Cheryl knows that additional expenses do pop up throughout an event, from altering handouts to unexpected additional lighting to more gourmet food choices, anything can happen. Cheryl considers these expenses in her initial budget, and plans accordingly instead of expensing each change or upgrade to the client in the end.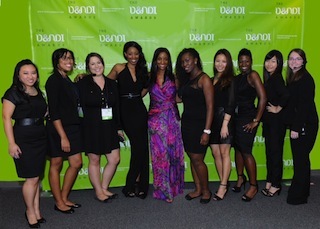 Cheryl and the Glow team at the DANDI Awards
4. Establish your corporate culture early on. "I am clear about expectations -- managing clients' expectations and making sure that my team understands exactly what is expected from them." Glow Media has grown exclusively through word-of-mouth, with clients booking her to produce events again and again. She knows repeat business can only come from satisfied customers.

5. Once you perfect your main business service, don't be afraid to expand. Cheryl described the importance of cultivating her other passions while still driving full-force with Glow Media. She has plans to launch Glow Getters another division of her company and a Glow Scholarship Fund. She also blogs to keep clients in the loop about her other interests, at her site.
6. Always have a Plan B, and be able to articulate this plan to your clients, and then execute it. Cheryl tells her employees,
don't come to me with just the problem, tell me all the details and how to solve it. We never go to our clients with a problem until we have done all the troubleshooting and we have the recommendation to fix it. We always have backups--backup microphones, additional laptops. Speakers sometimes change their PowerPoint presentations on the spot; we need to have multiple devices so we can do real time editing. We do an extensive run of show for each event. Minute by minute, we know what to expect. And we know where to catch up if we run over.
7. As an entrepreneur, you have the power and thus the responsibility to positively impact people. Part of what drives Gentry and Glow Media is the desire to do more for her company, and the people she has employed. "One of the reasons why you're an entrepreneur and you're a small business is so you can help other people. And that means providing jobs."

At a recent Ernst & Young Strategic Growth Forum, Gentry was able to meet and judge several entrepreneurs. Hearing about their stories inspired her to take more risks and reach out to the community.
8. Never be afraid to jump. Cheryl told me:
When I started my business, I went skydiving. You have to stand in front of a videotape and say, 'I realize this can cause bodily injury or death.' . . . People always consider entrepreneurs to be risk takers, but I said, 'You know what? If I can survive skydiving, I can survive business in New York.' And that gave me all the courage in the world.
Special thanks to Maya Horgan, Lauren Bailey, and Ruta Fox for assistance.
Popular in the Community