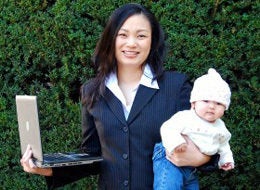 To the outside world, Lori Soper appeared to have it all. She was a full-time, high-profile executive director of marketing with a wireless provider in the Washington, D.C., pulling in good money and enjoying life. But she knew she was missing something, and that something was more time with her children.
"I had been working full-time and my children were in daycare 11 hours a day," she said. When she and her family moved to Winston-Salem six years ago, Lori landed at job with brandMIND, working flexible hours for the Winston-Salem, N.C.-based company on her own schedule.
Flexible work hours allow employers to tap into the hidden workforce of women who want to find the balance between work life and home life. Soper is a good example of what we, at Homeby3.com, are working to promote across the country. By allowing moms to return to the workforce on their own schedule, employers who allow flexible work hours are able to tap into the unique abilities of mothers who have experience and skills to offer, but cannot or do not want to work a traditional 40-hour work week.
When Soper began working for brandMIND, she still had a child in preschool. "I worked from 9:15 a.m. to 12:45 p.m. four days a week," she said. "Now I work Tuesday-Thursday from 8:30 a.m. to 3 p.m., or about 20 hours a week." That's a far cry different from before, where she roused her children early, threw a frozen waffle in the toaster, then rushed out the door to daycare. Then, on her "day off," she spent the day running errands with the children in tow, hoping to accomplish everything in one day so her family could relax on the weekend, she said.
It's a win-win for Soper and brandMIND, explained Dave Tambling, chief strategist and CEO of brandMIND. The company hires an employee of Soper's caliber, a strategic thinker with 15 years experience, uses her expertise to help clients, and still gets her home by 3:15 p.m. for her children. Soper is a lower-cost employee - her schedule and reduced overhead keep brandMIND's costs down, Tambling said.
"Our approach is to first identify talented people that match the expertise we require and then jointly develop an appropriate schedule that works for both parties" Tambling said. "From the beginning, our focus has been on identifying exceptional staff regardless of their full-time availability. The easier part is working together to find a schedule that is acceptable. Over the past decade, clients have become more and more accustomed to varied work schedules as they are seeing it in their own businesses and personal lives. At this point I haven't seen it as an issue, and in fact, I see it as a benefit for both our company and our clients in that it opens the door to a wide range of talented people."
Tambling expects the corporate world to go toward a more flexible work schedule.
"I think it's the price of admission of being in business today. There are certain employees who only have 10-20 hours a week available. I don't see it as an anomaly anymore."
Soper revels in the chance to be her own person at work, and then switch out hats to be Mom when her children are home from school.
"It's wonderful," Soper said. "In some ways it's the best of both worlds. I still have the challenge of providing value for the company, yet I can be at school at 3:15 to pick up my children, help them complete their homework, and get them to their sports and activities. I wouldn't have it any other way because the benefits far outweigh any negatives. We have dinner as a family every night."
Soper admitted that it's difficult to find a part-time professional job. "I'm doing a very different kind of work than before," she said. "I think you need to be flexible."
Soper said she is grateful for the opportunity that brandMIND has given her and her family. "I couldn't be happier," she said. "The other thing that's nice, too, is that my children aren't going to be coming home at 3 p.m. forever. I've been able to keep my business skills sharp in case I do want to go back to work full-time in the future. I haven't had to take that big step out of the work force that many women have to take."
Lori's story is the perfect example of the mission of HomeBy3. We want to help employers find the hidden, talented workforce of women who want to work flexibly and have skills and experience to offer. We want to help women find flexible employment opportunities so that they can earn income, keep their skills fresh, and make a contribution to their organizations.