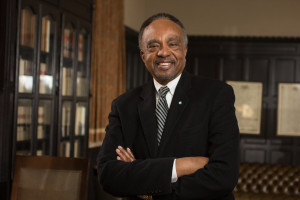 The era was about race and place. Clifton Taulbert's young life was not spared from those constraints, but the CEO and author has never let either inhibit him. Born in the small Mississippi Delta community of Glen Allan, Taulbert was raised by his extended family. Cotton was king and segregation the law of the land but Taulbert was at home in his small town where he saw himself in everyone else's face. Segregation was all he knew and to Taulbert, it was a comfort. "We were taught how to be colored more for others than ourselves," Taulbert remarks. Within his community, he was safe. But education forced Taulbert out of Glen Allan. Each day he forged the 100-mile round trip journey to and from the all-black high school in Greenville, Mississippi, but he was not bothered. Taulbert enjoyed the bus ride and the conversations he had each day. He never considered school integration or the all-white school a stone's throw from home. Equity and integration were fairytales, they were foreign words to roll around his mouth and try out but not to experience. To Taulbert, his Greenville high school was all the "big city" he needed. However, it was a big city and he was a country boy without much athletic prowess or nice clothes. He was overlooked by girls and peers and instead focused his attention on his education and grades.
Taulbert's great-aunt ensured that nothing came between him and his education. She was his agitator, his cheerleader and his alarm clock waking him each morning. She would stand outside each day before the dawn, pulling the string of a 60-watt bulb on their porch to signal to the bus driver. She kept Taulbert out of the cotton fields and in the classrooms, guaranteeing his future. At the end of high school both Taulbert and his great-aunt were rewarded. Taulbert was named valedictorian but college would not come until much later. First, Taulbert would become a dishwasher, a civil rights activist, a bank teller and a member of the United States Air Force.
Taulbert arrived in St. Louis after high school hoping to meet his father. He hoped he would find college and family but was instead met with race riots and a job as a dishwasher that embarassed young Taulbert to no end. He kept his nose clean by strict adherence to his faith and church, eventually finding a job as a bank teller. But the Vietnam War was underway and Selective Service turned 'lottery' into a four letter word. Rather than waiting to become an unfortunate winner, Taulbert decided to control his destiny and enlist before he could be drafted. He joined the U.S Air Force in the hopes of avoiding ground work in the infantry. Taulbert's luck took a turn and his time in the Air Force allowed him finally enroll in college.
First, Taulbert attended the University of Maine where his Mississippi drawl and country grammar caught up to him. English classes were a challenge for which he was unprepared and his ego soon received a blow when a professor passed back a paper made bloody with red ink. This same professor changed Taulbert's life when he remarked, "Taulbert, you have so much to say. Please learn how to say it." Ever the overachiever, Taulbert did just that. He went on to further his education at the University of Maryland and finally complete it at Oral Roberts University in Tulsa after he was honorably discharged from the military as Sergeant. At ORU, Taulbert majored in history and sociology and was intent on becoming a lawyer. He buckled down and studied hard despite the pseudo-integration of the mostly white school. Luckily, his military service had taught him how to exist in a newly integrated world and he navigated the tense and tenuous era with ease. "I had begun to recognize the common humanity we all share. Racism still showed up...but I had learned to embrace my strengths and hang out with [like-minded students]," Taulbert recalls. After ORU, Taulbert earned a graduate degree from Southern Methodist University. It was now the mid-1970s and a social revolution was underway with Taulbert paving the way for generations to come.
Now, Taulbert is a best-selling author of fourteen books with one nominated for a Pulitzer prize. He is President and CEO of two successful businesses and acts as a consultant in his spare time. Life may have taken him all over the world but Taulbert still harkens back to the boy in Glen Allan, Mississippi whose life was defined by cotton season and waking at dawn to pursue his education. Though he is retired, he finds it hard to stop moving, striving and hoping for more.
Calling all HuffPost superfans!
Sign up for membership to become a founding member and help shape HuffPost's next chapter