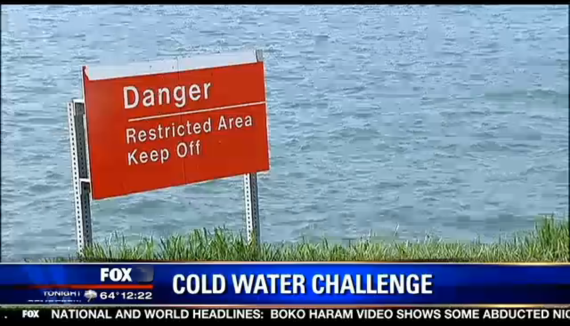 The Ice Bucket Challenge returns on Friday, July 31st. Here's a look back at the origins of last year's challenge and the potential for another viral home run this summer.
Dangerous, selfish, and wasteful. That's how news articles in the spring of 2014 described the Cold Water Challenge, a fundraiser that preceded the now famous Ice Bucket Challenge that became a viral sensation last summer.
For the Cold Water Challenge, participants jumped into a cold pond or lake, made a donation to charity and nominated someone else to the do the same. Sadly, a few people never made it out of the water. Others suffered serious or painful injuries.
A 16-year-old girl who jumped into Wisconsin's Lake Winnebago seriously cut her knee when she landed on razor-sharp shells. After jumping into Lake Michigan, one man broke his ankle and another suffered a head injury that needed stitches.
A USA Today headline on the challenge in May 2014 captured what many people were hearing about the stunt: 'Cold water challenges' claim victims, sap resources.
This isn't the tagline you want for your fundraiser.
Despite the negative press, the Cold Water Challenge succeeded in raising money for good causes.
In Wisconsin, a "Plunge for Eli" raised $53,000 for 9-month-old Eli Kupsky on GoFundMe. Eli has Neuroblastoma, a rare form of cancer found in infants and small children.
Cassie Stone created a t-shirt on Booster and encouraged supporters to celebrate their plunge by buying a shirt to further support the cause. She sold over 1200 of her black and pink t-shirts and raised $13,200 for Susan G. Komen for the Cure.
"We definitely saw traction on the Cold Water Challenge," said Andrew Moss, president of the t-shirt fundraising site Booster. "Cassie's was the biggest fundraiser, but we had plenty of other people running campaigns for cold water plunges," he added. "But then the campaigns stopped when the authorities started telling people not to do it."
Cold Water Challenge vs. Ice Bucket Challenge
So when exactly did the Cold Water Challenge become the Ice Bucket Challenge? It didn't. While the former was getting most of the attention -- both good and bad -- in May 2014, do-gooders had been pouring water and ice on their heads for charity for at least a year.
The Ice Bucket Challenge began to tip in June 2014 when a group of pro athletes, mainly golfers, started dumping ice water on themselves for charity (but not for ALS).
On July 14, 2014, Chris Kennedy, a golfer on a minor-league circuit in Florida, was the first to do the Ice Bucket Challenge for ALS research. Chris' challenge ultimately reached Pat Quinn in Yonkers, New York. Pat challenged Peter Frates in Boston, Massachusetts.
Pat and Peter are both fighting ALS and have a large network of supporters. However, it was after Peter shared his challenge that the Ice Bucket Challenge took-off as a fundraiser for ALS.
In early August, the ALS Association reported to Time Magazine that it had an unexplained increase in donations on August 4th. The charity had received more than $15 million from existing donors and 307,598 new donors.
The Ice Bucket Challenge for ALS was blowing up.
By the end of the year, the ALS Association collected over $100 million from a fundraiser that had started as a dangerous cold water plunge for charity. Worldwide, the Ice Bucket Challenge raised $220 million.
Will there be another Ice Bucket Challenge in 2015?
Yes! Co-founders Pete Frates and Pat Quinn will kick-off the 2015 ALS Ice Bucket Challenge at Fenway Park in Boston on Friday. Facebook will also play a major role in promoting this year's challenge.
Regardless of the results this year, Frates and Quinn plan to return 'Every August Until a Cure.' Fans of the challenge have embraced the excitement - and the uncertainty.
"The campaign was an unpredictable phenomenon last year and blew-up because people had fun while doing good," said Rob Goldstein, Vice President of Marketing at ALS Therapy Development Institute in Cambridge, Mass. "This year it will be even more unpredictable, and there is no knowing what will happen."
Will there ever be another wildly successful challenge like the Ice Bucket Challenge last summer?
I'm sure of it. Somewhere out there is the next great challenge fundraiser that will raise more than $200 million.
I already have a checklist of things I'm watching for. First on my list is to throw cold water on the myth of that "overnight sensations" are anything but overnight successes.
REAL LIFE. REAL NEWS. REAL VOICES.
Help us tell more of the stories that matter from voices that too often remain unheard.