"For this we sent them to college!" their great grandmothers holler from their graves as their great grandchildren announce their intentions not to be doctors or lawyers or I-bankers but to open a food truck or a restaurant. "We worked hard to spare you back-breaking work." Why are millennials pursuing career opportunities like these when more traditional avenues closed to their parents, grandparents, and great grandparents are now open to them? Pin-striped suits and rep ties have gone out of style, while interest in nontraditional careers has grown exponentially among affluent, young college graduates.
With few other career options, no college education, no fancy internships in investment banks and Fortune 500 companies, past generations and new immigrants opened restaurants to make a living. Sweat equity was their "capital" investment, and their drive and hard work opened paths for their descendants. One of our Baby Boomer friends, a prominent ophthalmologist, grew up working in his parents' deli. This instilled an impressive work ethic along with knowledge of pastrami, tongue, and corned beef. He is part of the generation that wanted to excel academically and pursue prestigious careers closed to his parents despite their intelligence. Respect and affluence followed as he donned a white coat instead of an apron.
These current young entrepreneurs often have a mission. They may want to introduce vegan or vegetarian dining to the American meat and potatoes public. They see their mission as promoting public health, a way to encourage eaters to consume less fat, sugar, glucose. Clover Food Lab, with popular restaurants in Boston and Cambridge, started as a food truck at MIT and serves only vegan and vegetarian food (though they don't advertise this for fear of turning people off). They still have food trucks. Ayr Muir, a descendant of the naturalist John Muir, is an MIT-trained Material scientist with a degree from Harvard Business School. Following his stint as a high-powered management consultant at McKinsey, he went into food service because of its potential environmental impacts.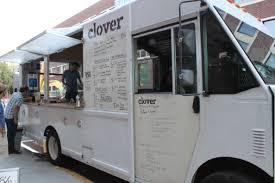 "The first Clover outpost was an MIT-based food truck which opened in 2008. Muir originally saw it as an opportunity to try out menu items, but he ended up helping to launch a food-truck trend that swept the nation. Today, the original food truck continues to be one of the chain's most popular outposts - unsurprising, given that a full quarter of Clover's customers are either students or people who work at a university, according to their internal surveys."
Another restaurant that started in a truck is Mei Mei's kitchen in Brookline, near the Boston University (BU) Bridge. Here the food purveyor-physician choices have been reversed. The founders' mother, a local physician, can be seen dining in the restaurant. She paved the way for her kids to become chef entrepreneurs, realizing their dream.The Mei Mei food truck has been awarded "Boston's Best Meal on Wheels" by Boston Magazine and "Boston's Best Food Truck" by the Improper Bostonian.
The food craze is happening nationally too. Real estate agents in Seattle and the Carolinas are using food to lure new buyers since, "Most luxury buyers have a passion for fine foods and wines."
It isn't just the prestigious schools in Boston that are spawning restaurant entrepreneurs.
Columbia University, home to Alexander Hamilton, John Jay, and President Obama, featured an article on their alumni magazine on food entrepreneurs, including Siggi's Icelandic yogurt (founded in 2004 by Sigurður Hilmarsson '04 Business School) and Happy Family organic baby food (founded in 2006 by Shazi Visram '99 Columbia College, '04 Business School). Our food tastes have changed. "Twenty years ago we counted fat grams and calories. Now, we scrutinize food labels, calibrate carbs, protein, and healthy fats, and demand ingredients that are vegan, paleo or gluten-free. We want to know if our food is organic, seasonal, and sustainable."
Maybe all this is due to disillusionment with high falutin' goals. Money alone doesn't bring happiness, nor does sitting in board rooms watching PowerPoint presentations. This generation is going back to basics to find meaning in life. Of course Donald Trump loves fast food, whereas Hillary Clinton enjoys dark chocolate and Goldfish crackers.
Maybe tastes have changed because once our basic needs are met we look for more variety, quality, and meaning. After all, we humans still need food: Now reasonably affluent Americans can afford more than just food to sustain us, but food that is nutritious, healthful, and delicious. School cafeterias are increasingly focusing on healthy foods to reach children of all ethnic and socioeconomic backgrounds.
Cookbooks reflect our changing society, especially the role of women as technological advances and feminism liberated women from the kitchen and enabled them to enjoy the larger world. The Schlesinger library at Radcliffe has a huge library of cookbooks. Our mothers' bible was The Settlement Cookbook, with the subtitle "The Way to a Man's Heart," published in 1901 by Lizzie Black Kander of the Ladies Relief Sewing Society in Milwaukee, to support a local settlement house. Joan Nathan, author of Jewish Cooking in America, owns 18 different editions of the book. Her 95-year-old mother was given a copy in 1937 as a wedding gift, and it remains in her kitchen today. "She considers it her Bible."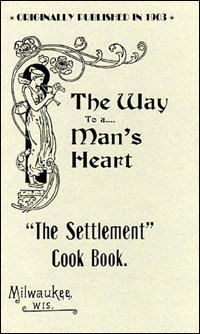 Now the subtitle of our trusty cookbooks might be, "The Way to a Healthy Heart." Bill Clinton, who now prays at the altar of veganism, personifies the healthy food trend, with a waistline to prove it.