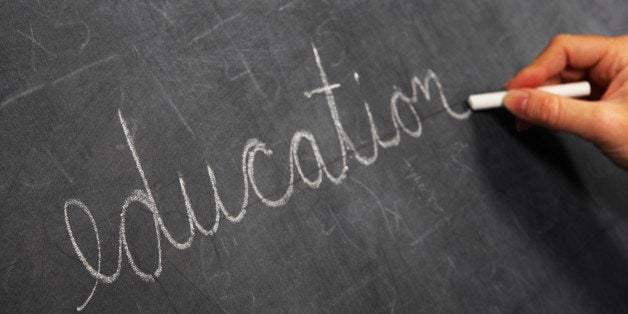 "When are you going to do something about it?," her daughter cried to her mother after seeing her hit by her boyfriend, yet again. And this time, her mother finally did.
"I knew when I saw my daughter crying to me on the living room rug that I not only had to do something for myself, but also for her," said Ellen Elizabeth Lee, her eyes welling up with tears as she addressed a filled ballroom at New York City's Plaza Hotel on November 17th. As one of this year's recipients of an education fellowship from the Education Fund of the Women's Forum of New York, a leadership organization of New York's preeminent female leaders in every professional sector, its president, Ami Kaplan, also took to the podium to reiterate the Fund's founding mission to give women a second chance to realize their potential. "It is our way of giving back while building new women leaders," she said.

And so it has. The Women's Forum, which was first established by activist Elinor Guggenheimer to improve the lives of women far less fortunate than she, created The Education Fund in 1987 to provide annual awards to encourage mature women in need (age 35+) to fulfill their potential through the pursuit of an undergraduate college education and to enhance their capacities to provide productive and supportive service to their communities. Specifically, the award recognizes extraordinary and often heroic effort in overcoming adversity and the most daunting of odds in restructuring their lives for success. "We help high potential women who have overcome serious hardships realize their dreams," added Beverly Beaudoin, president of the Education Fund.
And this year's awardees can certainly attest to that. "I really reached rock bottom as a teenager," said Sophie Miyashiro, another award recipient. "I had to escape my home. It became a matter of life or death," she continued. "So, in the middle of diapers and desperation, and with only two dollars in my pocket, The Education Fund enabled me to go back to school. It wasn't easy since my classmates are 20 years younger than I, but I now have a 4.0 GPA. Having been validated by the Education Fund has been so incredibly empowering."
Yet another awardee spoke of how she grew up in the inner cities of Jamaica, where girls were getting pregnant and dropping out of school. "I asked my father how come no one asked me about going to college after graduating from high school," recalled Gayle Green-Williams, "And he said that nobody in our family ever went to college, so how would we know?" That's exactly where the Education Fund comes in. "The Fund showed me I have the potential (to get a college education), and I now can have the life I want," she continued. "There is now no other option for me."
Gayle Green-Williams' story is not at all unique. Many women who have received fellowships from the fund are the first in their families to attend college. In fact, Billie Jean King seemed to have said it best as she accepted this year's Elly Award from The Women's Forum, an award established in Elinor Guggenheim's honor: "If you can't see it, you can't be it." And the long-time tennis champion knows this all too well. Igniting social change and gender equality on and off the tennis court as the winner of a record 20 Wimbledon titles and 39 Grand Slam singles, King went on to say, "It is so important for people to see examples of bravery and social change since every person can influence others." It is not surprising, therefore, that King set out to empower women in sports by founding the Women's Tennis Association, the Women's Sports Foundation, and further inspired women while educating men after defeating Bobby Riggs in the Battle of the Sexes in 1973, a match that is probably most remembered for its contribution to the women's movement during that decade.
And it is exactly about the importance of "seeing it," as Billie Jean stated, that the awardees' future generations will now know what is possible for them as well. As one of the Forum's Board members, Dr. Dara Richardson-Heron, President and CEO of the YWCA summed it up following the Awards ceremony, "We want a world where women are equal players."
And that is true both on and off the court.