College can be a pivotal time in your life, establishing habits that may last well into adulthood... such as eating habits. With many new social influences, your eating habits can change quite drastically, often for the worse. You may have heard of the freshman 15... which refers to the average amount of weight a freshman in college gains. (Apparently, this used to be the freshman 10, which unfortunately may be saying something about the direction that we are headed, when it comes to obesity.) When I think of dormitory cafeteria food, I recall Jell-O. Lots of Jell-O of different colors. Both plain Jell-O and Jell-O with different things suspended in the Jell-O. Like grapes, peaches, pears, and other types of Jell-O. Our meal plan wasn't exactly a dietary paradise and did not exactly have a plethora of health options. Meanwhile, like baked beans in a stew, all of us college students were influencing each other's eating habits in not the best of ways. The most common food groups among students seemed to be meat (e.g., chicken, beef, and mystery), dairy, grains, chocolate, liquid grains, pizza, and Jell-O. Rarely did conversations cover healthy eating. Passing around food recipes was not common. (On the other hand, passing around drink recipes was quite common.) As time would teach me, not all of my classmates and peers were the best teachers. (Of course, they eventually did teach me that they weren't always the best teachers. So they were good at teaching that.)
Like yeast in an oven, times are changing... especially in the past decade, with this thing that you may have heard of called "social media" and "the Internet." College students no longer have to rely just on those college students immediately around them for bad influence on food and eating. Instead, they can now rely on other college students hundreds or even thousands of miles or kilometers away to give each other bad advice on food and eating.
Ah, but an example of how the "Interwebs" can lead to positive change in college student eating is Emily Hu's blog, Not Your Average College Food. Emily is currently an undergraduate here at Johns Hopkins University and the forward thinker behind this website that includes relatively simple but creative recipes that college students can use to cook tasty and healthy meals themselves. The idea for her website came during Emily's sophomore year at Hopkins. Emily was excited that her dormitory room had a stovetop but soon realized that her roommates didn't share her enthusiasm. The pure sound of the two words "free food" on the other hand, gets a group of college students feeling elated no matter what this may entail. They and many other college students didn't seem to be inclined to cook the food, eating the food was a different story. Many said no time and no materials. Emily -- a bright, creative, "out-of-the cereal box" thinker -- thought that there has to be a better way and, thus, started her blog.
At first, like an egg in a skillet, Emily's blog initially stayed fairly local but eventually spread. Her blog readership grew and grew. Eventually, major news outlets and popular websites took notice such as NBC's Today Food, Buzzfeed, Greatist, National Public Radio, and, of course, the greatest website in the world, this one. Her website views have grown to almost 30,000, averaging around 500 views per day to see things such as mini mushroom and spinach quiche: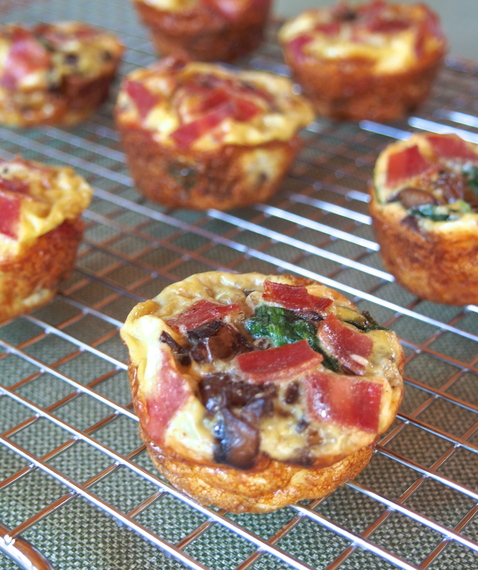 The website includes a recipe index, with recipes divided by type of meal such as breakfast, lunch, dinner, and snacks, and a visual recipe index, which allows you to browse pictures of the end products in all their glory. Subsections include "4 ingredients or less," "No-Bake Desserts," and "Nutella." (During college, my recipes would have included a combined "one-ingredient or less and Nutella category.") And her recipes don't simply consist of: get bread, put cheese in between, grill, and eat. Many of her offerings seem like they could easily appear in the menus of high-end restaurants, such as the Mini Mushroom and Spinach Quiche with Bacon, the Paella Valenciana, and the Dark Chocolate Avocado Truffles. Plus, background stories accompany each recipe entry such as how two snow days led to cancellation of classes and more recipes: "The thrill of having a day with no classes propelled me to bake something and I wanted that 'something' to be healthy." Other topics of her stories are her undying love for crockpots to her interpretation of the word "bae." An example of Emily's chic recipes is her Brown Sugar Glazed Salmon: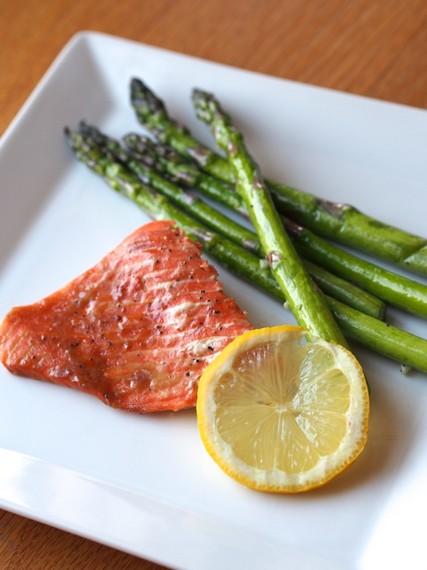 To stay current on food trends, Emily continues to do extensive research. Last semester, Emily studied abroad in Copenhagen, Denmark, which by Emily's account is "a great foodie city" and where she sampled beef tartar with ants and bone marrow with cured egg yolk (two dishes that probably won't be making her blog soon). Emily also had the opportunity to dine at Noma, ranked in some lists as the top ranked restaurant in the world (In college, my food research consisted of frequenting a local corner sandwich shop which eventually was closed by health inspectors and condemned).
And research leads to things such as the rustic fruit tart: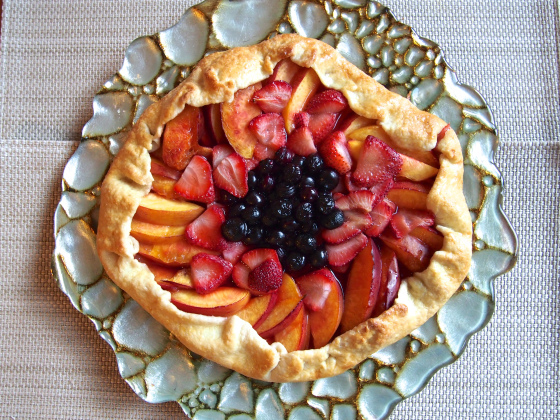 At a young age, Emily has already developed impressive expertise in food, nutrition, and health. (At the same age, my nutritional expertise consisted of knowing how many days after delivery one could still eat a cheese pizza.) This summer she will be interning at the United States Department of Agriculture (USDA) Center for Nutrition Policy and Promotion in Washington, D.C., where she'll add to her burgeoning knowledge about food, nutrition and public health. With the many followers and the attention that her website has garnered, Emily realizes the impact that college eating has during one's college years and beyond and has already had a very positive impact on public health.