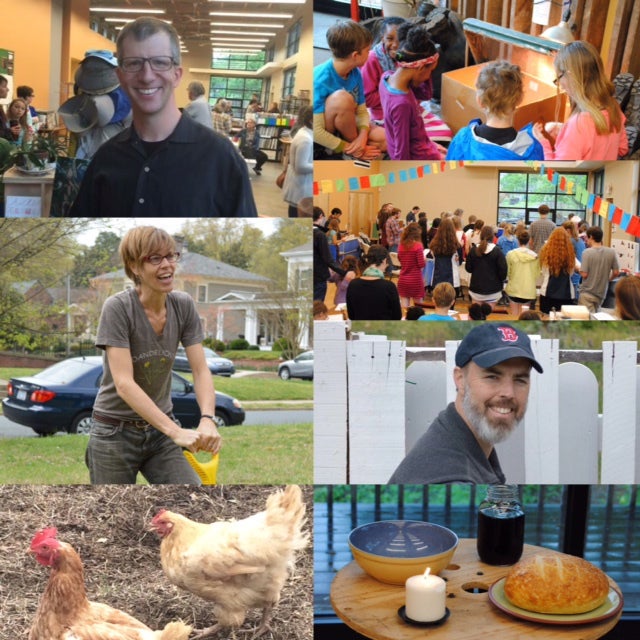 It all started with a dream.
In the middle of the night two summers ago, Ben Johnston-Krase received one of the best ideas of his life. At the time, he was a pastor in Southeast Wisconsin, but while he slept, he dreamt he was traveling to a new church to become their pastor. Once he arrived, he was surprised to discover that the church was. . . a farm.

Once he awoke, a good feeling lingered. He realized there might actually be something to this vision. At 3:17am, he was suddenly awake with a flurry of ideas: What would it be like to worship in a barn? What if Sunday School involved children caring for chickens? What if all resources on a farm could be leveraged to address hunger needs? In homes, in prisons, in nursing care facilities?
He wondered, "Is anyone actually doing anything like this?" He started Googling, and he couldn't find anything like it. So he went to GoDaddy.com to see if FarmChurch.org was available. It was, and after being awake for a mere twenty minutes, he immediately bought it on the spot.
And that's when the dream got bigger than Ben's ideas alone.
The next day, he called Allen Brimer, a seminary classmate and close friend who had been a farmer before becoming a pastor. After talking to his family, Allen responded right away, "I'm in."
The flurry of conversations continued. A third family joined too, and soon, the Johnston-Krases, Brimers, and Werts were all in agreement: They were actually going to dream, create, and launch Farm Church. They decided to take a great deal of personal risk. They quit their jobs to pursue this vision with their full attention and energy.
And that's when the dream got bigger than their ideas alone.
The vision spread, and people around the nation began contacting them in the hopes that they might bring Farm Church to their town. The pastors, their partners, and their kids all entered a discernment process to figure out where they should move. After a lot of prayer and consideration, they decided upon Durham, North Carolina.
And that's when the dream got bigger than their families alone. 
These families made a commitment to follow every thread of conversation once they arrived in Durham. As a result, vital partnerships emerged. Within a year, they received land to farm right within the city, and SEEDS, a local non-profit organization, gave them space to hold worship services. Most importantly, people of all ages have caught the vision and made it theirs too. Together, they are embodying this vision.
And the dream will clearly get bigger.
Farm Church considers 'church' to be a reality much larger than a building or central location. They don't even want a building. Church is not something they go to. It's something they are.
This is truly a community on behalf of a larger community. They are purposefully embodying church, and together, they will leverage all resources of their land to feed hungry bodies.
From dream to Durham, it's beautiful.
From church to table, it's visionary.
We can catch this vision too. We can visit the Farm Church website, follow them on Facebook, and hear their story in their own voices below. This video is their Ignite Presentation from the 2016 NEXT Church national gathering in Atlanta.
Renee Roederer is an ordained PC(USA) minister and the founding organizer of Michigan Nones and Dones, a community for people who are "spiritually curious but institutionally suspicious." This community in Southeast Michigan includes people who are religiously unaffiliated (the Nones), people who have left established forms of institutional churches (the Dones), and people who remain connected to particular faith traditions but seek new, emerging visions for their expression. Renee blogs at Smuggling Grace.
REAL LIFE. REAL NEWS. REAL VOICES.
Help us tell more of the stories that matter from voices that too often remain unheard.
This post was published on the now-closed HuffPost Contributor platform. Contributors control their own work and posted freely to our site. If you need to flag this entry as abusive,
send us an email
.