Getting "Better" with Toby Lightman
For Mother's Day, singer-songwriter Toby Lightman asked fans to send her photos of people in their lives that make them better. The response was overwhelming and now the pictures make up the new video for her song "Better," premiering exclusively here today. The artist is not only a singer, songwriter, and performer based in New York City, but since her debut in 2004, she has performed on various national TV shows such as Late Show with David Letterman, Late Night with Conan O'Brien, and NBC's Today Show. Toby's also toured with renowned artists such as Rob Thomas, Jewel, James Blunt, Gavin DeGraw, Train, Marc Cohn, Lilith Fair 2010 and on one memorable evening, Prince. Toby Lightman's new EP, Holding A Heart, is out now.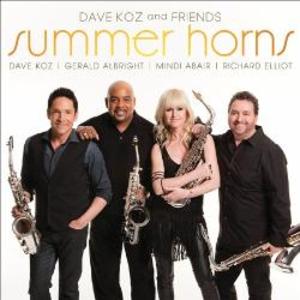 A Conversation with Dave Koz
Mike Ragogna: Dave, it looks like you've got some friends with you on this new project!
Dave Koz: Indeed! Old friends, dear friends, amazingly talented friends, but strangely enough, as long as we've known each other, we've never actually worked together on a project before. I'm talking about Gerald Albright and Richard Elliot and Mindi Abair, three phenomenal saxophone players at the top of their game. This album, the Summer Horns project was an album that was kind of floating around in my head for a long time. It was kind of in my musical DNA because the first record that I ever bought was Tower Of Power and that horn section sound kind of seeped into my musical psyche from the earliest days. It was my passion, my love, and it's actually what brought me to the saxophone to begin with. So I knew that at some point, there was going to be this album that would pay tribute to the horn section as part of modern music, and if you look at that golden era where a horn section, specifically saxophones, were part of every group. It seemed like they were everywhere: Earth, Wind, And Fire; Tower Of Power; Chicago; James Brown, of course; Sly & The Family Stone; Blood, Sweat & Tears; it just went on and on. That sound added this certain power and tightness and excitement to the band's grooves and also on stage, too. It's hard to pass on how exciting that is. Anyway, that's what was in the back of my mind and I knew that it wouldn't be just one of my albums; I wanted to do it in collaboration, and this just came together very quickly with three people that I love and adore and whose passion for this sound and the sound of a horn section were equal to my passion.
MR: So I had it all wrong. Here I thought you were inspired by Al Stewart's Year Of The Cat and that's what got you into sax.
DK: [laughs] I did like that song, too.
MR: You know, after all of these albums, I never put together that, yeah, it would be fun to hear Koz in a horn section, doing an album like that. But though it makes sense, it also was a surprise.
DK: Well, for me too, because I didn't really know. None of us knew until the first day of recording whether this would really work. You have a good idea and maybe the right people show up for the idea, but until you actually record it and get in front of microphones, you just don't know what that sound is, especially when you're talking about four people who are used to doing their own thing and have careers based on being soloists, not being part of a section. All of a sudden we're being put into a section and is this thing going to work? I do remember that first day in the studio, we were all a little bit nervous. Of course, we all know each other well, but here you are side-by-side in the studio with your peers and shoulder-to-shoulder, everybody listening to everyone else, and it kind of forces you to dig deep and make sure you don't screw up. I remember the very first sound that we made on the unit was actually the horn part from "So Very Hard To Go," and the minute I heard that, I was like, "Whoa! That's our sound!" I didn't even know what our sound was, but there it was staring back at me, coming out of the speakers as a sound where you could hear each of our individual sounds but it was as a unit; it sounded like a section. There's that very fine line. It didn't sound like four soloists playing together, it sounded like a section made up of four individual voices.
MR: Yeah, I love that and also the four individual voices having charts written by folks like Tom Scott and even Greg Adams.
DK: That had a lot to do with it. You can't just leave this stuff to chance. The heyday of the horn sections in these seminal bands all revolved around great horn arrangers that understood how to write for the instrument. We couldn't just leave that to chance, so that's why we enlisted the incredible talent of these guys that were writers of those classic songs. Greg Adams was the principle horn arranger for Tower Of Power and Tom Scott, who is a great saxophone player in and of himself, wrote these great horn section parts for tons of stuff like Michael Jackson, a lot of the things that Quincy Jones did, Steely Dan, Joni Mitchell, Paul Simon, Paul McCartney... This guy was responsible for so many great horn charts. Then we had Gordon Goodwin do sort of the centerpiece of this album, which was a new version of "Take Five," which was just four saxophones and a standup bass. Gordon Goodwin is kind of a modern day brilliant horn arranger who outdid himself on this particular piece.
MR: Was it hard to come up with just twelve songs?
DK: I think with any covers project, depending on your theme, it's always difficult if there's a rich history to cull from, and certainly, that's the case here. There's way too much music. But once we decided on how we wanted to approach this--which was really going for the more meatier stuff, the more melodic, because we're instrumentalists--then that kind of veered us away from the party songs. A great band, for example, is Kool & The Gang. It has so many great songs and the horn section was a huge part of that group, or The Ohio Players, for example. Those two bands have so much music. But the music kind of tends to be a little bit more dance-y and great groove stuff, but melodically, for sax players, there's not as much meat on the bone as say for Earth, Wind, & Fire stuff or Chicago stuff that has great melodies that we can all sink our teeth into. It was conference calls...we were all on the road at the time, late November and December of last year, so it all came together very quickly. We were in the studio the first week of January recording this. We had a very tight timetable to actually get it together. Those were spirited conversations where people would be arguing for their particular choices and there would be some good-natured arguments about which songs were the right twelve songs. You could go any which-way and you can't really go wrong here with this music. Hopefully, the choice that we did--which was really primarily influenced by our album title and the name of our group, which is Summer Horns--we just wanted to have a good time and party. Listening to this album, hopefully the listener will be reminded of this golden era of music, of the great horn sections and all these great songs that are so much a part of our musical fabric. And they don't go out of style. They're still classic.
MR: They are. Your opening track, "Always There," sets the album up with that section sound, although it also gives everybody a distinct voice as well.
DK: Yeah, I have to give a lot of credit to our producer, Paul Brown. I came to him with this idea and he said, "I'm in." And boy, did he jump in with everything. He brought a lot of energy. That was his idea, actually, "Always There," which is a great sax piece by Ronnie Laws. I would've never thought of doing that. That was a classic instrumental piece from the late seventies and to my knowledge, it's never been redone. So doing it with four saxophones and applying that kind of treatment was really fresh. This arrangement, which was kind of spearheaded by him, is a perfect first track because it introduces all of these voices to the listener and immediately says, "This is not a Mindi record or a Gerald record or Richard record or a Dave record, this is a Summer Horns record." Our tour will be the same way. People will be coming, they might see my name or Richard's or Gerald's or Mindi's, and that may bring them to the show. But what they'll see is something that they've never seen before.
MR: You have Jeffrey Osborne on your version of "God Bless The Child," done as a Blood, Sweat, & Tears nod, I imagine.
DK: I don't know if you've heard his standards record that just came out a few months ago? That guy is just one of the greatest singers of all time. Of course, he's had hits, and I think he's pretty well appreciated and has had a long career. But man, I saw him sing that song all the way from start to finish and that's what you hear on that take. He had never sung that song before. He knew it, obviously, but he had never sung it before. He jumped at the opportunity and I watched it just come out of him effortlessly. It was remarkable. That guy is a great communicator. I think he's sixty years old or maybe even over sixty now, looks like he's thirty five, in incredible shape, and he's a consummate singer. He never stops. He has that incredible voice. I could say the same about McDonald. Michael was always going to be the choice for "So Very Hard To Go." I knew I wanted him to come on this album and we've been friends for a long time touring and stuff, so I approached him with this idea of doing "So Very Hard To Go," the Tower Of Power song, and I love how things like this work. He was in a Home Depot, he tells me this story...he's such a regular guy. He's getting something for his house, he's getting ready to do a project on his house and he hears over the speakers, "So Very Hard To Go," the Tower Of Power version, and it actually caught his attention and he said, "Wow, great song. I wonder if anybody's going to ever do that again." Just filed it away, that's it. The next week, I call up with this song and he said at that point he knew that he was meant to do it and he applied everything he's got to it. It's one of the more spirited and more exciting vocal performances I've heard from him in a long time. I'm very proud of that.
MR: Another guest on your album, Brian Culbertson. How did he join on with the troupe?
DK: Actually, Brian is a good buddy of mine for many, many years, and people know him, of course, for being a piano superstar and a great producer and songwriter. But if you've ever seen one of his shows, you know that he's kind of the guy that's bringing the trombone into the modern era. He just eats that instrument alive. So I talked to Brian in the beginning about producing some of this because he would've been a fantastic producer on this album too and he was very excited about it but because it was coming down so quickly, he ended up not being able to do it. But he said, "If you don't save me a spot to play on this, I'll never talk to you again." I said, "Culby, we'll find a spot for you." So there's a big trombone solo in "Hot Fun In The Summertime," and he, of course, came in and nailed it. He played trombone on a couple of other tracks with Rick Braun to provide a bit of brass and the trumpet. This is Summer Horns, it's not Summer Saxophones, so trumpet and trombone, as well as saxophones, these are the instruments that make up a horn section. We felt that it was important to have those voices heard on this album as well.
MR: Was the Tower Of Power album Back To Oakland in 1974 the first one you ever bought?
DK: That is, with my own money I bought that album and I wore it out. I'll never forget that. Then, many years later, I met the Tower Of Power guys and I befriended them but then on one of our yearly cruises, we had them as our special guests and all twelve of them or however many of them there were at the time came on the ship to do a special show and I was able to present them on stage and I had to bribe them to do it but they let me play a song with them and I will never forget that. That was one of the high points of my life, to be able to join Tower Of Power on stage at one of our cruises.
MR: Wow, what's the song that was immortalized that night?
DK: That was "What Is Hip?" The classic.
MR: What would you tell Dave Koz of 1974 after the tremendous career you've had?
DK: Man, I was the most awkward kid you could ever imagine. If it wasn't for the saxophone that I picked up... I don't think I got that album until '75 because it was right around the time I picked up the saxophone and I was thirteen when I picked up the sax, and why that album, I'm not sure as opposed to the other possibilities of the time, because nobody in my house was listening to Tower Of Power. I'm not sure how I found out about them. But what I would say is, "You're going to be okay," because I was a mixed-up kid, there were a lot of things going on in my mind. I was struggling, I was very socially awkward like a lot of kids that age, just trying to find some sort of semblance of who you are. Music was the great reflection for me. I was able to pick up the saxophone and by playing the instrument, I was able to find a way to socialize and find a way to communicate with people and it really brought me out of my shell and for that, I am forever grateful. I would probably say to that young kid, "Stick with the sax, don't worry about it, it's going to be your best friend for the rest of your life."
MR: Beautiful. What advice do you have for new artists?
DK: Well the advice is "Use what you've got." Use what you as a new artist on the scene have that we barely had when we were starting out, and that is the vast power of a global audience that you can connect to. Now, of course, there's all kinds of issues that are raised with that--how do you access them, what do you do, which outlets do you use... For me, I'm playing catch-up on the social media space. I'm trying to figure out how to access all this information, all these people, all these applications, and I'm trying to figure it out because I'm an old school guy. I started doing all this twenty-five years ago, so this is all new. But for someone coming up on the scene right now who is very nimble with all this new media, the world is your oyster. You don't have to play the game by the old rules, you can make up your own rules, new rules, coming up from this point on. Embrace what's here for you that wasn't for all of us and do it on your own terms. You don't have to do it in any way that it was done before. It's the Wild, Wild West of the music world.
MR: [laughs] It is. I like that, "You've got to do it your own way," and I'm with you, they actually have the opportunity to do it how they want to do it. They don't have to fit into the cookie cutter that the music business has been over the years.
DK: The music business has been in the toilet for ten years. Most people in media and most artists and record companies and pretty much everybody's had a little bit of a bad attitude about it, like, "Oh my God, our business is completely screwed." I don't know about you, but I feel like the tide has turned on that and, of course, the model has changed. But I do believe that music is on its way up again. It never actually went down, but the business had to try and figure itself out and now I feel that we've turned the corner and there will be a new business model. There are so many positives about this, you don't really hear as much negativity about our business as you once did a couple years ago. I think there's a lot of really, really bright spots. How do you explain the mass hysteria of certain clips on YouTube and how many millions of people are watching music? It's incredible! Music is very alive right now. It seems very healthy. You just have to figure out how it works on a financial basis. I'm sure it will work itself out some way.
MR: You know what's nice about that though in my opinion? It's making people make the dedication to the music part of it before the business part. Then the business part will come along and that will work its way in, but you're coming into it sort of more from a level of creativity, from a level of, "I have to do this because I'm really a musician." It isn't about making the millions, you know?
DK: Yeah, and I'm not even sure whether people that are truly honest with their art can go into it and feel like they're going to have a really successful career if money is the motivator. I don't know anybody that's a serious or true authentic artist that has money as their main motivator. I don't think it lasts. If that's the case and you have some talent and some good promotional stuff, you may have a little spurt, some excitement. But I don't think it's something that can last for a long time if your heart and your passion is not there. That's what it's all about, that's what people respond to. It doesn't matter what kind of music it is, the style or who's making it. If people feel it, if there's something true and authentic there, then people will feel it. That doesn't mean that you're going to become a millionaire as a result of it, but there's music that connects and there's music that doesn't connect and the ones that connect for a long period of time are the kinds of music that are based in authenticity, somebody who has to say something, and is saying something with their music.
MR: Right, perhaps as you are saying something with Summer Horns.
DK: Nice way to bring it back, babe.
MR: [laugh] I just want to thank you again for your time on this. It's been sweet as always. I did not expect a Koz project like this, but on the other hand, I feel like it makes total sense. It's like, "Yeah, I guess he hasn't done this yet and it was a long time coming."
DK: Well, you've been a long time supporter and I appreciate that so much. The main thing is that I want to keep you and other folks guessing. For me and my audience, I don't want to keep doing the same thing over and over. There's no point in that! People have enough of my music. They've got enough music for the rest of their lifetime if they like that. But going up to bat and having that bat and doing something different, absolutely. And who knows whether it will be successful, but again, if it comes from the heart, if it's authentic, if it's true, then at least I can say it was an earnest attempt at making music from my heart. I totally feel that way about this album. I really love it and I'm excited to share it with people.
MR: And there's a tour, of course?
DK: Yeah, our tour starts in about two weeks. I'm very excited. We're just getting into rehearsals next week and the tour itself will be very different from anything anyone's ever seen of mine, primarily because there'll be four of us on stage for the most part all show long. It's exciting. This music for a summer tour out there having fun with a killer band, I think it's a good recipe. I think we're going to have some fun.
MR: Is there anything else on the horizon?
DK: Our cruise. This is going to be my eighth cruise, but it's our second to Europe, September 22nd to the 29th. I'm very excited about that. It's starting in Rome and going to Greece for one week.
MR: Sounds like fun. Koz, all the best with everything. Thanks again for your time.
DK: Great talking with you, Mike, as always. Thank you so much.
Tracks:
1. Always There
2. Got To Get You Into My Life
3. Rise
4. So Very Hard To Go
5. Hot Fun In The Summertime
6. Take Five
7. 25 Or 6 To 4
8. Reasons
9. I Got You (I Feel Good)
10. You Haven't Done Nothin'
11. God Bless The Child
12. Summer Horns
Transcribed by Galen Hawthorne
A Conversation with Brian Culbertson
Mike Ragogna: Hi, Brian. Can you go into what this Napa Valley Jazz Getaway that you're associated with is going to be like?
Brian Culbertson: Yes. This June is going to be our second annual wine and jazz festival. It's a five-day event based around many different concerts plus wine tastings, dinners, hang-outs, golf, all kinds of different things going on. So it's not a typical jazz festival where people come and sit outside. This is way more of an intimate setting where people are really, really getting to hang out with the artists over five days. There's just lots of different things. It's a really unique experience doing the whole lifestyle thing. People love putting food and wine and music together in these events, so that's what it's all about.
MR: I was going to ask, with all those events is there going to be any time for the music?
BC: Oh, there's plenty of music, let me tell you. During the day, we have a big outdoor welcome party with tons of our artists. It's a big jam session. And a celebrity chef's going to be out there, Cindy Pawlcyn, who has tons of restaurants in the area, so she'll be cooking all day with her whole staff there. We have our own signature wine that's going to be available everywhere, we did it with our winery partner Miner Family, and there's tons of other winery partners as well. So if you come to the whole event, you get an access card and it gets you two-for-one tastings with our partners and a bunch of discounts at other places around the valley. You really get the time to take advantage of the whole area around there, which is so beautiful.
MR: I'm looking at the artist roster and I'm what song you're going to be performing with Sinbad.
BC: Well, you know what? Sinbad was on one of my records.
MR: [laughs] There you go, very nice.
BC: Oh yes, I put a record out about two and a half years ago called Twelve and he was featured on the first track along with Chuck Brown, Faith Evans and Ray Parker, Jr., so that was a lot of fun. He'll be up there doing that, and of course, he's going to be up there doing his stand-up as well, but he plays percussion and guitar so he likes to sit in and jam. It's awesome.
MR: And Ray Parker, Jr. is one of the festival artists.
BC: That's right. Yeah, I've known Ray for many years now. He's been playing on all my records--amazing rhythm guitarist. A lot of people don't even know that. That's how he really got his start in the business back in Motown in Detroit where he grew up. He comes over and just loves playing guitar, so I put him all over my records. We're going to be doing a bunch of tunes together and, of course, he's going to be singing his hits as well, so that's going to be a lot of fun.
MR: Is there any plan for the big, giant group all-star festival jam?
BC: Yeah, definitely, both Saturday and Sunday nights. The encores are going to be crazy, the openers are going to be crazy, so lots of all-star jamming and photo ops for the fans.
MR: I also wanted to ask about your last album, Dreams. Has it been all you ever dreamed it would be?
BC: Well, you know, it really is a conceptual album and an album that was meant to just be a consistent sounding record from start to finish, meaning that when you put it on, you get into a certain mood and you stay there. I like those kinds of records because if you're in the mood for it, that's exactly what you need. So not a lot of ups and downs; it's going to put you in this mellow, chill, late-night, romantic vibe and you're good to go for about an hour. You know what I mean?
MR: Yeah, it's not only a creative statement, but it's also about both the hanky AND the panky.
MR: [laughs] What else is going on in the world of Brian Culbertson?
BC: You know, I'm about to start working on a new record this summer, and I'm putting the finishing touches on the concept of that, so we'll talk about that next time. Also, this Fall, I'm going to be hosting a cruise--the Smooth Jazz Cruise West Coast Edition. I'm hosting it along with co-host Boney James. It also features David Sandborn, Marcus Miller, Tower Of Power and a million other artists. That's going out of San Diego in October, and we're really excited about that. In the mean time, I'm just going to be around touring and that's kind of what we do, so a lot's going on.
MR: Nice. I almost made it to the east coast version.
BC: Ah. Maybe someday. It's so much fun because it's seven days and all the artists are on the boat, so everyone's just literally hanging out. I love just walking around and sitting down and having lunch with random people. That, to me, is such a cool experience and another thing that you don't get with a normal jazz festival.
MR: Yeah. So the sidebar elephant in the room here is that your keyboard playing is pretty phenomenal.
MR: I think people sometimes take that for granted because there doesn't seem to be any kind of standard for like, "Hey, that's really a good musician," because everybody is elevated to, "That's the best thing I've ever heard," or "...he's the most awesome musician ever!" It seems like sometimes, the real powerhouses get lost in the critical shuffle based on everything being at eleven all the time.
MR: The hype. So you just played trombone on one of David Koz's tracks, what was that like?
BC: You know, I love recording trombone. That's obviously my second instrument, but I've got to be honest with you, it was my main instrument all throughout high school and college. I was really known as a trombone player. When I released my first record in '94--I can't believe it's been that long--it was all piano, and everyone that I knew was like, "Oh my God, who's that? I thought you were a trombone player! What the hell happened?" I was a closet piano player. So my recording and playing trombone these days is really a lot of fun. I don't know if you've heard that track, but I love blowing the horn on records and I think I kind of have a unique style on the trombone as well because I'm also a piano player, so I have a different take on it, I guess, than other mainly trombone players.
MR: Brian, let me ask the question as your friends would ask it: "How the hell did that happen?"
BC: I actually started on piano lessons, classical lessons, but then, when I was in fifth grade, I wanted to join the band and in the band, there's no piano. So, at that point, I was also playing the drum set, but in the fifth grade band, the drum parts were like a snare drum. Really boring. I was like, "I don't want to do that either, I want to play a wind instrument." My dad was a band director at the high school and he actually brought home all the wind instruments and made me try them all. For some reason, I could naturally play the trombone, like instantly. He was like, "Well, that's for you." I said, "Okay, nice." I got so excited, I was playing for like three hours that first day and my lips swelled up. We had to get the ice pack out. It was great.
MR: All right, as always, even though I've interviewed you five, six, seven times, what is your advice for new artists?
BC: Well, I think if you're trying to get into this genre--I think there's still a lot of new artists working on that--what I tell a lot of them is the best way to really get known these days is to start touring with a well-known artist, and then, hopefully, you can be featured during their set. Then you can start being known. Obviously, that's once you get to a certain level, but that's definitely helped out a lot of younger artists starting out. Besides that, you've just got to find your own talent so that you're unique and stand out. There are too many people that are copying artists that they like and that's not really going to do anything because nobody's going to know it's them.
MR: Considering how records are sounding right now, I wonder where pop is headed.
BC: What's interesting is if you really look at records that are connecting with people, those are the records that are different and taking chances. Adele or Gotye. Those sound different and unique and again, that goes to what I was saying about you've got to have a unique sound, otherwise, you're not going to stand out.
BC: Otherwise you're just going to be in the middle, and you might have some sort of career, but definitely not one that's going to have any longevity to it.
MR: Is there any advice you would give to a certain Brian Culbertson way back when you were starting?
BC: Oh wow. That's a good question. [laughs] No one's ever asked me that before. "What advice would I give myself twenty years ago?" You know, I wish I would have known more about the actual music business. When you first start out as a kid, all it's about is making music and it's all you want to do and you sort of forget that it's a business and you need to know to protect yourself and to make things happen. Nobody really told me that, and a lot of people don't say that you sort of learn the hard way over the years. I think I wish I would've known more of that, but hey, we all learn somehow. And I do a lot of sit-ins on classes, whether it be high school students or college students, and talk about those kinds of aspects, and a lot of people just don't think about it yet at an early age. I don't think it's ever too early if you know you want to go into the music industry to start learning about that stuff. "What is publishing? What is ASCAP?" You know what I mean?
MR: Yeah, some basic class like that. Do you like mentoring?
BC: I really do. I love mentoring. I had great mentors growing up and it feels great and the kids these days are so into it and really, really smart. When you have bunches of kids like that, it's really satisfying and fun for everybody. I've definitely been involved with music education a lot and we're even holding a silent auction for the Grammy foundation during our Napa weekend. Last year, we raised over thirty thousand and hopefully, this year, we're going to do a whole lot more than that because our crowd is a lot bigger this year. I'm definitely committed to music education and keep raising awareness for that.
MR: Nice. And you tied it into Napa, good job, sir! Colby, I hope to see you in September.
BC: That'd be fantastic. Hope you can make it. Thanks for the call.
Transcribed by Galen Hawthorne