On the same day, November 9, 2017 came different headlines about how the community in different geographies and their regulatory bodies are responding to the predatory behavior of chemical companies.
While the interests of the community prevailed in Europe and in Arkansas, Gary Hooser, President of the Hawai`i Alliance for Progressive Action described the outcome of the November 9 hearing on the lawsuit brought by Ke Kauhulu o Mana against the Hawai`i Board of Land and Natural Resources and Syngenta thus: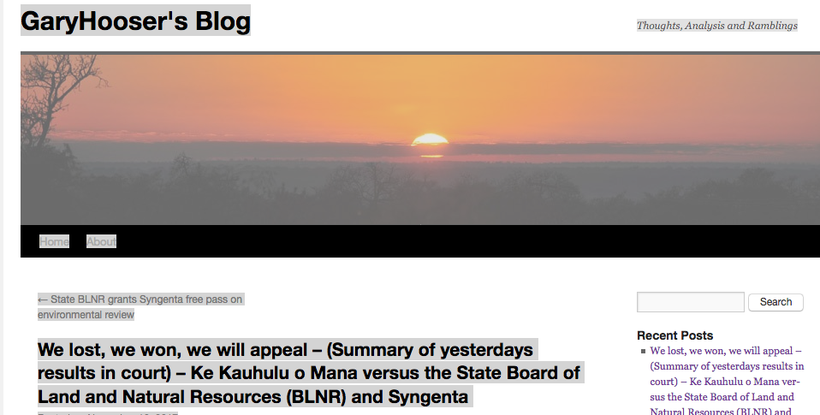 Lawyer for the plaintiffs, Lance Collins, put it very plainly:
"We believe the Judge's decision to exclude the BLNR's revocable permit to Syngenta for the land at Mana is erroneous. We will appeal that point to a higher court."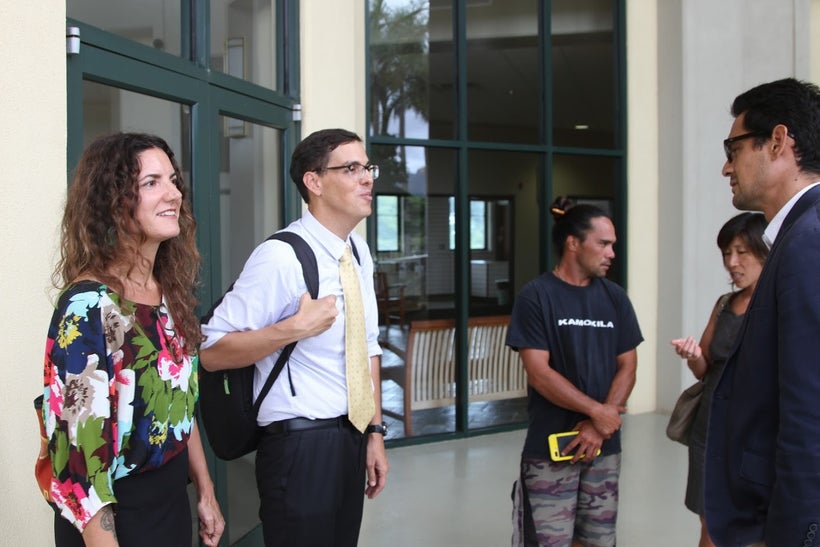 Spokesperson for Ke Kauhulu o Mana, Loui Cabebe expressed his community's determination to persevere.
"We cannot give up. There is too much at stake," he said.
Pregnant women, infants and children at risk
The heavy application of Restricted Use Pesticides (R.U.P.) poses a serious threat to public health, and in particular to pregnant women, infants and children, as attested to by the Academy of Pediatrics (AAP). Dr. Lee A. Evslin, M.D. and Board Certified Pediatrician who practices on Kaua`i, has, along with several other physicians, called on the state to ban chlorpyrifos, citing the Academy's finding that "The risk to infant and children's health and development is unambiguous."
Endangered species affected
The heavy application of Restricted Use Pesticides (R.U.P.) is also poisoning the land and threatening marine life and birds. Night-time activity involving the use of bright lights is known to impact endangered species such as the 'a'o (Newell's Shearwater) and ua'u (Hawaiian Petrel). The Kauai Endangered Seabird Recovery Project has reported that between 1993 and 2013, populations of the 'a'o declined by 94 percent while the ua'u declined by 78 percent.
The federal permits held by Syngenta to grow experimental crops state entailing the heavy application and often open air spraying of R.U.P. make it clear that the activity is occurring in areas where critical habitats for endangered species exist.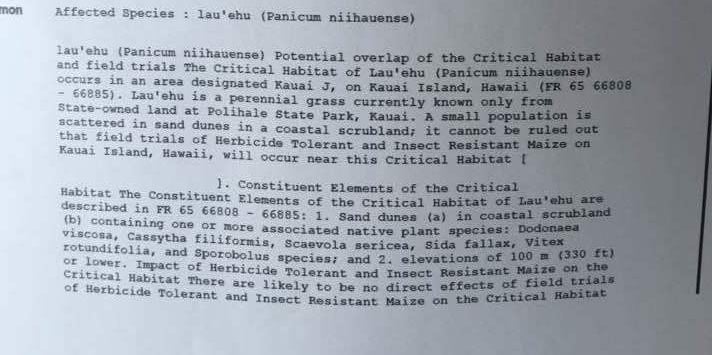 Hooser points out that "While most of the key information is redacted, these federal permits state clearly that Syngenta's activity on Kauai is being conducted adjacent to or near "critical habitats" populated by endangered and/or threatened native species. It is difficult if not impossible to determine what this company is doing or where they are doing it, because of the heavy redaction and the refusal of Syngenta to disclose either their pesticide use or their experimental research involving genetic modification of food crops."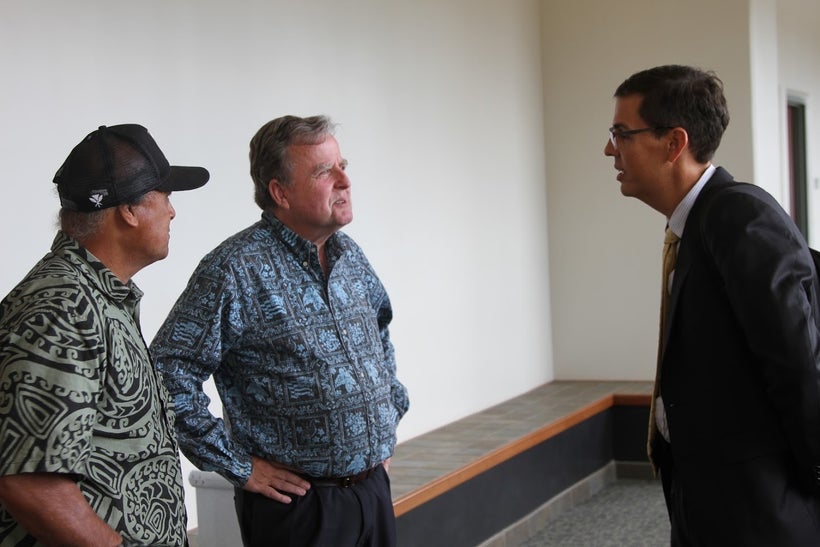 Hooser noted that "the BLNR has not even examined these permits, nor examined the critical habitats, nor do they know exactly what Syngenta is doing on this conservation-zoned sensitive coastal area. Yet they grant Syngenta an exemption from HRS343 and say they have determined there will be no negative environmental impact!"
Summarizing what took place in court on November 9, Hooser said:
"The Judge ruled against our primary contention that the State/Syngenta failed to comply with HRS 343, based on his belief that they are conducting an "ongoing use" and it is not a "proposed use".  We believe his reasoning in reaching this conclusion was flawed in that he did not take into consideration the scope and breadth of the existing use,, nor the factual and historical background."
"However, Judge Valenciano did affirm that HRS 343 does apply to the State/Syngenta (and other companies in a similar situation) in the event of a "proposed use".  So, when Syngenta, or others, attempt to expand their use of State lands in the future beyond their existing foot-prints, this would trigger HRS 343 and the "existing and ongoing use" argument would not be relevant.  We celebrate this acknowledgment by the court as a win," added Hooser.
But as Loui Cabebe knows well, nothing can be taken for granted. "We must continue the fight to protect both our people and the environment," he said.
Credit: Photos at the hearing by Fern Anuenue Holland.
REAL LIFE. REAL NEWS. REAL VOICES.
Help us tell more of the stories that matter from voices that too often remain unheard.
This post was published on the now-closed HuffPost Contributor platform. Contributors control their own work and posted freely to our site. If you need to flag this entry as abusive,
send us an email
.