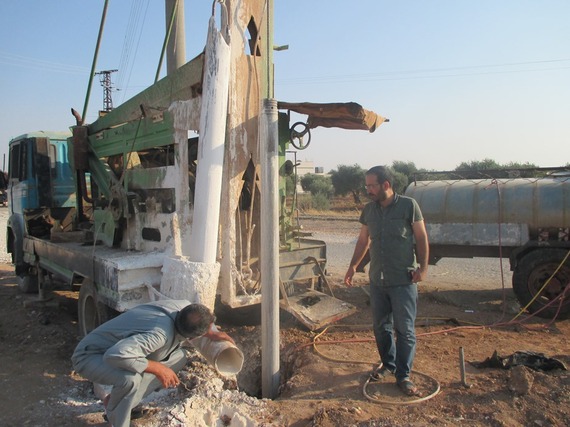 By Kinan Diab*, World Vision
Eyad** spends his days providing life-saving assistance in one of the world's most challenging contexts -- Syria.
He is one of the many Syrians who have decided to step up and make a difference in the lives of those affected by the conflict.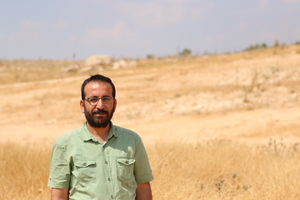 Eyad, in his mid-thirties and originally from Aleppo province, used to work as a mechanical engineer at a car manufacturing plant in Damascus. He is now working for World Vision, alongside many other engineers, to provide basic water and sanitation needs for those displaced by the conflict.
"It's an interesting job, no routine whatsoever, I can be in one place in the morning fixing a pump and by the end of the day be in a totally different area installing latrines or digging a borehole."
Eyad was himself displaced by the conflict in Syria, but that didn't stop him from wanting to help others.

"Engineering is my passion and it's nice when you feel that your passion is helping people. I've had a lot of different jobs in my career, but this is the best job I've ever done in my life."
Eyad goes above and beyond what is expected. During the last displacement wave caused by armed groups invading some villages, he played a key role in coordinating with other operating aid organizations and the local governing body to determine urgent needs and how each group could best to respond. World Vision provided 50 tents and portable water, sanitation and hygiene centers along with brooms, shovels, water trucking, blankets and mattresses, in three different locations.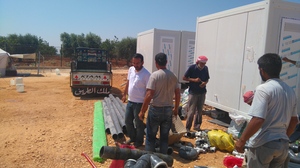 Eyad is humble and remarkably understated about the difficult context he is working in. He and his team are faced with dangers most people can't fathom -- the threat of missiles, air strikes and armed groups -- to name a few. They try to avoid air strikes by working at times of the day when they are less likely to occur and also steer clear of military bases as they are prone to being targeted. Eyad has cheated death a couple of times. He shared one of his experiences with me:
"One day, my team and I were driving out of Azaz after fixing a borehole, and while we were on the road, a missile from an aircraft landed about 500 meters away. I felt lucky that day." When asked whether there are bomb shelters, he responded "We don't have that kind of luxury, and neither do the people living here."
You have no idea how hard it is for me to see my people living in tents. Some of them used to have fancy houses and some came with their own cars to camps. Others were unlucky and just came with the clothes on their backs; they didn't even have the chance to take their valuable belongings.

This is what keeps me going. I don't feel like an employee, I feel that World Vision has given me the chance to help my people. This is what gives me hope -- seeing people from all over the world caring enough to help. There is still goodness in this world.

*Kinan Diab is World Vision's communications and translation officer for the humanitarian response in Syria and is based in Turkey. Originally from Damascus and a dentist by profession, Kinan is also a Syrian finding himself in a new role helping others.
**Eyad is identified by first name only for security reasons.
Related
Popular in the Community