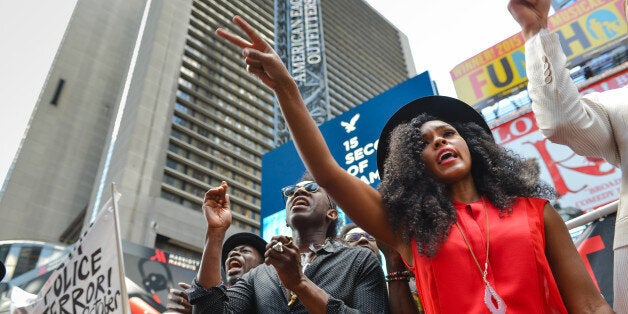 This month marks one year since Ferguson October, a mass mobilization in St. Louis calling for justice for Michael Brown Jr. and an end to police brutality. Hundreds marched together, including a delegation of Palestinians and Palestine activists who gathered to stand with the struggle for Black liberation.

In the year since the murder of Brown, we have learned a great deal about our joint struggle. Black and Palestinian solidarity continues to grow as our communities connect the dots between state violence, the prison industry and the militarized policing we face. Standing together during the Ferguson rebellion (and for Tara, traveling to Palestine with the Dream Defenders delegation in January 2015) has pushed our worldview to an unshakable position of solidarity. This solidarity is not a hashtag. Instead, we have chosen to side with oppressed communities in both locations.

A new video has just premiered that highlights challenges both communities are confronting. The video features leading Black and Palestinian artists and activists including Ms. Lauryn Hill and Danny Glover. We are proud to be included in the video.
The video echoes the refrain, "When I see them, I see us." It is a simple statement, but it conveys an idea complex to many. It expresses empathy palpable enough to force one to take action, educate oneself, share a story and choose a side. This has been an important theme in the organizing between our two communities in St. Louis. When Brown was demonized as a "thug" after his murder, we saw parallels to the media tactics used to dehumanize Palestinians as "terrorists." When Palestinians are called violent for their freedom demonstrations against the Israeli military, we are reminded of our liberation protests on the streets of Ferguson where we were treated as state enemies. We know that those that oppress us are united. U.S. police forces, including Tim Fitch, former St. Louis County police chief, are regularly trained in "counter-terrorism" tactics by Israel.

Together we have challenged repressive state systems. In the streets of Ferguson, it is common to see Palestinian flags and keffiyehs, the black and white checkered scarf symbolizing Palestine. We have marched calling for justice for Brown, VonDerrit Myers, Kajieme Powell and Mansur Ball-Bey, all gunned down by St. Louis police in the past 14 months. They are not the only ones lost. In the past two weeks, Israel has injured more than 500 Palestinians with live ammunition and killed more than 30.

We have confronted pro-Israel power structures in St. Louis. For example, when the Missouri History Museum caved to pressure from the Jewish Community Relations Committee to censor Palestinian voices on a panel connecting the struggles for liberation in Mexico, Ferguson and Palestine, we stood together to demand accountability from the Museum and declare that our struggles are indivisible.
Rewriting history is a form of oppression. It allows conditions for dehumanization of the other. How can society see militarized vehicles in residential St. Louis neighborhoods and police aiming chemical agents and rifles at citizens and think it acceptable? The erasure of the voices of the oppressed in media and history allows for dismissing humanity, struggle, and the need for change. It fosters a society that doesn't see us in them.

Earlier this month, we learned that McGraw-Hill, a large textbook publisher, is providing books to U.S. high schools that assert that the Trans-Atlantic slave trade brought millions of Africans as "workers" to the "Southern United States."
Africans were kidnapped, not brought here on work visas, and their horror was not limited to Southern states. This is an attempt to erase history and promote a narrative where white supremacy and oppression are minimized. It is the same process that allows society to view a Palestinian boy and his rock standing against Israeli tanks as a terrorist and a threat to be eliminated. This rewriting of history is dangerous and quite literally a matter of life and death. All oppressed communities should be actively resisting it.

While the past year has been a momentous year for Black-Palestinian solidarity, we know that these ties have a long history. In the 1960s and 1970s, many leading Black organizations saw the Palestinian struggle as central to their own. Likewise, the Palestine Liberation Organization forged ties with pan-African liberation movements, including the Black struggle in the United States. Once again, because of our critical joint struggle, we have become close enough to feel the pain and mourning of the other. We see us.
Popular in the Community