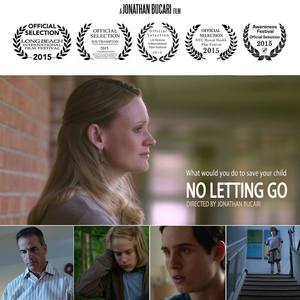 A few years ago, I was lucky enough to see a very moving and powerful short film that looked at how mental illness affects not only the person dealing with it, but all of those around them. That film went on to win several awards at festivals around the world. Now filmmaker Jonathan Bucari has worked with Randi Silverman on a new script and along with Carina Rush have turned their short film into the feature film NO LETTING GO. The film has already been accepted to several film festivals (including Southhampton International Film Festival in England), has started winning awards, and now the creative team took time to discuss this entire process with me.
Gregory Allen: Many of us know that the film WHIPLASH started as a short film and then a few years later was on everyone's lips at the Oscar awards. Jonathan, was it always your intent to turn this film into a feature?
Jonathan Bucari: Not at first. For me, the short film was more of a statement than a "prequel". The idea of making a feature only came after attending many festivals and getting amazing feedback from both the audience and the festival programmers who wanted to see more of the family in ILLNESS and how they coped with their child's mental illness.
Allen: That's wonderful that it was the response that led you down this path.
Bucari: Yes, It wasn't until October 2013 that we decided to move forward with the idea of turning the short into a feature. I immediately started collaborating with the associate producer of ILLNESS, also now a Producer on NO LETTING GO, Randi Silverman, and we created together a new story, intermingling the short film and her own personal experience in order to make sure that the screenplay was accurate and authentic. By January we started pre-production and shot the film in June and July of 2014.
Allen: Randi, I was able to speak with you a few years ago about your own family and what all you've gone through. How difficult was it for you to open up your life and share it in such a full way in this film?
Randi Silverman: Writing the screenplay with Jonathan was both cathartic and excruciating. The goal was to develop a full story behind the family portrayed in ILLNESS in a way that would accurately illustrate what life is like for families with a child who has a mental health issue. With an eye towards promoting awareness, I felt that it was very important to explore the common challenges that families like mine face, such as confusion, isolation, family conflict, sibling reactions, treatment and education. Most importantly, I wanted it to be an honest portrayal of a family struggle that people could relate to. As I was writing the scenes, the dialogue simply poured out of me from memories of what we had been through. The tears poured out as well, which I think was therapeutic. It didn't really occur to me until we were finished writing that we were actually telling my own family's story.
Allen: What an amazing gift for you to be able to share with others.
Silverman: While it's been a difficult process, I strongly believe that openly sharing our story is essential if we ever want to put an end to the stigma associated with mental health issues. It's also important to me that other families know they are not alone. Luckily, my family was incredibly supportive and everyone agreed that the story is an important one to share with the world. In any event, living it was far more difficult than sharing it!
Allen: Jonathan, what was the significance/importance of bringing in Randi Silverman to share her story with you?
Bucari:  I was struggling with the authenticity and accuracy of the dialogue because I was always caught between fiction and real life. Randi had very real and personal experiences, not only with her own family but also because she has been immersed in the world of mental health for years.  After a month of working together, we divided the workload between us. I would make sure the structure and layout of the script would flow naturally and at the same time prep it for pre-production. Randi would work on the dialogue and come up with ideas for scenes from her life that would represent parts of the story we were trying to tell. The accuracy and truth about the mental health aspect of the film was very important to both of us. But, the most important factor for me was that the film had to be "believable", more than "real". Films are never real anyway. Every film is a journey, into a world created by its filmmaker and his team to make you feel through them with their own respective art (with music, image, sound...).
Allen: What are some of the obstacles of taking a short - which is a self-contained story - and turning it into a feature?
Bucari: Great question. The most difficult process is to step aside from the short and rebuild an entire new storyline based only on the same characters. So the first step was to create a very detailed character breakdown and dig in the "fictional past" of those characters. Then, starts the structure of the script. I really wanted to begin the story years before ILLNESS, and rediscover the family we all knew before. I was really happy to take some of my favorite scenes from ILLNESS and incorporate them into the feature with a more "cinematic" and professional look. It was like having a second chance of redoing part of the short with more production value of a feature film.
Allen: Any filmmaker reading this can relate with envy to you being able to do that!
Bucari: One of the other challenges of bringing such a powerful story to the big screen is the financial aspect. Take the example of a short film, the director has pretty much the full creative control of his film. However, it isn't the case for a feature. Because there is a lot at stake, from the financial investments, jobs and logistic, distribution strategy and casting... It was a whole other ball game. Very exciting and challenging at the same time.
Allen: That leads perfectly to talk to one of your other producers, Carina Rush. For other indie producers out there, what was the major difference between working on the short and then the feature?
Carina Rush: First, I would like to say that by keeping our original creative team intact (Jonathan as director and writer, Randi-now in full capacity as writer and producer and myself as the producer), it reduced the amount of stress that naturally comes with a much bigger production. With us as the starting point, it became very important to add a young, but seasoned crew that understood our vision and working within our budget. Scheduling was essential! Our department heads were simply fantastic, most of them were hired because of personal connections AND recommendations. They guided their teams with great skill and patience. I grouped scenes by locations as much as possible to make it less complicated for the crew, but often harder for the actors. 
Allen: The film is still just as powerful as a feature and such an important story, but I also think for other filmmakers out there, they would find the prospect of short to feature an amazing feat. Do any of you have advice for filmmakers that might think of their short as a calling card in order to create that feature they are looking to make?
Rush: I would recommend to always be incredibly thorough during the pre-production phase, because once you are filming it consumes every minute of every day.
Allen: Final words, Jonathan?
Bucari: On NO LETTING GO, I had the privilege of working as a writer, director, producer and editor. One of the most creative parts but also the most challenging was the writing. Without words there can be no film. "Paper teaming" a project is never easy but could be very rewarding at the end. It reminded me of a great quote that I would like to share: "If it isn't for the writing, we've got nothing. Writers are the most important people in Hollywood. And we must never let them know it." Irving Thalberg
Allen: Thank you all for sharing this journey. Find out more about the film and where you can see it at www.nolettinggomovie.com
Calling all HuffPost superfans!
Sign up for membership to become a founding member and help shape HuffPost's next chapter