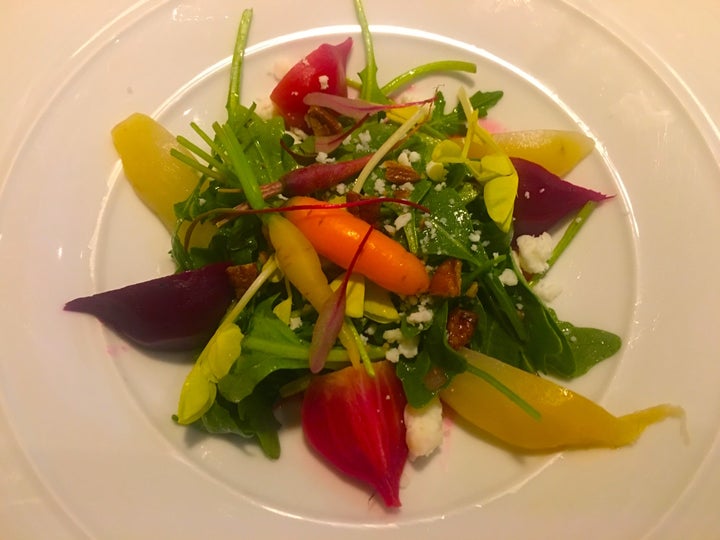 I recently headed to Phoenix for a few days of pampering at the JW Marriott Desert Ridge Resort & Spa. I knew the spa treatments would be relaxing and that the property would be beautiful but I had no idea that the resort would be a foodie's paradise, complete with its own organic chef's garden.
Every Saturday morning, Horticulture Ambassador Candace Oehlerking offers guests a complimentary tour of the 21,000 square foot garden. She is so knowledgeable and passionate about every plant, and her enthusiasm is infectious. In fact, she made me want to go home and start my own garden.
Chef Richard Dailey, the former stonegrill chef who was just promoted to Senior Banquet Sous Chef, accompanied the tour I went on so I, ahem, grilled him on his thoughts about the garden's impact.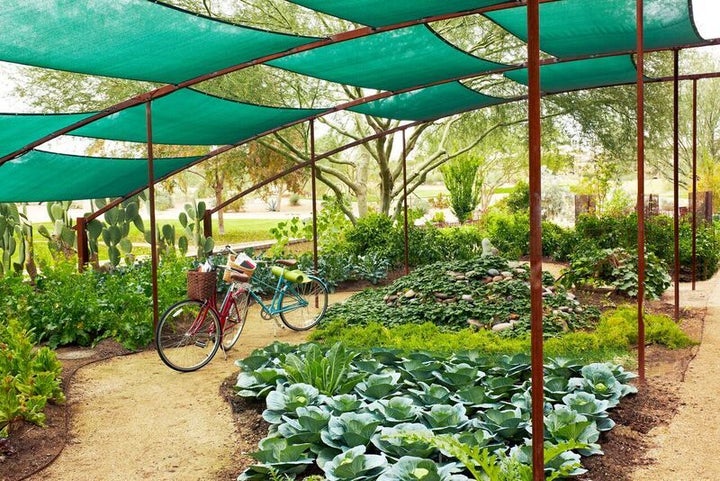 Tell us a little about the Chef's Garden and what it means to you. One of the most fascinating things about it, to me, was the fact that we picked some lemongrass right out of the soil during the tour and then you took it back with you and turned it into one of the best salads I've ever had at dinner!
Our organic chef's garden is approximately 21,000 square feet and offers a bountiful supply of herbs, fruits and vegetables that are utilized throughout the kitchens at the resort. Our Horticulture team educates our guests about what grows in the desert and shows them how the garden is one of the many steps we take toward sustainability. I love having an organic garden on property as it allows me to develop new ideas and spark creative dishes like that lemongrass and beet salad I prepared for you (see photo above)!
How has having the garden changed the way you approach cooking?
I've started planning my dishes around the variety of beautiful vegetables, which results in healthier meals.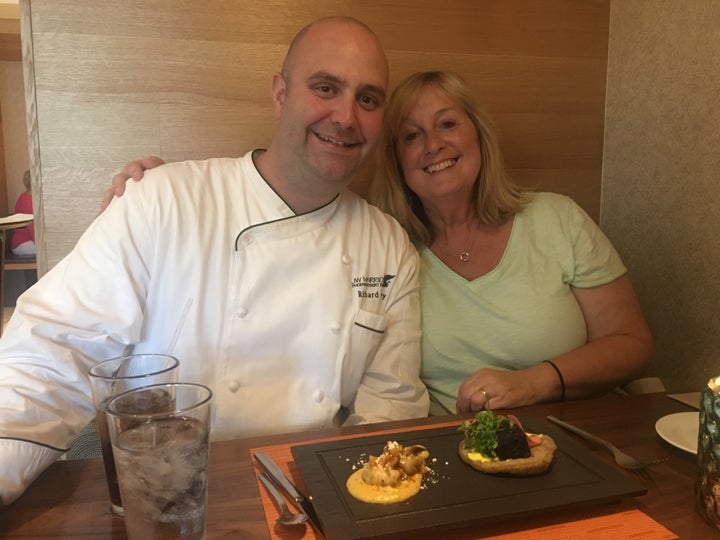 Has the garden become a signature of Desert Ridge?
Absolutely. For special dinners, VIP site visits and charity events, we are able to showcase items from the garden that were picked that morning and utilize them that evening for their event.
Do you offer different seasonal menus based on what's growing?
Yes. As seasons change we are able to preplan with our Horticulture team what we would like to have available in the garden in the upcoming seasons.
What ingredients do you use most often from the garden?
I would have to say fresh herbs ― like chocolate mint, lemongrass and lemon thyme, to name a few.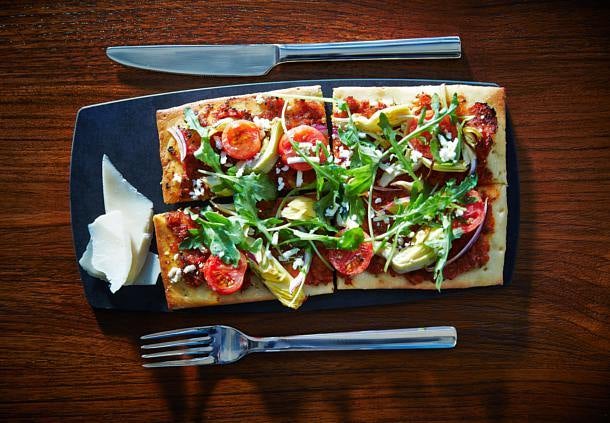 Your food presentation is gorgeous. How does the garden help with that?
Because the vegetables we grow are all organic, the colors are really vibrant.
What do you wish you could grow?
Avocados! Avocados are used in every kitchen on property because they are such an Arizona food staple. We make 15 gallons of guacamole every three days in the stonegrill kitchen alone.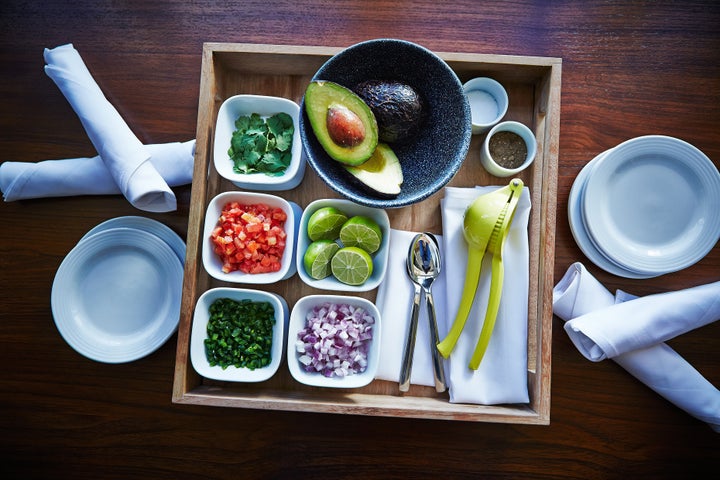 What are guests' reactions when they tour the garden?
They can't believe that we are able to grow so many items and varieties in the desert. So during the tours, we really engage them to taste all of the different herbs and vegetables we're growing.
Can you talk about sustainability and how that's taken on an important role?
Sustainability is a key component in all of our kitchens. One of our Marriott pillars is to utilize locally sourced ingredients and partner with local farms and vendors to ensure we deliver fresh and seasonal ingredients, ranging from vegetables to seafood. We utilize key ingredients from our own chef's garden, we manage our waste and our team is passionate about the cause.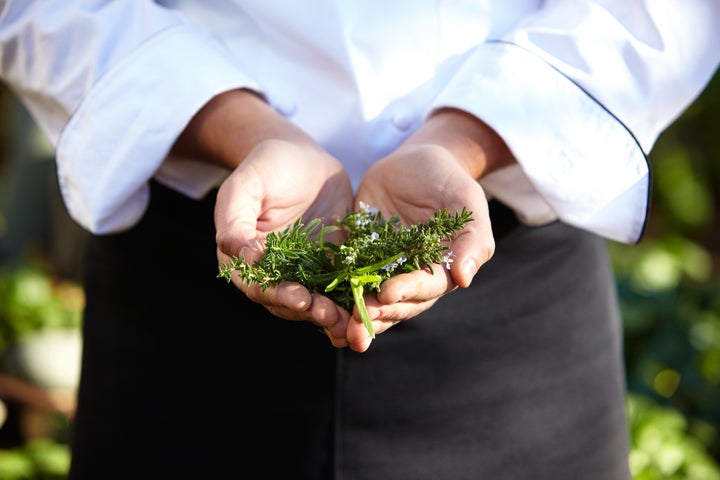 How does the Southwest theme influence your dishes?
It definitely plays into the flavor of many of our menu items. I enjoy experimenting with the variety of chiles, many of which we grow in our garden, and learning how to use them in different dishes without overpowering the dish its self.
What are some of the most popular menu items at stonegrill?
The warm grilled salmon salad tossed with grilled corn, quinoa, radish, spinach and kale with a chili lime vinaigrette is a popular, signature favorite. The tacos are also a fan favorite. We offer pulled chicken or pork, braised beef, rock shrimp and even tofu tacos, served with fire roasted salsa, cilantro cabbage slaw, each with different sauces in a locally made corn tortilla. For dinner, top sellers include our chicken enchiladas with a Poblano cream sauce and our prime grade sirloin accompanied by an arugula oyster mushroom salad, house made corn croutons and a red chimichurri.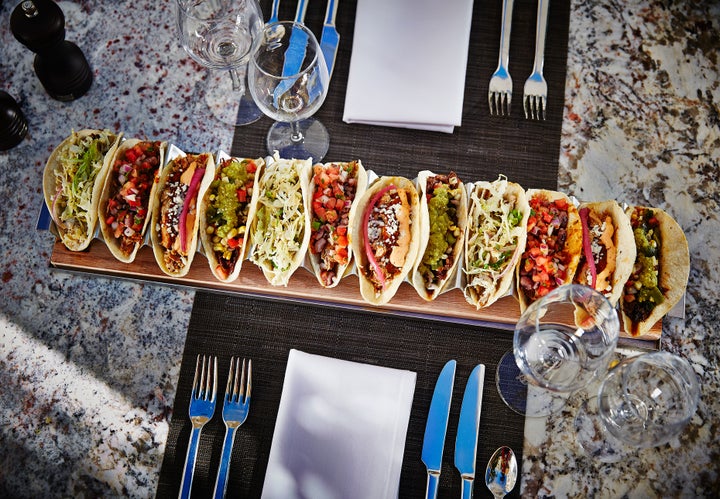 You're making me hungry! How has the Arizona food scene evolved over the past few years?
I think it's become about eating healthier with an emphasis on more vegetables. I see it at every restaurant I go to. There are all kinds of new ways to incorporate vegetables into a side dish, an entree or even salads that are filled with high vegetable proteins and whole grains. These salads fill me up for a meal and I'm a pretty big eater! Eating lighter in the Arizona summer months helps provide clean energy that doesn't make you feel sluggish.
What are you experimenting with now? Are there any specific trends you're embracing?
We are continually looking into developing new relationships with local farms and producers, while maintaining the existing relationships we have with our current partners. It's important that we support our local communities and regions as we're all in this for the same reason, and that's to provide the freshest locally grown produce and products available to our guests and customers.
Popular in the Community