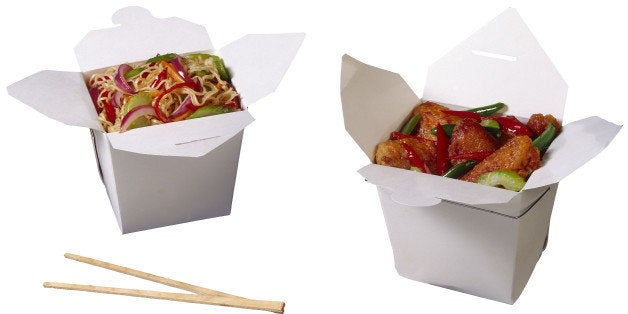 Lucas Sin explores the past, present, and future of Chinese-American food.

A new Chinese restaurant, Junzi Kitchen, is opening on Broadway in small city New Haven, CT. And they're promising to brew a small scale revolution in American-Chinese cuisine. For starters they're not serving General Tso's chicken. They're serving a northeastern snack, fast casual style: chung-bing.
The first word that comes to mind as you bite into Junzi Kitchen's new chun-bing is balance. Balance, as in juicy chunks of pork hock braised overnight against crisp vegetables tossed, dressed, and treated with respect. All wrapped in a thin pancake. Piquant, gritty Northeastern Chinese flavors layered carefully in a tight wrap. Sweet and sour. Savory and spice. This is the sort of thing you could finish in one bite. But instead, you savor, bite by bite to decipher and make sense of the flavor profiles at work.
But balance, too, as in a single food item on the cultural vanguard that reverses orientalist persuasions and disrupts the status quo of Chinese food in America. The chun-bing, a comfort food item brought over directly from Northeastern China, not adulterated for Americans, but refined into a product that is clean, thoughtful, accessible, and flavorful. Junzi Kitchen, opening this spring in New Haven, CT, is at the forefront of a new wave of Chinese cuisine in America, one that brings to life a translation of flavors that does not condescend to the American palate. An imported food item that instead appeals to a modern American food climate that respects and indulges in authentic culture, sustainability, and simply delicious food.
Chinese cuisine in America is as popular as ever, but the market is ripe for disruption by restaurants like Junzi Kitchen. A survey of ethnic cuisines in America yields that Chinese food is by far the most popular ethnic food in America, with over 43,000 Chinese restaurants in the country. That's more than all the Burger King, McDonald's, Wendy's and KFC branches combined. The second most popular ethnic cuisine is Mexican, with around 31,000 restaurants nationally.
And the most popular Chinese dishes, as reported by GrubHub, is General Tso's Chicken. But if one were to bring General Tso's Chicken, as it is found in most American-Chinese restaurants today, to Chef Peng Chang-kuei, he would not recognize the stuff.
Peng, a Hunanese chef, invented General Tso's Chicken in the 1950s when he worked catering Nationalist government banquets. Fuchsia Dunlop writes in her interview with Peng, "General Tso's chicken did not pre-exist in Hunanese cuisine, but originally the flavors of the dish were typically Hunanese -- heavy, sour, hot and salty."
Today, General Tso's Chicken is sugary, sour, mildly spicy, battered, deep-fried and lathered in brown sauce served over steamed rice. Alan Zhu, chef and owner of the 25-year-old Debbie Wong Restaurant in Middlefield, CT, "cannot imagine a Chinese restaurant without General Tso's." It's sweet. Fried. Chicken. Everything the American palate loves.
Then how did Peng's original come to be the contemporary, bastardized iteration of the dish that Americans so enjoy today?
There was no master architect. Unlike many other ethnic cuisines, Chinese cuisine in the U.S. has long strayed from the centralized businesses and brands. That is, that the culinary cornerstones of American-Chinese cuisine -- dishes such as Chop Suey, Crab Rangoon, Fortune Cookies, and General Tso's Chicken -- have evolved organically without the direction and innovations of individual companies. Today, within the top 100 restaurant chains, only two of them serve Chinese cuisine.
The evolution of American-Chinese cuisine has always been driven by Chinese immigrants in the United States, working independently to adapt to the American palate. In the 1850s, Chinese immigrants brought their food ways with them across the Pacific during the Gold Rush. As Chinatowns in California began to grow in size and the American public began to visit Chinese restaurants, Chinese chefs began to adapt their dishes for public taste. They introduced western vegetables into their stir-fries; broccoli and onions in Chinese are translated into xi lan hua or 'western broccoli flower' and yang cong, or "western onion," respectively.
They also adopted other Asian food items into their own menus -- crab rangoon roughly from then unpopular Burmese menus and fortune cookies from Japanese production facilities forced to close down due to the Japanese-American internment during World War II. And they began frying chicken and lathering it in ubiquitous sticky brown sauce: General Tso's Chicken, Sesame Chicken, and Orange Chicken.
Those were the dishes that stuck, not only because they were enjoyed, but because they provided an illusion of authenticity. Eating at a Chinese restaurant was an adventure into the exotic. It was cultural. Historian Sylvia Lovegren writes that once in the early 20th Century, you could hear "Who'll Chop Your Suey When I'm Gone?" at the Owl Nightclub in New York, or dance to Louis Armstrong's popular tune "Cornet Chop Suey." Edward Hopper painted his famous Chop Suey in 1929.
Of course, today, it's become far too easy to dismiss American-Chinese cuisine as truly inauthentic. And that continues to drive the industry on. "People are starting to become more aware, gain broader exposure, to see what authentic looks like," Symon He, veteran marketing analyst in the American-Chinese restaurant industry, said in an interview. "They're more curious to see what authentic tastes and feels like."
The answer to this demand thus far is an influx of Chinese restaurateurs with greater regional specificity. Chinese cuisine is an umbrella term for what is often referred to in China as the "Eight Great Cuisines" -- the cuisine of China is diverse and colorful. Popular American-Chinese cuisine represents only a fraction of Southern flavor profiles. He continues, "New restaurants then are appearing in cities with regional, authentic concepts."
He points to regional cuisines of Sichuan and Shanghai that have gained significant traction and more recently restaurants like Jason Wang's Xi'an Famous Foods in New York that are introducing new vocabularies, new flavours, and new dining experiences to the public. On the menu are liangpi noodles -- a spicy, cool dish loaded with peppers, cumin, and stretchy hand pulled noodles -- imported and recreated from Northern China without dumbing down or mass marketing authentic flavor.
Previously, the dish was unknown and unnamed in New York. Now, it's a staple of Chinatown. And as was the case in the past, dishes like these are carried by changes in the Chinese population in the United States. Wang, like many new chefs and restaurateurs, is a second generation Chinese immigrant who is highly educated and sensitive to the American palate. And of course, he's also catering to an increase in the American-Chinese population at large.
Yong Zhao, the CEO of Junzi Kitchen, however, is interested in a specific demographic shift. Recent years have witnessed a massive increase in the number of Chinese students in the United States. And this as an opportunity to harness new talent for a new wave of Chinese cuisine. His Junzi Kitchen team is comprised largely of highly educated students and scholars from China, driven to bring comfort food from home and to integrate innovative business practices into that cuisine.
This begins with a focus on local New Haven culture. "It isn't enough to let Chinese culture run rampant," Yong says, "it must be thoroughly integrated into the local scene." Junzi will partner with local businesses, local government, and local residents to ensure an honest business that is as much rooted in authenticity of the land as its cultural roots.
So while Junzi Kitchen seeks to create as big an impact in the American market as possible, the business is built one restaurant at a time. High-quality ingredients, food made to order, fast-casual assembly line formats and most importantly, a cuisine -- not profit -- driven food practice.
Perhaps these principles can be traced back to ancient Confucian values of junzi, or gentleman. Junzi live a life of balance. They are wise, honest, humble and devoted to community. Acting along those principles makes for a good story. And if food was to carry any story at all, Junzi would have it.
Lucas Sin is a senior at Yale University. Contact him at lucas.sin@yale.edu