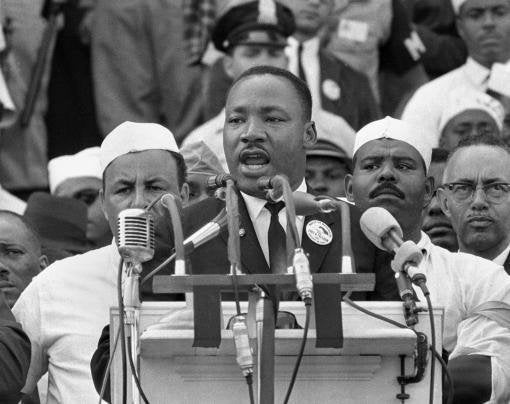 Friday night in synagogue, in Seattle, for our annual Martin Luther King service, the congregation sang a spirited "We Shall Overcome." Everyone knew the words and we even sang one verse in Hebrew! Wow! What a difference 50 years makes! To this day I stand proud when we sing "We Shall Overcome" in synagogue. People have forgotten or perhaps don't even know what a scary, radical anthem 'We Shall Overcome" was to some back in the 1960s.
The synagogue I attended as a youngster in Chicago was K.A.M., the one that sits about forty yards and across the street from Barack Obama's home in Hyde Park. It attracted many of the intellectuals of the University of Chicago community. Our erudite Rabbi, Jacob J. Weinstein, was the leader of Reform Judaism in the United States, committed to civil rights and a friend and protege to Dr. King. It was on the strength of that friendship that Dr. King visited our synagogue in 1966. The sanctuary was filled to the rafters. From my seat in the third row, I witnessed King as both eloquent and human. He was the hero of our generation.
That year, Dr. King launched his ambitious, but dangerous, campaign to desegregate housing in some of Chicago's white neighborhoods. As he marched in a segregated suburb called Cicero, there was concern for Dr. King's security as he was booed, pelted and spat upon. Rabbi Weinstein supported him every step of the way. Rabbi Weinstein talked his talk. It was the high holy days, and on Yom Kippur, the holiest day in Judaism, Rabbi Weinstein chose "We Shall Overcome" as the closing hymn. It was the most important message to send to the community. Well, what a commotion over a song! It was one thing to listen to King speak at synagogue, it was another to sing the anthem of the movement. I had sung it at the Chicago school boycott and at marches, but in synagogue -- wow, did it have meaning. Half of the congregation loved it and half of the congregation was furious (oh, for the days of controversial clergymen). A few congregants even voted with their feet.
But in 2009, at Temple DeHirsch in Seattle, no one walked out, and many shed a few tears of emotion and memory as they sang. I was joined at synagogue by my cousin Tana, (once removed) and her son Ben (twice removed). Tana was not old enough to march in the civil rights movement, and when she was in school there was no King Holiday or curriculum but singing it made her cry. Ben is six, and he studies the words and works of Martin Luther King, and observes the King holiday, in his first grade class. It was probably the first time Ben heard "We Shall Overcome." He fidgeted.
But, as a six year old, Ben followed the Presidential campaign closely. On Election Day, this past November, Ben asked his mom to take him to the polling place to see the voting. While Ben was in the booth with the election official being shown how to vote he reached forward to press the Obama button. The election official and Ben's Mom grabbed his hand and stopped him. They told Ben he was not old enough to vote. Ben was stunned. After all these months of wearing Obama buttons and following the campaign, he couldn't vote for Barack Obama! Ben cried inconsolably. He's over the shock of not voting because Ben has his hero: Barack Obama. From generation to generation. L'dor v'dor.

Calling all HuffPost superfans!
Sign up for membership to become a founding member and help shape HuffPost's next chapter