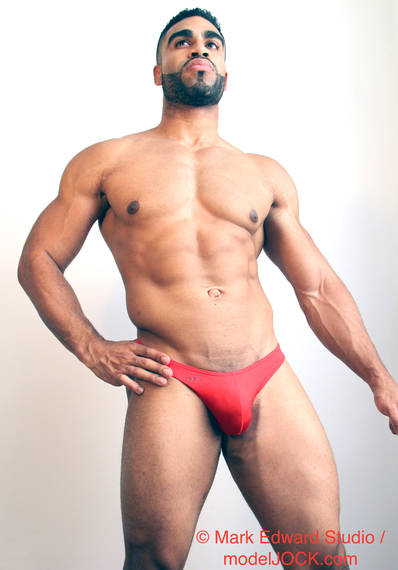 Go-go boy, male fitness model and men's physique competitor Steven Rodriguez. Photo by Mark Edward Studio
How does a male go-go dancer make the transition from the beat-infused bars of New York's nightclubs to the muscle-lined stages of men's physique competitions? For 29-year-old Steven Rodriguez, it's a natural part of a plan to perfect his body. Born and raised in New York City, Rodriguez started dancing at nightclubs in his early twenties. And whether you call him a go-go boy (although he's obviously a man) or a male stripper (although he technically doesn't strip), he's become a popular sight on the Big Apple's gay nightlife scene (although he's straight). Rodriguez's impressive muscular form has also helped him get some gigs as a male fitness model. And now he's added a new title to his resume: In October, he won fourth place in the Men's Physique category in the NPC Brooklyn Grand Prix, a bodybuilding competition.
During a photo shoot I worked on with him for a male model blog called modelJOCK.com, Rodriguez shared the secrets of his success as a dancer and model, and how he's making his entrance into the world of physique competition.
When did you start working out, and how did you get started as a go-go boy?
I started dancing about seven years ago. Before I started dancing, I started working out when I was about 19 years old with some buddies of mine. It was a nice hobby, and I started liking how I was looking and I got a little more serious about it, and I was like "why don't I try making some money out of it?" since I was working so hard at it.
You've worked with a number of photographers in New York City. How did that start?
Modeling, I've been on and off with it. I started getting more serious about it recently cause I've been working out a lot harder and my body's been changing.
And now you're doing physique competitions too. Why did you decide to start this new activity?
I just want to take my physique to the next level. This is the most challenging thing that I've done in my life. It's pure dieting, exercise, cardio, weight training. Doing this competition and getting involved in the fitness community is very positive. I'd been to shows before and everybody is very supportive of one other; it's like a whole big family, very supportive and I like that.
Are there similarities between go-go dancing and fitness competitions?
There are some similarities, but I'd say in nightlife there is a lot of negative energy, a lot of shady people that you meet. But there are also a lot of good people. I've met very good people like my fellow dancers, some promoters that I'm really cool with. I've gotten some photography work, modeling work; I've gotten a lot of extra gigs out of it. So it does help, but you've just got to be careful who you associate yourself with, whereas with bodybuilding and men's physique i haven't run into any negative energy. Everybody's very supportive, it's like a whole big family.
Does having a background as a male dancer have a negative effect on your prospects in the world of physique competitions?
For me personally, no, because I don't really care what people think. There's no other way to say it. I just do what I want to do with my life, I do what makes me feel good, what makes me happy. I do have people who've stopped supporting me and that's OK, but I do have those who still support me and still follow me and I appreciate everybody's support.
What do you like best about being a go-go boy?
The best part I would say is you can just go anywhere and basically you don't have to pay for anything. People just know you and will be like, "come to my party!" and they'll give you free drinks -- well, I don't really drink -- but they give you free drinks, they let you enter for free and treat you like you're a celebrity. It really feels good.
There must be some negatives too, right?
Some people can get a little over the top and rude. Even when you're not dancing they will ask questions like, "are you dancing? What are you doing after this?" It's just a little creepy. You don't want to be bothered when you're just hanging out sometimes. But there are some good people who will be like, "hey, I saw you dancing," they'll give you a compliment like "amazing job you, have a great body!" and they will ask you for [fitness] tips. Stuff like that makes you feel good.
Speaking of fitness tips, You showed some of your home-made meals and diet tips in a recent live interview on Periscope. how do you stay in shape?
Every day I get up early, do some cardio and cook. Once I started cooking and making my own meals, I started noticing a big difference in my body. I'd say nutrition and getting rest is the most important thing. Working out is about 20, 25 percent of the work. Eating is the most important. Right now I'm eating less fat, more proteins, carbs, veggies -- less salt, less sugar. I'll have a cheat meal like a cheeseburger or pizza once a week, but that's about it. I only drink water and protein shakes.
You compete in physique but not bodybuilding. In another live Periscope interview, you did some posing and flexing to show the difference between the two. So how is physique competition different from bodybuilding?
With physique, it's more about having a tiny waist, having nice broad shoulders, nice lats as well, make your "V" taper to make your waist look even smaller. Physique is more about how lean you are versus how big you are compared to bodybuilding. Bodybuilding is more about size, vascularity, fullness. Plus in bodybuilding, they also judge your legs. In physique, they don't; you wear swim trunks so they're mostly looking at your upper body. The posing, as well, is different.
Bodybuilding is more like flexing, like front double biceps. Men's physique is more like you're standing but not trying to flex too hard -- showing the definition, looking at your abs, your waist, how small it is, keep your head up. I'm still working on it. It's not hard; you're not on stage for very long, like a few seconds, but it's the most important thing about the competition. You can look amazing but if you don't know how to pose and show off your body then you're not going to place.
What's your best body part?
I've been doing a lot of work. I like my abs, it's just my waist -- it's hard for me to get it smaller because I naturally have this muscle. I really like my shoulders and my lats. I'm still working on them but they've come a long way. And my back has a lot of definition. I've been working mostly on my back, shoulders, still working on my waist, my abs. Having broad shoulders and a wide back is good because it makes your waist look smaller. They call that the V taper. So for guys like me who don't actually have a small waist, if you make the [shoulders] wider it helps to compensate for the waist. Plus, it looks good.
Popular in the Community