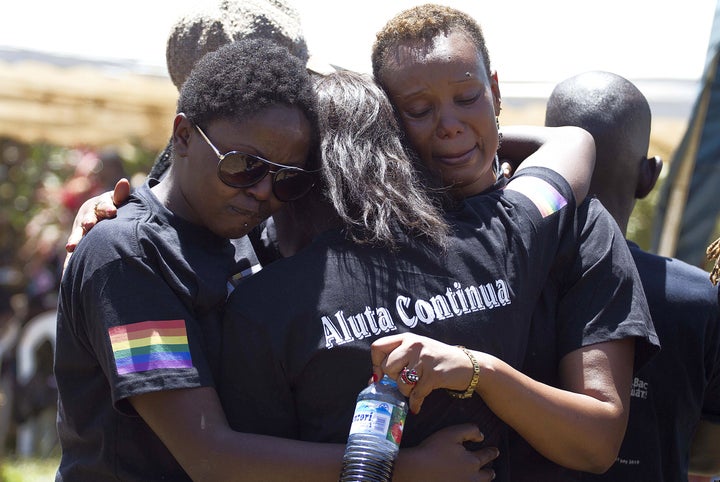 What do these three disparate acts have in common? They were rooted in fear and hate, represent humanity at its worst ... and they brought together a 29-year-old Sikh woman and a 23-year-old gay atheist.

At first glance, we may seem an odd duo. One of us is a Yale law student and dedicated filmmaker who has spent years raising up the stories of people swept up in hate crimes, racial profiling and domestic violence since 9/11; the other is a queer interfaith activist from the Midwest with more tattoos than fingers, who is working to bridge the cultural divide between the religious and the nonreligious.

We first met in September of 2010, when Park51, or the "Ground Zero Mosque," came under national scrutiny and a pastor gained prominence by threatening to burn Qurans on the ninth anniversary of the terrorist attacks of 9/11. Looking for a compassionate place to form a response in the midst of cultural strife and increasingly hateful rhetoric, we gathered in a living room and drank hot tea, brainstorming with a group of peers across the country over Skype and e-mail. The result was the Common Ground Campaign, a youth-led coalition speaking out against anti-Muslim bias. In a few short weeks, more than 1,000 people from all walks of life signed on to the Common Ground Campaign charter, and the movement continues to grow.

We both began our activism shortly after 9/11. One of us, shaken by the hate murder of Balbir Singh Sodhi, began a journey across the United States with a camera to shed light on what happens when the world is divided into "us and them." That journey inspired the award-winning documentary film Divided We Fall. The other, 14 at the time, started the process of coming out of the closet and grappling with the relationships between religious communities and the LGBT movement. That journey inspired a vow to bridge the seemingly insurmountable distance between queer and straight, religious and atheist -- the subject of an upcoming memoir.

Nearly 10 years later, our work brought us together. As anti-immigration rhetoric reaches a fever pitch across the country and LGBT bullying comes under a microscope domestically and abroad, we know that it is not enough to simply speak out against anti-Muslim rhetoric and violence. Today, it couldn't be any clearer that hateful rhetoric and violence targeting Muslims is inherently linked with rhetoric and violence that target LGBT and immigrant communities.
The recent tragedy in Uganda is just the latest example of the violence that spills forth when we allow our moral imagination to create "others" -- those who are "not like us," whose very existence seems to threaten our religion or our country. David Kato was murdered because a shrunken moral imagination had already cast him from the circle of who counts as "one of us." Just like Balbir Singh Sodhi and Brisenia Flores.

We refuse to sit silently while members of our communities are killed and ostracized because of fear of the foreign. Our generation has grown up in the shadow of 9/11, the politicization of LGBT identity, anti-immigrant fervor and a devastating economic recession. We are the most diverse generation in the history of our country. Our worldviews transcend the social categories we've inherited -- right and left, religious and secular, black and white -- and yet we came of age in a time defined by terror alerts and 24-hour news, when the world was divided along the most rigid of those ancient lines: us and them.

In a time of economic instability, when the coffins of our peers continue to come home, many Americans are afraid. People build walls when they're afraid -- fences to keep "them" out and keep "us" safe -- and these walls rend the fabric of our society. We see it in anti-Muslim rhetoric and violence following the Park51 controversy. We see it anti-immigrant legislation in Arizona, spreading to Mississippi, Georgia and beyond. And we see it in the brutal murder of a gay activist in Uganda. David Kato's murder is part of a much larger pattern of hostility, abuse, and discrimination against LGBT people globally and right here at home.

Our generation can no longer afford to cede authority to the angriest voices, whether they broadcast from down the street or across the ocean. In a globalized world, oppression at home is linked with oppression abroad: for example, the key organizer of the National Prayer Breakfast inspired the gay-death-penalty legislation in Uganda. Our virtual communities make it so that the old boundaries aren't so rigid. As this week's uprising in Egypt demonstrates, youth are mobilizing across all conceivable boundaries, including geographic ones. What happens in Uganda and Egypt matters here, now -- we are closer to it than ever before.

Amid the political rancor and sharp moral tensions that surround us domestically and abroad, our generation is ready to act. Today, the Common Ground Campaign is teaming up with Auburn Theological Seminary to convene a summit of millennial generation activists, religious and secular thought leaders and interfaith advocates. We will be brainstorming strategies for moving forward, and we invite you to move with us.

As a first step, please join us on Thursday (Feb. 3) for a nationwide day of prayer or reflection to remember the death and honor the life of David Kato. David was one of the few openly gay Ugandans willing to speak out against the anti-gay legislation and violence in his country. His death reminds us that we need more voices, not fewer. We pledge to carry forth the cause that he championed: the idea that we must all be free to live honestly and openly, together.

Joining forces, we can help define a new narrative, globally and locally -- one that bridges our communities rather than threatening the "other" with extinction.

We're stepping out of the shadow of 9/11, out of the closet and across the borders intended to keep us apart. In the light, we're finding one another, and a solidarity that compels us to act. Please join us.
Top religious leaders are calling for a nationwide 'Day of Prayer for David Kato' on Feb. 3, the first day of the National Prayer Breakfast, to honor the Ugandan gay rights activist who was killed last week, amidst a storm of anti-gay sentiment in his country. Episcopal Bishop Gene Robinson and Auburn Theological Seminary are spearheading this nationwide call for prayer and remembrance. For more information, visit this website
Calling all HuffPost superfans!
Sign up for membership to become a founding member and help shape HuffPost's next chapter