Halloween, Black Friday and the Holidays are right around the corner and online retailers are gearing up for major sales this year. Forrester Research believes online sales in the US will reach $523 billion in the next five years, up 56 percent from $335 billion in 2015.
Mobile devices are noted to be a key driver in the increased amount of online retail sales, yet other trends are also being taken into account. Big data analytics startup, Jumpshot, analyzes clickstream data from 100 million consumers (42 percent coming from mobile devices) to identify behavioral trends of online shoppers.
"Based on the size of our panel, the huge volume of browsing activity across mobile and desktop, and the cross-domain visibility of the customer journey through the entire purchase path, Jumpshot is able to provide deep insights into customer purchase behavior by analyzing 2nd-party data from thousands of domains," said Randy Antin, Jumpshot's VP of Marketing.
So what exactly does big data tell us about the way consumers make online purchases?
Listed below are online consumer trends that have been seen during Halloween, purchases made during work hours and items bought on Amazon Prime Day.
Halloween Purchases Influenced by Keyword Searches
Boo! Halloween is less than a week away and consumers are frantically searching the internet for last minute costumes and ideas.
Findings from Jumpshot show that the top seven e-commerce websites for Halloween searches are: Amazon, Party City, Ebay, Etsy, Spirit Halloween, Walmart and Target.
Nearly 50 percent of the search traffic coming to these sites resulted from consumers searching for generic keywords such as, "Halloween Costume Ideas," "Halloween 2015" and "Baby Halloween Costumes." This indicates that people aren't just searching online for costumes, but for ideas as well.
Jumpshot also analyzed paid versus organic search traffic amongst these retailers from 2015 to 2016. Amazon was the most popular site for organic Halloween costume search traffic, totaling 91.3 percent of organic searches in 2015 and only 8.7 percent of paid search click-through. This year, however, Amazon saw a major decrease in paid search traffic, totaling at only 0.7 percent.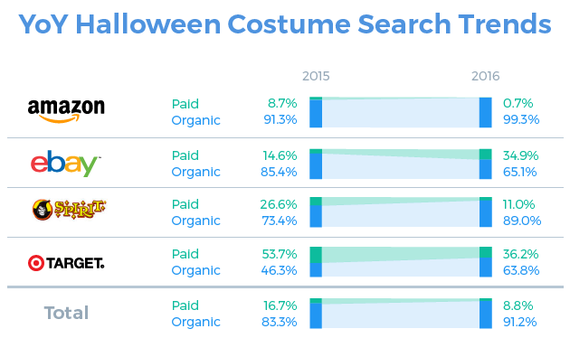 Photo Credit: Jumpshot Inc.
Target and Spirit Halloween also saw a major decrease in paid searches from 2015 to 2016, with a large increase in organic searches. Ebay was the only retailer with an increase in paid searches from 2015 to 2016.
These shifts in paid/organic clicks could indicate a change in strategy for retailers or could be due to the impact of Google's new algorithm changes. Companies are either attempting to make up for paid searches or are reacting to losses in organic traffic.
Work Purchases Influenced by a Costumer's Age
An annual survey conducted by CareerBuilder shows that more than half of all employees shop online during work hours, with 42 percent making purchases on their smart phones.
Jumpshot analyzed the top ten products purchased on Amazon during work hours throughout Q1 of 2016. Findings show that nearly 70 percent of individuals purchased Amazon branded products, half of which were Amazon gift cards.
Wondering what consumers were purchasing during "busy" work hours?
The overall best-selling item was Amazon's flagship product, the Kindle Fire.
Millennials displayed a unique purchasing pattern. 62 percent of Millennial purchases were console games, like The Legend of Zelda and Fire Emblem Fates. Amazon flagship products were less popular with Millennials, however, making up only 31 percent of conversions.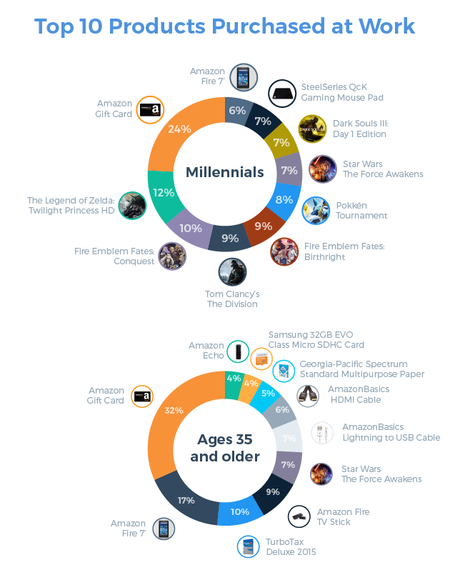 Photo Credit: Jumpshot Inc.
Individuals 35 years of age and older displayed "more serious" online shopping habits compared with those of Millennials. TurboTax was the leading product purchased by this age group. This crowd also favored Amazon products, accounting for 71 percent of the purchases made.
Amazon Prime Day Purchases Influenced by Geography
Amazon Prime Day in particular attracts millions of consumers. This previous Amazon Prime Day was noted to be Amazon's biggest sales day ever, with worldwide orders rising more than 60 percent compared to last year.
Jumpshot has been analyzing US and UK consumer shopping behavior on Amazon for over a year now. Findings show that US consumers tend to buy Amazon's own products, which accounted for 70 percent of purchases. UK residents tend to have more diverse shopping carts, more geared towards digital content and gaming products.
Data also shows that Amazon Prime Day was a huge success in the US, yet it didn't make much of a difference in the UK. For example, in July (Amazon Prime Day takes place on July 12th), the volume of purchases for the top ten products in the US was 2.6 times higher than purchases made in August, while the UK only displayed a 33 percent decrease in month-to-month purchases.
Wondering what US and UK consumers were purchasing?
In the US, the most popular product on Amazon Prime Day was the Amazon Fire TV Stick. The Instant Pot Pressure Cooker was another highly sought after item.
In the UK, the Amazon Fire TV Stick was also the top selling item for July. It's interesting to note that Harry Potter and The Cursed Child, which was published on July 31st , instantly climbed to the second place for purchases made in July in the UK. Harry Potter and The Cursed Child was also the most popular product sold on Amazon UK in August, attracting nearly a fifth of Amazon customers.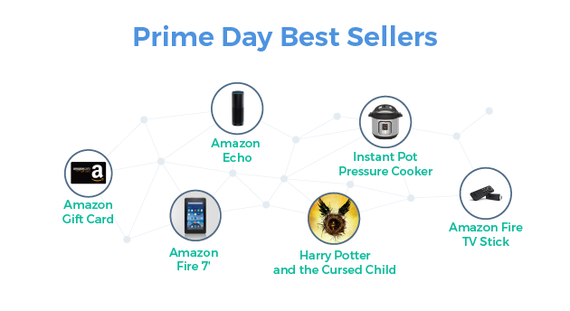 Photo Credit: Jumpshot Inc.
What's "in Store" for the Holidays?
Big data can tell us a lot about the way consumers shop online. This data can also help determine what we can expect to see in the future. Retail veteran and Jumpshot's VP of Marketing, Randy Antin, notes,
"All signs point to a monster year for e-commerce if all directional trends are to be believed. While retail is still feeling pressure, the big boys in the space (Amazon, Target, Walmart) are going to see huge upticks in their revenue. The biggest question might not be how much revenue these online retailers will see, but if their web sites and distribution centers will be able to handle the volume and deliver to satisfied customers?"
Whatever the outcome may be, the 2016 Holiday season is sure to see an increase in online retail sales. The Census Bureau of the Department of Commerce recently announced that US e-commerce retail sales for Q2 of 2016 was $97.3 billion, an increase of 4.5 percent from Q1 of 2016.
Related
Popular in the Community