The year closed in an epidemic of fear and displacement. Fear of terror, of violence, of speaking up, of being gunned down -- in church, in the street, in a park, at an office party, in one's own home. Displacement, due to barrel bombs and cluster bombs, terrorist thuggery and the very real threats on multiple continents from dictators clinging to power.
One speaks the truth in such horrific situations at the risk of one's life and family. Those with the courage to do so deserve our admiration and gratitude for striving to make our world more just; those who take in or care for others at risk are models for us all, in their essential humanity.
We can start 2016 by being humane. We can turn the page on the abuse and contempt we've seen on such disgraceful display these last months, by grotesque blowhards and their countless silent assenters.
At WomenStrong International (WSI), people with great heart and compassion are working in five impoverished urban communities across the globe to address the six essential needs of women and girls -- those in whose well being our world's future resides. Meeting these six essential needs for health, shelter, safety, education, economic empowerment and a functioning urban environment is transformational, in women's agency and in their capacity to advocate for their own interests and those of their families, communities and ultimately, of their nations.
In Kumasi, Ghana, for instance, WomenStrong's consortium partner Women's Health to Wealth (WHW) screened, treated and referred hundreds of market women in 2015 for hypertension, diabetes, breast and cervical cancers and sexually transmitted diseases. Once screened, the women were qualified to join savings groups, attend health workshops and design community improvement projects that they then lead. WHW's 15 Girls' Clubs offer safe places for adolescent girls to go to strengthen their literacy and math skills, learn to handle their own sexual and reproductive health and seek out private health screenings, treatments and answers to questions they won't ask their parents. Women's Health to Wealth is addressing health, education and economic empowerment -- three of women's six essential needs -- in a series of smart, simple interventions that respond to the actual needs of the women and girls on the ground in an inspiring example of women-led programming, where the power of groups is harnessed to move women and girls to the next level of economic development.
In Madurai, India, WomenStrong partner Dhan Foundation also works through the power of groups, starting from the other direction -- with income enhancement as the initial key to individual and community development.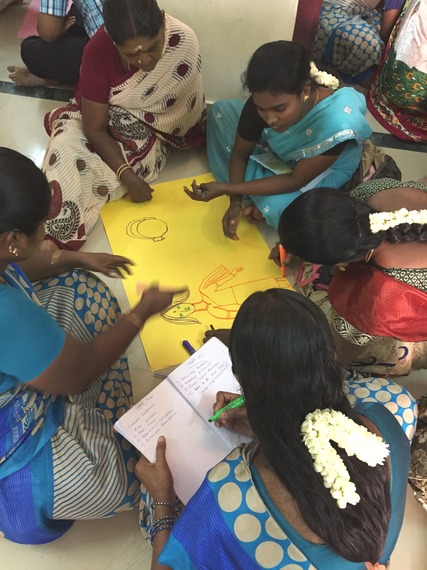 These self-help groups, or Kalanjiams, and the federations they combine to form, operate as effective change agents wherein participating women can purchase health and life insurance, engage in incremental housing upgrades and build and manage clean, safe community toilets. The federations even campaign against the municipal government's monopoly ownership of liquor stores, which encourage the rampant alcoholism that in turn fuels domestic violence. Adolescent girls are screened, treated and counseled for anemia, endemic in this impoverished population where the girl is generally the last to be fed. Women and girls take workshops in financial literacy, in securing their legal rights to land, property and inheritance, in tailoring and beauty salon work, and in starting and growing small businesses. In Madurai, Dhan Foundation is addressing all six essential needs through the synergy of groups, where women's and girls' voices resound with far greater strength and power.
The same is true for WomenStrong's programs in Kenya, Haiti and Washington, DC, where WSI's partnership with the non-profit Bread for the City in the long-neglected Anacostia neighborhood has engaged nearly 100 mothers who are or have recently been homeless or hungry, victims of domestic violence, in recovery from substance abuse, transition from incarceration or in need of legal or government assistance. The women work with their wellness coordinators on individualized programs of healing; they come together for classes in Tai Chi, yoga and Zumba, computer, financial literacy and job skills, sewing, crocheting, photography and "body-mapping," all to help them come to terms with their personal histories and their communities.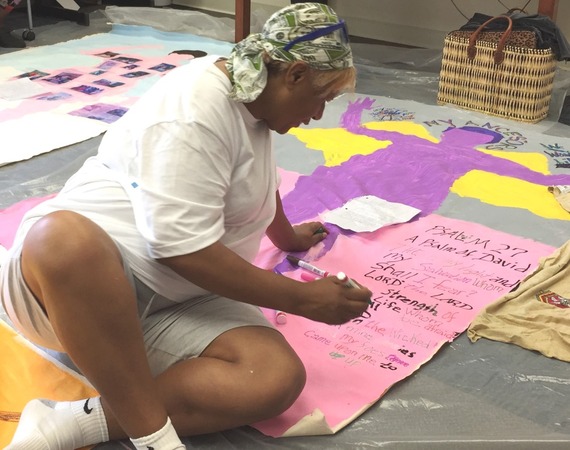 In "Let's Talk" sessions, a self-described "crack mother" and "crack baby" share experiences, empathy and practical tips on where to access needed services; the "crack mother" has since graduated from WomenStrong, is working with Bread for the City as a housing advocate and has encouraged others to join WomenStrong DC, which she credits with her own accelerated recovery and the rediscovery of her own strong voice.
Knowing what's possible even under the most challenging conditions makes clear that 2016 can be a year of hope. We can reassert our common humanity by supporting our women and girls worldwide: they know best what their families and communities need, they're determined to meet those needs, and they have no time for hate or revenge or bloodshed. It is women and their daughters who are ready to heal our wounded world; they deserve all we can give them, in the year ahead.